Five Four, Marvel Entertainment Partner for Menswear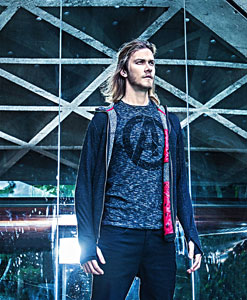 Five Four and Marvel Entertainment are launching a men's apparel collection today. The debut of the Five Four and Marvel collection draws inspiration from Marvel's vast catalog of iconic characters and consists of outerwear, dress shirts, graphic tees, and accessories. The style is subtle and plays on the personality behind a Marvel superhero, according to the companies. From reversible shirts and hidden pockets, to classic Avengers emblems and comics hidden in the inside lining of the clothing, each item in the collection is classic in appearance but unique in detail.
All Five Four and Marvel collections will be made available exclusively to new Five Four Club members. Monthly memberships retail for $60 and come with full outfits based on members' style preferences.
Sunrise Brands Sells Superdry License
Sunrise Brands announced the sale of its Superdry North American license to Superdry's parent company, SuperGroup Plc. SuperGroup's acquisition from Sunrise Brands includes the exclusive rights to distribute Superdry products in North America, including the U.S., Canada, and Mexico, with the goal of executing global growth opportunities. This follows the acquisitions of SuperGroup's Scandinavian, Spanish, and German partners over the past 18 months.
Sunrise Brands, which acquired the Superdry North American license in 2008, has successfully launched 15 Superdry stores in major markets including New York's Times Square, Miami, San Francisco, and Los Angeles. In the past month, Sunrise Brands announced the opening of a new Superdry store in the Grand Bazaar shops in Las Vegas. Sunrise Brands has built an expansive wholesale business with key accounts including Bloomingdales, Macy's, and Hudson Bay. The sale of the Superdry North American license is part of Sunrise Brands' plan for expansion into other branded opportunities.
Sunrise Brands is a maker of branded and private-label apparel.
Tommy Bahama, Coola Suncare in Deal
Tommy Bahama announced a new spring 2015 licensing agreement for an exclusive Tommy Bahama line of sunscreen products with Coola Suncare. Featuring two distinct formulas: classic and mineral, the new sunscreen collection is available in a variety of scents and variations.
The full product lineup includes the Tommy Bahama SPF 30 Natural Vanilla Mineral Face Sunscreen Lotion, SPF 50 Natural Coconut Mineral Sport Sunscreen Lotion, SPF 30 Zephyr Face Sunscreen Lotion, SPF 30 West Indies Punch Body Sunscreen Lotion, SPF 50 California Dream Sport Sunscreen Lotion, SPF 06 Acapulco Gold Bronzing Mist Sunscreen Spray, SPF 15 Bay Breeze Sunscreen Spray, SPF 30 Day at the Beach Sunscreen Spray, SPF 50 Unscented Sport Sunscreen Spray, SPF 30 Mojito, Green Tea, Bluemonade, Cocobango, and Fresh Guava Lip Balm Sunscreens.
The new Tommy Bahama sunscreen collection will be available at all Tommy Bahama retail locations as well as beauty boutiques, swimwear boutiques, department stores, and online merchants.
Joester Loria Group, Buffalo Games in Brain Games Deal
The Joester Loria Group, the exclusive licensing agency for Brain Games, a National Geographic Channel series, has signed Buffalo Games to develop adult and family board games and card games based on the series. Product will launch at key specialty retailers and online accounts this holiday season and expand to leading mid-tier and mass accounts in spring 2016.
Toy State, WWE in Deal
Toy State announced that it has entered into a licensing agreement with WWE. The deal includes products developed for the remote-controlled (R/C) vehicle category for the North American market, the first of which will be in stores later this year. This agreement marks Toy State's first licensing agreement under the Nikko brand since their acquisition of the company last year.