Kellogg's, Brand Castle in Treats Deal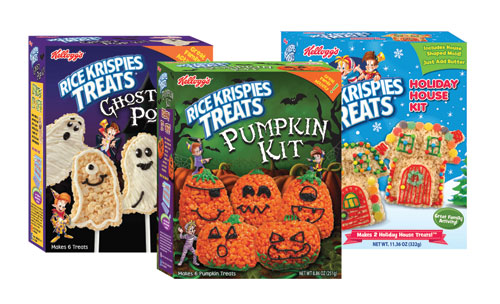 In a deal brokered by The Joester Loria Group (TJLG), Kellogg's has partnered with Brand Castle, LLC for Rice Krispies treat-making kits. The Rice Krispies treat-making kits will be launching at Walmart for Halloween 2015. The kit will include a reusable plastic mold with two pumpkin shapes, Rice Krispies cereal, mini marshmallows, two colored icing pens, and orange food color gel. It makes 14 Rice Krispies pumpkin treats. Later in 2015, Christmas-themed treat-making kits will launch. And in 2016, Easter and everyday kits will be available at grocery, mass, and specialty retailers.
Penny Dreadful in Hot Topic
CBS Consumer Products, Showtime, and Hot Topic announced a new apparel collaboration inspired by the Showtime series Penny Dreadful, which was set to coincide with the second season, which premiered Sunday, May 3. Hitting stores in late May, Hot Topic will feature an exclusive Penny Dreadful-inspired line of women's clothing, including tanks, dresses, and jackets incorporating the macabre imagery and themes from the show translated into wearable fashion pieces. Starting May 26, Hot Topic will usher in the campaign by putting the line on full display with Penny Dreadful window designs in select Hot Topic stores nationwide. All stores will feature in-store signage that will promote the show and collection through June 7. During this time, fans will also receive a Penny Dreadful necklace with purchase, while supplies last. Additionally, Hot Topic will host a Pinterest sweepstakes from April 28 through May 19 where fans will be asked to create a board inspired by the show for a chance to win the entire Penny Dreadful fashion collection.
Fans of the series will be able to purchase Penny Dreadful-inspired products beyond Hot Topic stores with a full retail program that includes books, games, home goods, and collectibles.
Star Wars Designs from DecoPac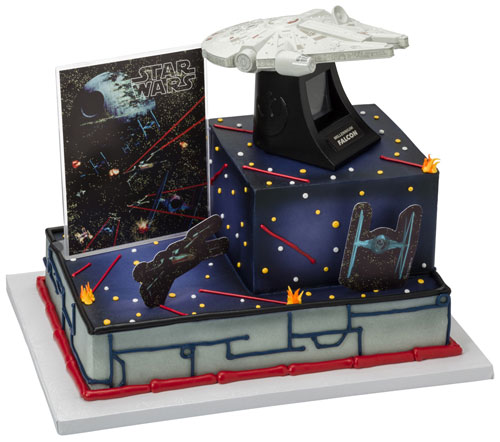 DecoPac, Inc., has launched a variety of Star Wars-themed cake, cupcake, and dessert decorations. The collection includes designs from Star Wars Rebels, Star Wars Classic, and Star Wars: The Force Awakens. Cake and cupcake designs will be offered nationwide at leading retailers for all three brands. The Star Wars Rebels items have already hit bakery shelves with the unveiling of new Star Wars Classic products expected this spring.
The Star Wars bakery program will feature a full assortment of legendary and iconic characters and vehicles. The best-selling villain cake, inspired by Darth Vader, will include a sound chip of iconic breathing and a back clip-on feature for after-party play value. Party planners can further enhance their celebration with cupcakes showcasing sculpted rings of Darth Vader, C3PO, and R2D2. A Millennium Falcon cake with a projected light-up stand, sound, and TIE Fighter X-Wing picks representing the epic Death Star battle will be released later in the year.
Vandor in Deal with Disney
Vandor, LLC announced a new collection of products featuring Disney and Disney Junior characters. The Disney Junior line, based on popular Disney Junior TV shows, includes Sofia the First, Doc McStuffins, Minnie's Bow-Toons, and Mickey Mouse Clubhouse. The characters will be featured in Vandor's functional collection available this summer, including water bottles, totes and tins, ceramic mugs, glassware, and much more.
Mickey Mouse and Minnie Mouse will be presented separately on Vandor products including recycled shopper totes, 18-oz. spill-proof Tritan water bottles, and 18-oz. acrylic travel cups. The duo is also shown together on these products plus on tin totes, insulated shopper totes, and on Vandor's newest line of packable shopper totes, which fold down to fit into a conveniently sized snappable pouch. Disney lovers can also choose from 12-oz. ceramic mugs, oval mugs, 10-oz. glassware sets, and wall clocks.
Psycho Bunny Expands into Latin America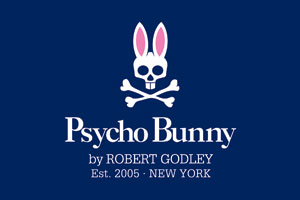 Luxury apparel and lifestyle brand Psycho Bunny is expanding into Latin America with the appointment of a new distributor and the launch of a licensing program. Neroli Group S.A. has been appointed core sportswear distributor for Psycho Bunny in Latin America, and Genius Brands International (GBI), the global licensing agent for the brand, is creating a comprehensive licensing program throughout the region with new partners across key categories.
The distribution agreement between Psycho Bunny and Neroli Group S.A. signals the first dedicated expansion of the brand into Latin America, bringing the Psycho Bunny stylings to consumers in Belize, Guatemala, El Salvador, Honduras, Nicaragua, Costa Rica, Panama, Colombia, Venezuela, Ecuador, Peru, Chile, Bolivia, Paraguay, Uruguay, Curacao, Aruba, Trinidad, San Andres, Turks & Caicos, and San Martin.
On the heels of the Neroli distribution announcement, GBI is launching an aggressive licensing campaign for Psycho Bunny in Latin America, focusing key categories, including basics, hosiery, sleepwear, outwear, bottoms, wovens, and accessories.
GBI is also further developing the brand internationally and is in discussions with potential partners in Asia, Europe, and South America.
MFA Introduces Thomas Kinkade's Disney Nightlights
Mark Feldstein & Associates, Inc. (MFA), a product development company and importer of giftware, housewares, and electronics, is introducing a series of licensed LED nightlights from artist Thomas Kinkade's Disney Dreams Collection. Captured in single illustrations, the exclusive works from Kinkade celebrate great moments from some of Walt Disney's most memorable films, characters, and places.
In addition to the Disney Dreams Collection, MFA is offering a series of traditional Thomas Kinkade Nightlights in five-inch, straight-edged black frames, including Village Christmas and The Garden of Prayer illustrations.