Uglydoll in KFC China
The Uglydoll brand is currently running a retail promotional partnership with KFC China through its Asia licensing agent Global Pursuit. Uglydoll premiums are being distributed with kids' meals at more than 4,000 KFC locations across mainland China through the end of this month.
Neff Headwear to Feature The Simpsons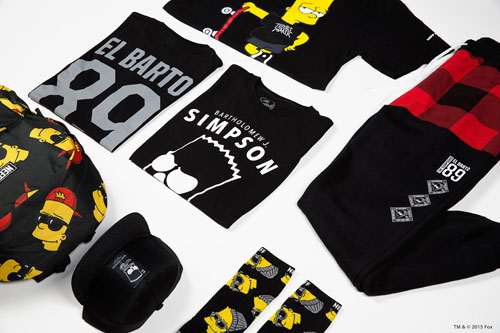 Neff Headwear and Twentieth Century Fox Consumer Products unveiled a limited-edition designer apparel collection based on The Simpsons. The first-ever collaboration between Neff and The Simpsons brands combines revamped 1990s street style with a fresh spin on the iconic characters. The collection features T-shirts, joggers, flannels, and accessories all adorned with various Bart Simpson prints and plaid accents. Fans can shop for pieces now in all Tilly's, PacSun, and Zumiez stores, as well as select retailers nationwide and online.
Tottenham Hotspur in Deal with Fanatics
Tottenham Hotspur announced a multi-year licensing deal with Fanatics, the largest retailer of licensed sport merchandise. The license enables Fanatics to sell a range of apparel and headwear through its online stores in the U.S. and Canada, alongside an existing Tottenham Hotspur/Under Armour range.
Fanatics has a proven track record in licensed sports retail across North America, working successfully with all major professional sports leagues, including the NFL, MLB, NBA, and NHL, in addition to hundreds of collegiate and professional team properties. Tottenham Hotspur is the first football club in Europe to sign a licensing deal with Fanatics.
Nelvana to Represent Super Wings in North America
Corus Entertainment's Nelvana Enterprises announced last week that it has signed a deal with CJ E&M, an Asian entertainment and media company, to represent the North American merchandise licensing rights for its preschool series, Super Wings. The deal grants Nelvana Enterprises representation rights for all merchandise categories with the exception of toys, which will be distributed by Auldey Toys North America in the U.S. and Imports Dragon in Canada.
Super Wings, co-produced by FunnyFlux Entertainment, the original creator, with Little Airplane Productions, Qianqi Animation, EBS, and CJ E&M had its broadcast launch on Korean channel EBS in September 2014 and has since been sold into more than 40 countries worldwide. In the U.S., Super Wings currently airs on Sprout and the series will launch on Canada's Treehouse this fall.
Striker Entertainment to Represent Valerian
EuropaCorp announced that Striker Entertainment has been tapped to serve as licensing agent on behalf of its film Valerian. Striker will handle worldwide licensing and deals for multiple categories including toys and video games.
Luc Besson will write and direct the big screen adaptation of the epic science fiction comic series; Virginie Besson-Silla will produce on behalf of EuropaCorp, which will finance, produce, and distribute the film. Originally written by Pierre Christin and Jean-Claude Mezieres in 1967, Valerian focuses on the adventures of Valerian, a spatio-temporal agent, and his companion Laureline as they travel the universe through space and time.
The film is expected to open in U.S. theaters July 21, 2017. EuropaCorp is distributing the film in the U.S. and select international territories.