Broad Street Licensing to Represent Romacorp
Broad Street Licensing Group has been appointed by Romacorp., Inc., owner of the Tony Roma's and TR Fire Grill restaurant chains, to represent its brands for licensing into the retail marketplace. Broad Street will extend the brands into strategically targeted products and alliances within the food category, including expanded frozen foods, refrigerated and shelf-stable sauces and dressings, fresh-prepared meals and appetizers as well as grilling appliances and associated products. Broad Street will bring the retail products to store shelves in both the U.S. market and overseas where the brand is expanding. Tony Roma's is already under license in a variety of retail products, and Broad Street's mandate is to grow the existing business.
Rocket to Manage UK, Ireland Ghostbusters Licensing
Rocket Licensing announced that it is managing the UK and Ireland licensing campaign on behalf of Sony Pictures for Ghostbusters, which is set for a July 2016 release. The film stars Kristen Wiig, Melissa McCarthy, Kate McKinnon, and Leslie Jones. Guest appearances from members of the original cast are also expected. For the first phase of the UK licensing campaign, Rocket is targeting publishing, apparel, nightwear, underwear, stationery, confectionery, gifts, and housewares. Additional categories are expected. Mattel is global master toy licensee.
DHX Signs Jakks for Make it Pop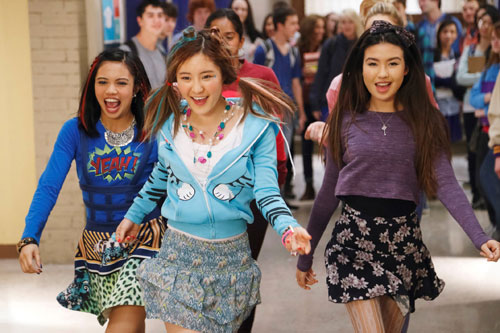 DHX Brands appointed Jakks Pacific, Inc., as master toy licensee for its tween show Make It Pop in all territories outside of Europe. Jakks will launch product in dolls, plush, dress-up, roleplay, girls' electronic toys, and Halloween costumes categories. Product is expected to launch at retail in 2016. The deal was concluded by CPLG North America.
Make It Pop premiered on Nickelodeon in the U.S. in April. It will continue to roll out on Nickelodeon's international channels throughout 2015. In Canada, it launched on YTV last week.
Make It Pop is co-created by Thomas W. Lynch and Nick Cannon and produced by DHX Media. Lynch and Cannon also serve as executive producers with DHX Media's Steven DeNure and Anne Loi. DHX Media handles global distribution and brand management for Make It Pop, as well as merchandising and licensing through appointed agency, Copyright Promotions Licensing Group Ltd. (CPLG). Make It Pop is produced at DHX Media's Epitome Studio in Toronto.
Discovery Destinations Launches
Discovery Consumer Products announced a collaboration with Scottford Hospitality to offer travelers Discovery-inspired vacations. Launching this fall, Discovery Destinations brings together a collection of resorts around the world with the common theme of igniting curiosity and inspiring guests to explore the world around them. Discovery Destinations will debut with six partner resorts globally ranging from North Carolina to China.
All American Licensing Signs San Antonio's River Walk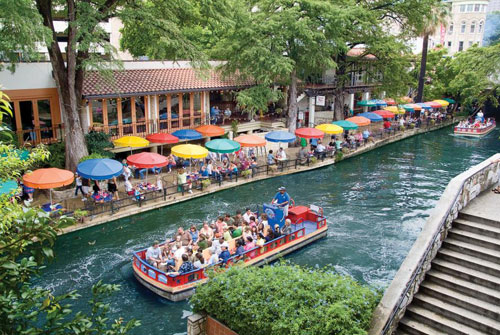 The Paseo Del Rio Association (PDRA), the team that promotes the San Antonio River Walk, has signed All American Licensing (AAL) to develop a full range of consumer products. AAL says that San Antonio's River Walk is the No. 1 tourist attraction in Texas, and AAL will seek licensing partners in categories that range from apparel to memorabilia, toys, collectibles, gifts, and jewelry to accessories.
The River Walk's origin was in 1939, as a flood control for the city, and was seen as an oasis in the middle of a burgeoning downtown area. It currently encompasses 15.3 miles and winds through the old downtown area, past shops, restaurants, and many noted historic sites including the five historic missions that have been designated as a World Heritage site. River cruises are available with guides.
Discovery, 4e de Mexico in Pet Product Deal
Discovery Consumer Products and 4e de Mexico, a producer of personal, home, and pet care products in Mexico, announced a partnership for pet care products in Latin America and the United States. The line will debut at retail in spring 2016.
The line of Animal Planet-branded pet care offerings includes shampoo and conditioners for dogs and cats, pet odor neutralizers, pet repellents, pet cleaner and detergent (with and without chlorine), hummingbird pet food, and pet food dishes (in Mexico only). 4e's Animal Planet product line will be available at mass market retailers, specialty stores, price clubs, and online retailers in Mexico, the U.S., and throughout Latin America in Belize, Honduras, El Salvador, Nicaragua, Costa Rica, Panama, Colombia, Peru, Ecuador, Dominican Republic, Chile, Uruguay, Paraguay, and Bolivia.
Public Group Announces New Clients
Public Group LLC, a business development and strategic advisory, announced the addition of four brands to its portfolio. Baby Blanket Music (lullaby arrangements featuring the world's most popular artists and song titles), Tea & Sympathy (New York's "Little Britain" culinary institution), and Petunia Pickle Bottom (a prestige brand in the juvenile marketplace). Public Group will develop a unique program for each brand, which is expected to include collaborations, partnerships, retail channel growth, and more.
Eric Carle Endcap at Whole Foods
Earlier this year, The World of Eric Carle and Whole Foods Market announced a collaboration on a series of 365 Everyday Value children's cereals and juices featuring Carle's signature artwork including The Very Hungry Caterpillar. The Joester Loria Group, worldwide licensing agent for The World of Eric Carle, brokered the deal with Whole Foods.
As a kick off to the back-to-school season, these cereals and juices will be displayed in an endcap with an exclusive World of Eric Carle dish set featuring a bowl and utensils in recycled packaging and other World of Eric Carle products from licensees Kids Preferred and Chronicle.