Nickelodeon to License Slime
Nickelodeon announced the launch of a new global merchandising program for Slime, the network's iconic and beloved green goo. Nickelodeon will seek major merchandising and promotional partners, spanning categories including apparel, home furnishings, toys, consumer packaged goods, and more. The global Slime merchandising program joins in the ongoing celebration of Nickelodeon's heritage including Jeremy Scott's fall 2016 collection featuring Ren & Stimpy; '90s Nickelodeon nights at NBA games across the country; an international partnership with TopMan on a collection of T-shirts, hoodies, and sweatshirts that feature classic Nick '90s characters; and more programs set to debut later this year based on beloved Nick properties.
Playmobil to Introduce Ghostbusters Line in 2017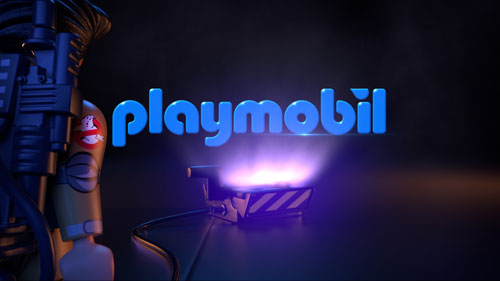 Playmobil and Sony Pictures Consumer Products announced a licensing agreement for a toy line based on the original Ghostbusters brand. Playmobil's 2017 product line will be its first ever to include licensed playsets inspired by famous entertainment properties. The new Ghostbusters toys will hit the market worldwide in 2017.
New Licensees for Kate & Mim-Mim
FremantleMedia Kids & Family has signed multiple North American licensees for Kate & Mim-Mim. The preschool series launched its second season in the U.S. earlier this year with new episodes on Disney Junior. The series is also available on Netflix.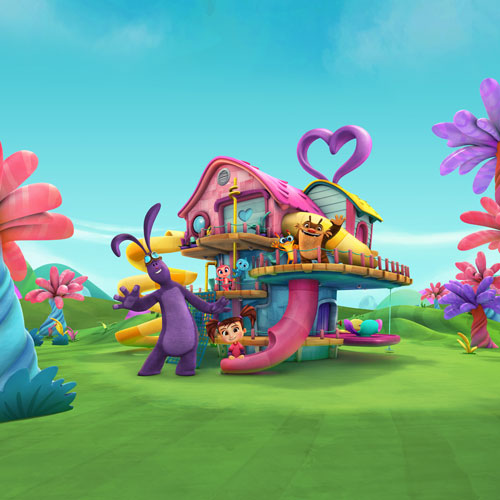 New licensees include The Bentex Group, and its divisions, Dreamwave LLC, Extreme Concepts LLC, and H.I.S. International LLC, for girl's sportswear including sets, separates, dresses, T-shirts, and swimwear in the U.S. Also added is Global Brands Group's AME for sleepwear in the U.S. and Canada. Additional newly signed licensees include Cardinal Industries for games & puzzles; Jay Franco for bedding, bath, and beach; and JCP Live Productions for live events and costumed character appearances.
The new partnerships join the growing list of Kate & Mim-Mim licensees, including global master toy partner Just Play, which will be rolling out plush, dolls, and figure packs, in the U.S. beginning this fall. Penguin Young Readers, a division of Penguin Random House, is the North American publishing partner for the brand. Their initial line will launch in fall 2016 in a variety of formats, including storybooks, leveled readers, e-books, and sticker books.
Kate & Mim-Mim DVDs are currently available in the U.S. from Public Media Distribution, LLC via its SkipRope label. The first Kate & Mim-Mim DVD, Flight of the Flowers, was released in March, and the second, Balloon Buddies, was released in May. Additional DVD releases planned for 2016 include The Mimiloo Zoo, which will debut in September, and A Christmas Wish, which will be available in October.Digital apps are available from A.C.R.O.N.Y.M. Digital (worldwide).
Teletubbies Books from Simon & Schuster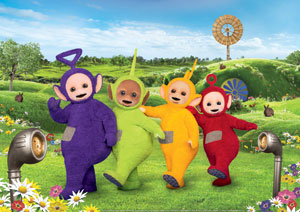 DHX Brands announced a deal with Simon & Schuster Children's Publishing for the Teletubbies. Under the agreement, which encompasses the U.S. and Canada and was brokered by CPLG North America, Simon & Schuster Children's Publishing will produce a range of books based on the new Teletubbies series, under its Simon Spotlight imprint. Product will include a wide array of story, board, and novelty books, with the first titles expected to launch in the U.S. and Canada in 2017.
50 Years of Star Trek
CBS Consumer Products unveils more licensees lining up to celebrate the Star Trek franchise's historic 50th anniversary. The merchandising program coincides with a year full of anniversary activities and activations across the globe and new Star Trek stories led by a major motion picture release this summer and upcoming television series in 2017. Additional licensees and products include:
Apparel & Accessories
License Factory (Germany)/Apparel and Accessories
Novelty & Collectibles
Acme Trading Co./Tin Vehicles (Franklin Mint co-brand)
Colorforms/Original Colorforms Set
First Commemorative Mint, Inc./U.S. Coins and Stamps
F-toys Confect Co. (Japan)/Ship Models with Candy
Jada Group/Die-Cast Figures
M2D2 Kreativagentur (Germany)/Novelty Cups
The Wish Factory/Stackable Collectibles
Games
Dave & Buster's/Arcade Game
Jumbo Games (Europe)/Puzzles
Publishing
Titan Publishing/The Lost Scenes
Star Trek celebrates its 50th anniversary this year. Born from the mind of Gene Roddenberry, the original Star Trek series debuted on September 8, 1966. and aired for three seasons. It spawned five more television series and 13 feature films spanning the course of half a century.
New Licensees for Bob the Builder
Mattel announced an extended licensing program for Bob the Builder. The rapid expansion of the Bob the Builder merchandising program comes on the heels of the new show, which is now broadcast in over 16 markets. The new TV series just launched on Netflix in the U.S and will be kicking off its second season on PBS Kids this month. New licensees debuting in the United States and Europe include:
BCI: Sleepware and apparel (UK)
Santex: T-shirts, sleepwear, headwear, rainwear, outerwear, underwear, socks/hosiery, and swimwear (Germany)
Amscan: Party and celebrations (U.S.)
Procos: Party (EMEA)
Rubie's: Costumes (U.S.)
Smoby: Basic roleplay (Germany and UK)
Happy Threads: T-shirts and sets (U.S.)
Jumbo: Puzzles & Games (UK)
Ravensburger: Puzzles & Games (Germany, France, Italy, Iberia, Benelux, and Israel)
Egmont: Magazines (UK)
Parragon: Book publishing (U.S. and UK)
Brown: Book publishing (U.S.)
Gemma International Greetings: Stationery and social expressions (UK)
Edge Brands Signed for Splatoon Water Blasters
Edge Brand Ltd. announced a new global partnership with Nintendo to create a new line of water blasters based on the video game Splatoon. Splatoon is a third-person shooter game centered around characters known as inklings who can transform back and forth between humanoid and squid form. Characters hide, climb walls, and travel through colored ink, which is sprayed from their blasters in a battle to cover the most territory. Splatoon is first new Nintendo franchise in 10 years and has sold over 2.4 million copies.
New Deals for Fruit Ninja Franchise
Halfbrick Studios is continuing to expand its Fruit Ninja franchise, in anticipation of the animated YouTube series launching this fall, and the recently announced live-action film adaption in development.
Last week, Halfbrick announced Fruit Ninja VR—the virtual reality edition of the mobile game—is coming soon to HTC Vive and Oculus Rift Virtual Reality (VR) platforms, and should arrive on others before the end of the year.
Later this year, Fruit Ninja, through a licensing agreement with Bare Tree Media, will also be launching digital emojis, wraps, stickers, stamps, watch applications, and virtual goods, across online, mobile, and console platforms.
Fruit Ninja has also signed a licensing agreement with Andrews McMeel Publishing, which will launch a series of tween graphic novellas inspired by the upcoming YouTube series. A licensing agreement with Neptune Trading has also been executed to develop toy swords (using foam components).
Global licensee Fashion UK is launching a range of apparel for Fruit Ninja featuring T-shirts, hoodies, and other Fruit Ninja-branded novelties.
Fruit Ninja launched in 2010 and has been downloaded to over one billion devices globally. Fruit Ninja is the second-highest selling game of all time on the Apple App Store.
Brand2 Squared Licensing, a division of Peppercomm, represents Halfbrick and its properties (such as Fruit Ninja and Jetpack Joyride) in worldwide licensing and promotional merchandise efforts.
Loot Crate Signs WWE, Sanrio
Loot Crate, the fan-based commerce and community platform, announced two new and separate licensing partnerships with WWE and Sanrio, expanding its entertainment offerings globally.
Loot Crate, which has amassed over 600,000 recurring subscribers worldwide, has created a multichannel marketing strategy aimed at allowing consumers to discover a variety of growing pop culture genres while delivering a new direct-to-consumer, distribution platform to entertainment and lifestyle brands. Partnership-focused crates are only one vertical of Loot Crate's multiple product offerings that include products like anime, gaming, and the original all-encompassing pop culture crate. The licensing strategy for Loot Crate includes lines of business as well as the stand-alone partnership crates that supports IP holders in building deeper, more enriched experiences for their most loyal fans.
Funrise Named Master Toy for Cirque du Soleil Junior–Luna Petunia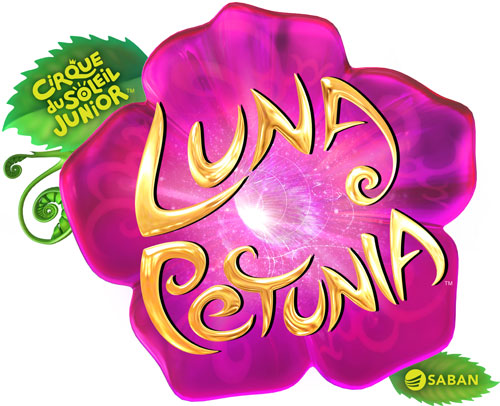 Saban Brands and Cirque du Soleil Media announced that Funrise Toy Corporation has been named as the global master toy licensee for its new animated preschool property, Cirque du Soleil Junior–Luna Petunia. The Netflix original series for kids will premiere in late 2016 exclusively for Netflix subscribers worldwide. A full range of preschool toys will then hit the U.S. retail market in fall 2017, with categories including dolls, accessories, playsets, and bubble machines as well as plush, roleplay, dress-up, and more.
Scholastic, Scottgames in Deal
Scholastic and game developer Scottgames announced a collaboration on a multi-book deal based on the Five Nights at Freddy's game franchise. The deal between Scottgames and Scholastic was facilitated by Striker Entertainment, Scottgames' worldwide licensing agent.
As part of the licensing deal, Five Nights at Freddy's: The Silver Eyes written by Scott Cawthon and Kira Breed-Wrisley, a novel that was self-published in 2015, will be published by Scholastic in paperback in October 2016. The second and third titles in the series will follow in 2017 and 2018.
GoldieBlox, Random House in Book Deal
GoldieBlox and Random House Children's Books announced a licensed publishing deal for children's books based on Goldie Blox, a girl engineer character. The series, which will debut in early 2017, will bring Goldie Blox to life through rich, hilarious stories. Each chapter book in the series will chronicle her passion for inventing, her friends, and their world. GoldieBlox and Random House have enlisted children's book author Stacy McAnulty, a mechanical engineer herself, to pen the series.
The first title, Goldie Blox Ruins Rules the School, is an origin story introducing readers to Goldie's offbeat world and the misadventures that lead to finding her new BFFs. The first two novels are scheduled to hit bookshelves in spring and summer 2017.
This deal marks GoldieBlox's first strategic licensing deal, as part of a plan over the coming months, to transition into a children's multimedia company and build an iconic, girl-power brand of the future.
The brand has also continued to invest in digital, gearing up to release its second app this summer. The app, GoldieBlox: Adventures in Coding—The Rocket Cupcake Co., will teach fundamental concepts of coding.
Deals for Crossy Road
Hipster Whale, creator of the video game Crossy Road announced its expanded product licensing agreement with PhatMojo, LLC. With this new deal, PhatMojo becomes the brand's master toy and apparel partner, and assumes management of its cross-category licensing program.
Currently, Crossy Road collectibles are available at retailers such as Target, Hot Topic, and Amazon. All- new toys, plush, apparel, and additional collectibles will be available in stores, channel-wide, this fall. Further category licensing agreements will be announced in the coming months.