LIMA Award Winners
Winners in 20 categories were announced last night during LIMA's annual awards program, held at the 2016 Licensing Expo at the Mandalay Bay Convention Center, Las Vegas. Here are the winners:

LICENSED PROGRAM

Art/Design: The Very Hungry Caterpillar/The World of Eric Carle—owned by Eric Carle Studio, represented by Joester Loria Group
Celebrity/Fashion: cupcakes and cashmere—represented by Brand Central, LLC
Character/Toy Brand: Shopkins—owned by Moose Toys, represented by The Licensing Shop, Inc.
Corporate Brand: Girl Scouts of the USA—represented by The Wildflower Group

Digital: Candy Crush Saga—owned by King Digital Entertainment, represented by Striker Entertainment, LLC
Film/TV/Entertainment – Animated: Peppa Pig—Entertainment One
Film/TV/Entertainment – Live-Action: Star Wars: The Force Awakens—Disney Consumer Products & Interactive Media
Food & Beverage/Restaurant: Corona, Constellation Brands—represented by Joester Loria Group

Licensed Promotion: Star Wars: Force Friday/Unboxing Program—Disney Consumer Products & Interactive Media
Location-Based or Experiential Initiative: AMC and Parque de Atracciones de Madrid—AMC's The Walking Dead, represented by Striker Entertainment
Retailer: Hot Topic—Doctor Wholicensing program
Sports: NFLPA

LICENSED PRODUCT
Apparel/Footwear/Accessories: Peter Alexander for Sesame Street (sleepwear, outwear, and accessories)
Appliances/Automotive/Electronics/Hardware/Housewares/Paint: The Sherwin-Williams Company for HGTV HOME paint
Digital: Story Toys for The World of Eric Carle/The Very Hungry Caterpillar (apps)
Food/Beverage: The Republic of Tea for Downton Abbey
Health & Beauty Aids: Lovehoney for Motörhead Official Pleasure Collection
Home Decor: Pottery Barn for Star Wars Millennium Falcon Bed
Publishing/Social Expression/Back-to-School: Moleskine for Batman Limited Edition Collection
Toys/Games/Novelties/Roleplay: Sphero for Star Wars BB-8 app-enabled Droid
Global Retail Sales of Licensed Goods Reach $251.7 Billion in 2015
Retail sales of licensed products grew to $251.7 billion in 2015, a gain of 4.2 percent from the previous year, according to the 2016 International Licensing Industry Merchandisers' Association's (LIMA) Annual Global Licensing Industry Survey conducted by Brandar Consulting, LLC. Royalty revenue from retail sales of licensed merchandise jumped 7.8 percent to $13.9 billion, due to robust retail sales and higher royalty rates that averaged 8.5 percent in 2015 versus 8.2 percent in 2014. Overall, Entertainment/Character licensing remains the largest category, accounting for $113.2 billion, or 45 percent of the total global licensing market.
"The 2016 survey showcases the resonance that licensed intellectual properties continue to have among consumers around the world," said Charles Riotto, LIMA president. "The size of the Global Licensing Market is on the rise, and is showing strength as our industry expands into new corners of the world."
The U.S. and Canada remain the largest global market for licensed merchandise with retail sales of $145.5 billion last year, up 3.9 percent for a 57.7 percent share of the market. Retail sales of licensed goods outside the U.S. and Canada totaled $106.35 billion, up 4.8 percent from 2014. The next largest global region was Western Europe, with especially strong results in the UK, Germany, Belgium, and the Netherlands tallying revenue of $51.8 billion. This was followed by Northern Asia, including China, Japan, and South Korea, with retail sales of $22.1 billion.
After Entertainment/Character, Corporate Trademarks was the next biggest property type, generating $52.8 billion in retail receipts for 21 percent of total revenues. Fashion was the next largest survey category, with $29.8 billion (11.8 percent of the total), followed by Sports at $24.9 billion (9.9 percent).
Among product categories, Apparel led the way with $37.9 billion, 15.1 percent of total global licensed retail sales, followed by Toys at $33.7 billion (13.4 percent of the total), and Fashion Accessories at $28.5 billion (11.3 percent).
As the overall retail marketplace is characterized by a move toward omnichannel sales, survey respondents reported that online sales accounted for an average of 18.3 percent of their business, up from the 16.4 percent they reported a year earlier.
Cartoon Network Relaunches Ben 10 Globally; Playmates Is Master Toy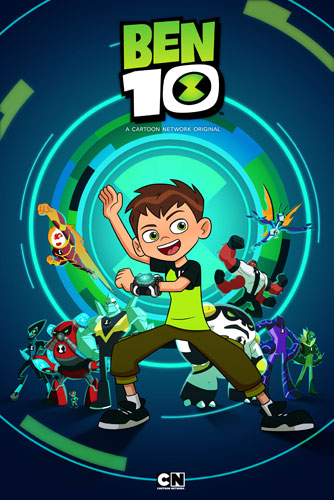 Cartoon Network is relaunching Ben 10 this fall in Europe, the Middle East and Africa (EMEA), and the Asia-Pacific region (APAC), and will continue into 2017 with North America and Latin America (LATAM). The property originally premiered in 2006.
Building on the highly successful franchise about kid hero Ben Tennyson, Ben 10will introduce a reimagined Ben, his cousin Gwen, and Grandpa Max, as they travel the country during summer vacation. When Ben finds the Omnitrix, a mysterious watch that transforms him into 10 different friendly aliens, a world of extraterrestrial superpowers opens up to him. The series is produced by Cartoon Network Studios and created and executive produced by Man of Action Entertainment (Big Hero 6, Generator Rex), with John Fang (Mixels, Generator Rex) on board as supervising producer.
Playmates Toys serves as the worldwide master toy partner for the new Ben 10 with a full line of toys based on the series and will include a range of figures, playsets, and roleplay items set to launch at retail globally next fall.
Peanuts Renews Partnership with Sony Creative Products
Peanuts Worldwide announced it has renewed its long-term partnership with Sony Creative Products (SCP). Under the terms of the agreement, SCP, who has spearheaded and overseen the Peanuts business in Japan since 2010, will continue to manage the brand's business efforts in what remains a key and vital territory to its global footprint. SCP will also play a critical role in planning and executing on the 2018 celebration of the 50th anniversary of Peanuts in Japan.
As the brand nears its 50thanniversary of being in Japan, it boasts a robust retail experience with 23 Snoopy Town Shops and three Peanuts cafes. Peanuts also remains one of the top-selling entertainment brands in the country, particularly among women, who are the key purchasing demographic of character-driven merchandise. This spring, SCP played a critical role in bringing the Snoopy Museum Tokyo, an off-shoot of the Charles M. Schulz Museum and Research Center in Santa Rosa, to life.
Corus Extends Partnership with Cartoon Network
Corus Entertainment announced an extended partnership with Turner's Cartoon Network in a new multi-year broadcast and merchandise deal that now features Corus' Nelvana as the exclusive merchandising agent for the channel's brands in Canada, including The Powerpuff Girls, Adventure Time, Steven Universe, Ben 10, and more.
As the exclusive merchandising agent, Nelvana will develop a wide array of licensed merchandise for Cartoon Network's properties, greatly expanding the product offerings currently available in Canada and maximizing the opportunities around the relaunch of The Powerpuff Girls this fall and Ben 10 in 2017. The new categories include secondary and seasonal toys, softlines, food and beverage, sporting goods, and consumer electronics. Among the newest consumer products programs launching this fall in Canada is an assortment of The Powerpuff Girls toys from master toy licensee Spin Master.