JPMA, Family Media Team for New Baby Product Events
The Juvenile Products Manufacturers Association (JPMA) and Family Media, LLC., signed a letter of intent to co-host and co-produce a series of baby events targeted at the juvenile products industry. The Baby Show Series kicks off May 9-12, 2017 at the Anaheim Convention Center with JPMA's conference and trade event, which will be called the JPMA Baby Show, a JPMA and Family Media Event. The Anaheim Baby Show consumer event will be held in conjunction with the JPMA Baby Show trade event on Saturday, May 13. Additional regional consumer events produced under The Baby Show Series umbrella include three, two-day consumer events: the New York Baby Show, the Chicago Baby Show, and the LA Baby Show.
The inaugural Anaheim event will host more than 300,000 sq. ft. of exhibit space at the Anaheim Convention Center and is expected to draw more than 5,000 exhibitors, juvenile product buyers, distributors, manufacturers, consumers, and media from across the globe. The headquarters hotel will be the Anaheim Marriott, which is adjacent to the convention center. Over four and a half days, participants will enjoy three days of exhibits and two days of an educational conference, culminating on Saturday, May 13 with the largest consumer baby show floor in North America.
Exhibit sales will open in late summer for the JPMA Baby Show and the Anaheim Baby Show. Sign-up for email updates at www.JPMA.org. Exhibit sales are currently open for The 2016 LA Baby Show. To learn more visit www.LABabyShow.com.
Mattel Named Master Toy for Jurassic World
Mattel announced that it has been named the worldwide master toy licensee for Jurassic World beginning in July 2017. Under the terms of the deal, Mattel will design, produce, and bring to market a wide variety of toys and consumer products inspired by the franchise and its multiple feature films, including the highly anticipated next film, set for release in 2018.
Mattel's licensing rights include a wide variety of products, including (but not limited to) action figures, playsets, vehicles, games, plush, roleplay, preschool, and activity toys. Product is expected on shelf in early 2018.
In 2015, Universal Pictures' Jurassic World grossed more than $1.67 billion at the global box office on its way to becoming the fourth-highest-grossing film of all time. In 2018, executive producer Steven Spielberg and stars Chris Pratt and Bryce Dallas Howard return for Universal Pictures and Amblin Entertainment's Jurassic World Sequel. Producer Frank Marshall once again joins Spielberg in leading the team of filmmakers for the next chapter in the franchise. The film will be written by Jurassic World's director Colin Trevorrow, and Derek Connolly. Steven Spielberg will be joined by Trevorrow as executive producer of the film.
Hasbro previously served as the master toy partner for the brand. Hasbro's chief executive Brian Goldner announced during Monday's Q2 earning report that the company would lose the Jurassic license because Hasbro and Universal could not agree on renewal terms.
Two New Deals for Tonner-One World with Sunjai Williams and Smiley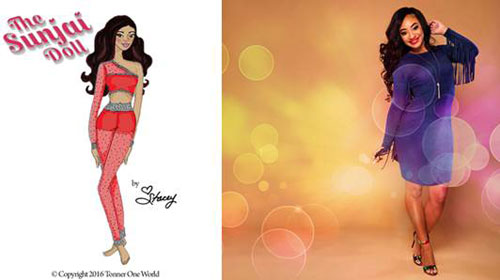 Tonner-One World, Inc, a subsidiary of Tonner-One World Holdings, Inc., announced that it has signed a licensing and production agreement with television personality and dancer Sunjai Williams to create a fashion doll in her likeness.
Tonner says that following the success of the reality show Bring It, Williams has been traveling the country teaching her fans to dream big, set high goals, and never give up. The young dancer also advises her peers through her "Ask Sunjai" feature, found on her family website jsssstdance.com.
In a separate announcement, Tonner-One World has signed a three-year licensing agreement with SmileyWorld, Ltd, to create a line of Smiley-branded dolls and doll fashions with matching children's and adult fashions.
Beanstalk Signs Gandhi
The Estate of Mahatma Gandhi has signed an exclusive representation agreement for advertising and media campaigns with Beanstalk. The agency will represent the rights of Gandhi for use in advertising, media, and long-term brand associations.
Mahatma Gandhi is considered one of the greatest spiritual and political leaders of all time. Practicing non-violent civil disobedience, Gandhi led the Indian independence movement that gained freedom from British rule. The icon's moral leadership inspired civil rights movements around the world and prominent leaders such as Nelson Mandela and Martin Luther King Jr.
Countless books, documentaries, and films have been dedicated to the life of the Indian leader, including the Best Picture Academy Award winner Gandhi. The legendary attorney-turned-activist is venerated as a holy figure across all nationalities and faiths, says Beanstalk. His quote, "You must be the change you wish to see in the world," is known around the globe.