New Licensees for SpacePOP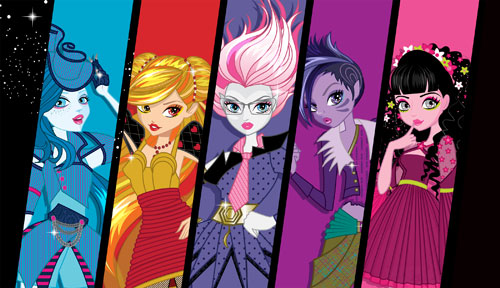 Following the June 20 launch of SpacePOP with YouTube, Genius Brands International (GBI) continues to expand the licensing, merchandising, and retail program for its new tween girls' brand, SpacePOP, with the appointment of a slate of new North American licensees.
As the newly appointed toy partner for SpacePOP, the Madame Alexander Doll Company will create a line of fashion dolls and figures based on the brand's main characters. Additionally, GBI has named new key licensees, including KIDdesigns (youth electronics, tech accessories, and electronic toys), Mad Dog Concepts (loungewear, sleepwear), Franco Manufacturing (bedding and bath textiles, accessories, room décor), Berkshire Fashions (hosiery, head wear, and cold weather accessories), and FAB Starpoint (bags, backpacks, accessories).
These latest partners join existing SpacePOP licensees, including Taste Beauty, Bare Tree Media, Canal Toys, Yowie Group, Ltd., Jaya Apparel, H.E.R. Accessories, Sony Pictures Home Entertainment, and Imprint (part of Macmillan Children's Publishing Group). SpacePOP merchandise will begin rolling out at retail in the U.S. this fall.
New Season, Products for Yo-Kai Watch
The second season of Yo-Kai Watch from Level-5 abby, Inc., will premiere on Disney XD beginning Monday, August 1 with 10 consecutive new episodes airing weekdays through Friday, August 12 at 12:30 p.m. ET/PT. On August 27, Yo-Kai Watch will move to its regular time slot on Saturday mornings at 8:30 a.m. ET/PT. The second season will include 50 episodes—doubling the 26 episodes of the show's premiere season—and introduces more than 90 new Yo-Kai.
New product is hitting stores now for back-to-school, including backpacks, accessories, apparel, sleepwear, footwear, and plush, sold at major retailers. A new Yo-Kai Watch video game for Nintendo 3DS is set to launch on September 30, with two distinct versions, Yo-Kai Watch 2: Bony Spirits and Yo-Kai Watch 2: Fleshy Souls, each with an exclusive Yo-Kai Medal included to unlock Jibanyan's in-game unique and powerful Soultimate Moves. Hasbro's season two products, including the new Yo-kai Watch Model Zero featured in season two, and the Yo-Motion Yo-Kai Medals that bring Yo-Kai characters to life, will hit stores on October 1.
Rasta Imposta Debuts Melania Trump Costume
Rasta Imposta introduces The Wife Costume for this Halloween. The costume is similar to the dress Melania Trump wore during her speech at the Republican National Convention earlier this month. The Wife Costume will be available for immediate purchase on Amazon.com, with costumes available to ship in mid-August.
Melania Trump delivered her speech during the convention in a stunning cotton/silk off-white dress from a highly publicized London-based fashion designer. The reportedly $2,200 dress sold out online after the speech. Rasta Imposta says its version will retail for less than $45.
Cartoon Network Enterprises Announces New Toy Partners for Rick and Morty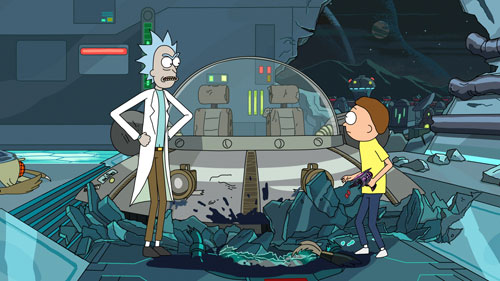 Cartoon Network Enterprises announced the addition of five new hardlines partners for its animated series, Rick and Morty. Joining current toy partner Jinx, Funko, Cryptozoic Entertainment, USAopoly, PhatMojo, and Astro Gaming have all signed on to create lines of products based on the Adult Swim original series.
On the heels of the June 2016 launch of two Rick and Morty POP! vinyl figures, Funko will expand its offering with additional POP! vinyl figures, stylized plush, and Mystery Mini collectibles.
Cryptozoic Entertainment will unveil custom card and board games, including Mr. Meeseeks Box of Fun, a dice & dares game, which will be available August 3 and at GenCon.
USAopoly is introducing a wide range of Rick and Morty games, puzzles, and cards in 2016, including a Rick and Morty Puzzle (August), Monopoly: Rick and Morty Edition (September), and Rick and Morty Playing Cards. Additional Rick and Morty games and puzzles are planned for 2017.
Adult Halloween costumes and accessories from PhatMojo will arrive in specialty stores in September. Fans of the show will be able to dress up as their favorite characters thanks to the debut of Rick and Morty masks, Rick's lab coat, and a foam laser gun.
Astro Gaming will introduce custom Rick and Morty tags for its popular wired and wireless gaming headphones.
All-American, Swiss Diamond in Licensing Deal
All-American Licensing announced the signing of Swiss Diamond, non-stick cookware. The high-end Swiss cookware brand was founded in 2001. Swiss Diamond has positioned its brand for foodies, home chefs, and non-compromising clientele. Now, AAL will provide a strategic road map for moving into the mass market. Swiss Diamond will expand beyond cookware to provide consumers with products for the entire house through licensees. All American Licensing will look to license products in key categories such as glassware, glass bake ware, kitchen gadgets, barware, wine accessories, kitchen textile, small electronic appliances, dinnerware, silverware, home decorations, furniture, and more. Product is expected at retail by summer 2017.
Rubie's Debuts Costumes for New Ghostbusters Film
Rubie's Costume Company, under license with Columbia Pictures, announced the launch of officially licensed costumes, T-shirts, wigs, accessories, and masks based on the latest installment in the Ghostbusters franchise. The Ghostbusters Collection is available in child unisex sizes and adult standard, deluxe, and ultra-deluxe styles. Inspired by the movie's main characters, Abby, Erin, Jillian, Patty, and Kevin, the costumes are specially designed to reflect the one-piece jumpsuits worn in the movie. The adult female costumes include four individual nametags so customers can easily transform into their favorite Ghostbusters character. In addition, the collection also offers the new ghostly characters Rowen and Sparky. This line will be in stores this Halloween along with the Classic Ghostbusters Collection.
New Deals for Tapatio
Hot sauce brand Tapatio is expanding with new extensions in food and beverage. The new licensing partners were secured by Tapatio's exclusive licensing agency Brand Central, LLC.
Current food partnerships include Frito-Lay Tapatio-flavored potato chips, Colorado Premium Tapatio-seasoned meat and poultry products, Thanasi Foods sunflower seeds, Express Trading Tapatio salsa and nacho cheese sauce, and JelSert Tapatio powder spice packets.
In addition to establishing these new licenses, Brand Central continues to drive growth for the brand and is actively pursuing partnerships in fresh and frozen meals, spirits, condiments, merchandise, and more.
Fermata, Arsenal in Deal
Fermata Partners has signed a deal with Arsenal Football Club, adding the London-based club to the firm's growing roster of global brands. Fermata Partners will work to expand the club's retail business in North America through the establishment of partnerships with licensees and retailers.
Fermata Partners has already executed several key agreements for Arsenal F.C., with the first deliveries of product expected in the marketplace in third and fourth quarter of 2016.