New Licensees for Splashlings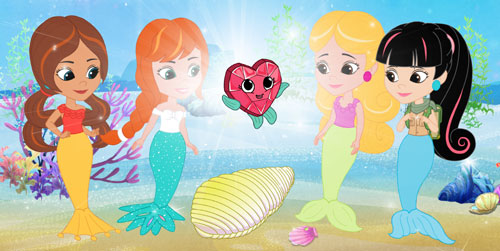 Shaftesbury/Smokebomb and TPF Toys announced a wide array of U.S. licensees for the mermaid-themed property Splashlings from the creator of Pound Puppies, Mike Bowling. TPF Toys debuted the Splashlings toy line at Toy Fair in February along with animated content produced in partnership with Shaftesbury/Smokebomb. The companies launched a licensing and merchandising program at Licensing Show in June and have secured a portfolio of partners.
Licensees for Splashlings include:
Children's Apparel Network (clothing for girls ages 4-14)
Intimo (sleepwear and underwear
)
Concept 1 (cold weather accessories, rain gear, hats)
Fashion Angels (stationery and beauty
)
Global Design (backpacks, bags, and accessories)
Jay Franco (bedding and bath)
Clever Cookies (cookies)
Boston America (candies
)
Upper Deck (collectible trading cards)
Animanga Plus (interactive collector's guide app)
Rocket Licensing Adds to Smurfs UK Movie Program

Rocket Licensing announced the latest additions to its UK licensing program for the upcoming Smurfs: The Lost Village movie, which will be in theaters on March 31, 2017.
Rocket is representing Sony Picture's new animated Smurfs movie, alongside classic Smurfs, on behalf of brand owner International Merchandising, Promotion and Services of Belgium (I.M.P.S) in the UK and Eire. Merchandise will launch in Q1 2017 targeting boys and girls ages 6-9, teen, and tween girls with a secondary audience of families, adults, nostalgia, and gift buyers.
The newest additions to Rocket's UK merchandise program for the upcoming film include Aykroyd & TDP to develop a line of kids' nightwear and expanding the apparel category, Fashion UK will create kids' daywear and swimwear. These latest additions join Inphase that will debut a collection of car accessories, including air fresheners. PMS International will create a line of gifts, stationery, and pocket money toys.
Rocket also represents the classic Smurfs brand in the UK and it has recently bolstered its lineup of apparel partners. Casa Chicos has been signed for a line of Smurfs babywear that will launch at Mothercare. Trademark is producing a range of adults' T-shirts using the classic style-guide and Somerbond continue to produce classic adult nightwear and underwear with new designs hitting retail at the end of the year.
These ranges will support I.M.P.S' master toy partner, Jakks Pacific, which is launching a range of playsets and figurines for the new movie. Ferrero and McDonalds have also been appointed for global promotional deals.
Beanstalk Signs Farrah Fawcett Foundation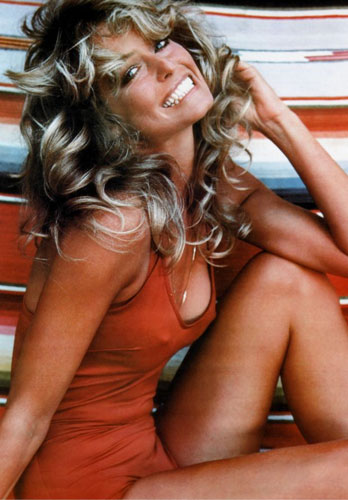 The Farrah Fawcett Foundation has signed an exclusive representation agreement with Beanstalk, which will represent the personality rights of the actress for use in advertising, media, and long-term brand associations.
Farrah Fawcett is among one of the most iconic television stars in history. A four-time Emmy Award nominee and six-time Golden Globe Award nominee, Fawcett enjoyed a four-decade career that began in commercials and came to include episodic television, feature films, and stage work. Just as she was cast as one of the original Charlie's Angels, an idea was pitched to Fawcett's agent for her to do a poster and a shoot was arranged. Charlie's Angels became a huge hit and the poster became the No. 1-selling poster of all time, selling more than 15 million copies. Today, the iconic red bathing suit worn in the poster (shown here) is part of the Smithsonian Museum as a cultural touchstone that defined an era.
Proceeds from the projects with Beanstalk will go to The Farrah Fawcett Foundation for cancer research, prevention, and awareness. She died of cancer in 2009 at age 62.
Ice Age Licensees, Promos Across EMEA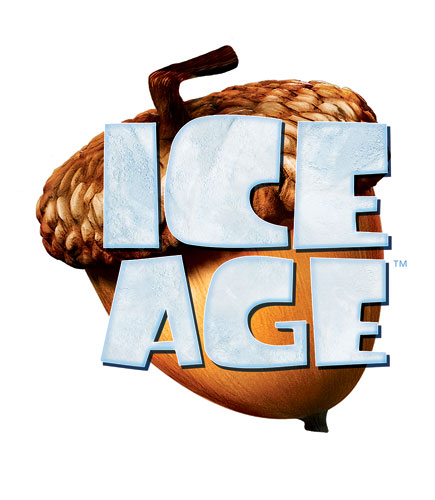 Twentieth Century Fox Consumer Products (FCP) announced new licensing deals and partnerships for Ice Age: Collision Course across the EMEA region. The film launched this summer and now the studio is set to release home entertainment for this holiday season.
FCP has just launched an extensive promotion with Chipita running from September 2016 to spring 2017 across 18 markets in the Central & Eastern Europe region. The partnerships feature Ice Age: Collision Course-themed packaging across the Chipicao baked croissants, biscuits, and cakes range, each with one collectible Tazo premium inside. There are 100 different Ice Age designs to collect including 10 metallic editions.
This fall Esselunga, the leading Italian supermarket chain, has chosen the Ice Age brand to be part of their annual Community Program for Schools. The loyalty campaign will run across the chain's network of 150-plus supermarkets and superstores with shoppers rewarded with an Ice Age: Collision Course promotional product.
Les Carroz, one of the most popular family ski resorts in the Alps, will see Ice Age entertain thousands of families for a cool experience during the winter 2016/2017 ski season. The partnership will feature the opening of an Ice Age zone where children will enjoy an Ice Age-themed area with ski/outdoor activities. Ski runs will be decorated with standees and arches featuring the Ice Age characters along with branded ski passes. Skiers will be able to purchase a range of Ice Age merchandise including plush, toys, and more.
In spring 2017, FCP will launch the first Ice Age Babies program, which draws on the original pencil sketch drawings for a softer look, creating a point of difference at retail.
In addition, Fox Digital Entertainment recently launched two new digital games Ice Age World and Ice Age Arctic Blast. On social media the franchise's following continues to grow with the official Facebook page boasting 18 million fans in addition to an active and growing community across Twitter, Instagram, Snapchat, and more.
New Licensees for PJ Masks
Entertainment One (eOne) is expanding its consumer products offerings for PJ Masks, which airs on Disney Channel and Disney Junior in the U.S. As previously announced, Just Play is the master toy licensee and the master publishing partner is Simon & Schuster Children's Publishing. The new PJ Masks products will make their U.S. retail debut beginning this fall.
New licensees for PJ Masks include Happy Threads, which will develop a full range of fashions. Other licensees include:
Accessory Innovations (backpacks, lunch totes, wallets, and assorted bags)
AME (sleepwear)
Disguise (Halloween costumes and holiday-themed accessories)
eOne also has secured new partners for toys, arts & crafts, party goods, and more, including:
Amscan (party goods, paper and plastic tableware and decorations)
Crayola (coloring and activity products)
Cra-Z-Art (arts & crafts activity sets and accessories)
Jakks Pacific (ride-ons, wagons, inflatable environments, outdoor seasonal, and kids' furniture)
Phoenix International (electronic sound books)
Skyhigh International (back-to-school stationery sets, writing, and activity sets)
PJ Masks is produced by eOne and Frog Box, in collaboration with French animation studio TeamTO, along with Disney Junior and France 5.
FieryLight Signed for Teletubbies Live Tour
DHX Brands signed a deal with children's stage show producers FieryLight to create and produce an international Teletubbies live theater tour. Kicking off in the UK and Ireland in 2017, the show will then make its way to theaters around the world, stopping in the U.S., Canada, Australia, Philippines, Singapore, Indonesia, South Korea, and Thailand. Further show details, including ticket sales, will be announced next year. 2017 is the 20th anniversary of Teletubbies.
New Products from Vandor Featuring Yo-kai Watch, The Beatles, Star Wars
Vandor, LLC announced products featuring its newest license, Yo-kai Watch. This fall, the company is also launching products that expand offerings in three of its most popular licenses: Star Wars, The Beatles, and Doctor Who.
The Yo-kai Watch line will include a retro tin tote, a small recycled shopper tote, a 14-ounce Tritan water bottle, a four-piece bamboo cup set, and a bamboo mealtime set.
New products in The Beatles line include a Yellow Submarine-sculpted ceramic cookie jar and a stacking submarine-shaped salt & pepper set, an Abbey Road four-piece ceramic stacking mug set, and a four-piece ceramic coaster set. New to the Doctor Who portfolio is a heat reactive Weeping Angel ceramic travel mug. For Star Wars fans, Vandor now offers a 12-ounce ceramic mug featuring Rey or BB-8.
In addition, Vandor launched its exclusive line of Rogue One: A Star Wars Story ceramic and glass drinkware, a high-performance hydration bottle, and collectible retro tin tote.
Laura Marano Fragrance Launches
Firefly Brand Management has signed an exclusive agreement with Dosis Fragrance to create a branded signature perfume for actress and singer Laura Marano. The new fragrance line will launch this holiday season and will be sold at retailers across the U.S.
Laura Marano is best known for her role as Ally in the Disney Channel TV series Austin & Ally. Earlier this year Marano launched her music career with the release of her debut single called "Boombox" from her upcoming debut studio album, followed by the release of her second single from the album this past August called "LaLa."
Earlier this year, Firefly announced a deal with Evy of California for the launch of the Laura Marano fashion apparel line, which is expected at retail in 2017.
4K Media, Wish Factory in Deal
4K Media Inc., the Konami Digital Entertainment subsidiary that manages the licensing and marketing of the Yu-Gi-Oh! brand, announced that it has signed a new licensing agreement with The Wish Factory.
The agreement will bring Yu-Gi-Oh! versions of The Wish Factory's Kawaii Cubes, collectible and stackable products in a variety of sizes and styles to retail markets, outside of Asia. It will launch this holiday.