Agents Announced for Sony's Emojiville

Sony Pictures Consumer Products (SPCP) announced the licensees and agents for Emojimovie: Express Yourself, which is set for release in theaters globally in August 2017.
The movie unlocks the never-before-seen secret world inside your smartphone. Hidden within the messaging app is Textopolis, a bustling city where all your favorite emojis live, hoping to be selected by the phone's user. In this world, each emoji has only one facial expression, except for Gene (T.J. Miller), an exuberant emoji who was born without a filter and is bursting with multiple expressions. Determined to become "normal" like the other emojis, Gene enlists the help of his handy best friend Hi-5 and the notorious code breaker emoji Jailbreak. But when a greater danger threatens the phone, the fate of all emojis depends on these three unlikely friends who must save their world before it's deleted forever.
The licensing program will target a core demographic of 6-10 year olds with a secondary audience of teens and young women. Key product categories will include toys, apparel and accessories, publishing, housewares, arts and crafts, back to school, giftware, and novelty.
The following licensing agents were just announced:
20too Licensing in the Middle East
Biplano in France, Italy, Spain, and Portugal
Bradford Licensing in India
Click in China, South East Asia and South Korea
J&M Brands in Benelux
Katalyst in Canada
Lizenzwerft in Germany, Austria, and Switzerland
Megalicense in Russia
Merchantwise in Australia and New Zealand
Rocket Licensing in the UK and Eire
TLC in Japan
Tycoon in Latin America
Jazwares Named Master Toy for Molang
Jazwares has been appointed the master toy licensee for North America and Latin America for the Molang animated series. The product line, launching in 2017, will include figures, playsets, vehicles, and plush with price points ranging from $3.99-$19.99.
Created by Hye-Ji Yoon, Molang is known as The Happiness Property. It is dialogue-free and comprised of two adorable characters: Molang, a joyful, eccentric, and enthusiastic rabbit and best friend, Piu Piu, the shy, discreet, and emotional little chick. Targeting everyone from preschoolers to teenagers, Molang features adventures that embody happiness, friendship, mutual respect, and solidarity.
The series has been airing on Disney Channel and Disney Junior since February 2016. The brand is supported by a strong social media campaign on Facebook, Twitter, Tumblr, Pinterest, and YouTube.
Millimages is the production and distribution studio. The licensing deal was brokered through Licensing Works!, representing Molang.
Loot Crate, Sanrio Partner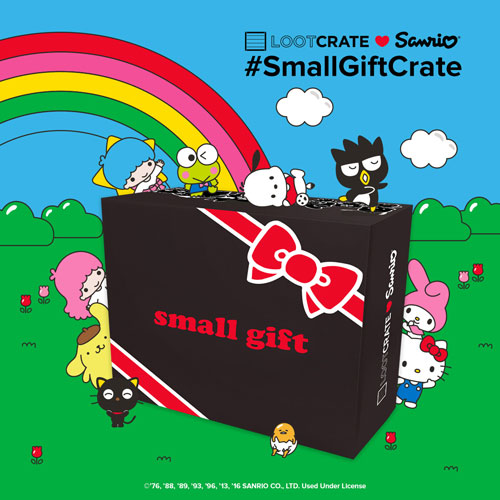 Loot Crate, the fan-based commerce and community platform, and Sanrio announced the mystery gift box subscription Sanrio Small Gift Crate featuring an exclusive collection of never-before-seen Sanrio goods including apparel, collectibles, accessories, and more.
This first crate in the subscription series is themed around hello sanrio, a new multi-character brand from Sanrio, that ushers in an immersive world uniting multiple Sanrio characters and their fans through unique products and content. The crate features an assortment of exclusive products and content from Japan, featuring Hello Kitty, Chococat, My Melody, Keroppi, Gudetama, Badtz Maru, Little Twin Stars, and Pompompurin, among others, including artwork and core Sanrio products. Additional crates will be available in 2017 and will feature various themes that celebrate characters and unique products.
The first crate launched over the weekend at New York Comic Con.
Rocket Has European Rights to Gold's Gym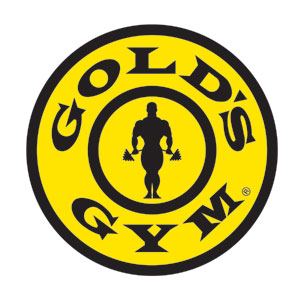 Rocket Licensing announced that it has secured the licensing rights to represent the adult lifestyle and fitness brand Gold's Gym in the UK. Rocket is now looking for partners to join the UK licensing program across categories including sports and athleisurewear, fashion apparel, fitness equipment, accessories, publishing, food and drink and health supplements to target men and women ages 21-54. Alongside an official UK website, Gold's Gym facilities across the country have retail space to offer official merchandise to visitors.
The first Gold's Gym opened in Venice Beach, Calif., over 50 years ago by fitness enthusiast Joe Gold who revolutionized the industry by creating the template for the modern-day health club. Today Gold's Gym has over 700 gym locations across 38 U.S. states and 22 countries around the world, including four sites in London. The chain's global membership currently stands at close to three million members.
El Corte Inglés to Feature Trolls in Promo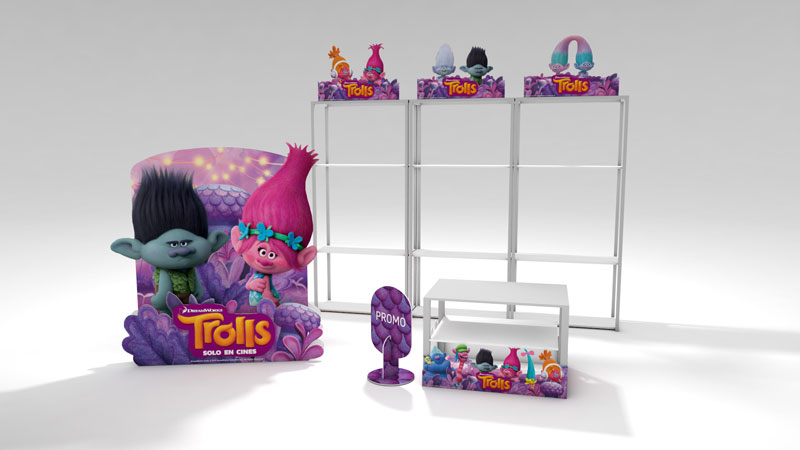 Planeta Junior, retailer El Corte Inglés, and DreamWorks Animation's Trolls are in a promotional deal to feature the Trolls in the El Corte Inglés 8 Golden Days campaign from October 21–November 13. Customers who buy Trolls products worth over 20 euros will receive one free ticket to see the Trolls movie in theaters this fall.
In addition to a presence in the over 1.5 million copies of the 8 Golden Days catalog, the Trolls will have a visual presence at the chain's department stores through exclusive spaces dedicated to the Trolls, a presence in all product categories, and the option for kids to have their photo taken with their favorite characters. Four versions of the Hasbro toy will also be available exclusively at El Corte Inglés stores.
In addition, Trolls will be featured in El Corte Inglés digital communications and social network pages as well as on the company's official website, which will include a space dedicated to the Trolls.
Robot Chicken Merchandise Launches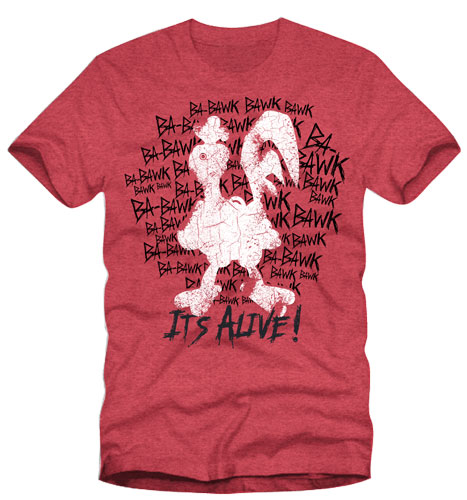 Stoopid Buddy Stoodios (SBS) and Cartoon Network Enterprises (CNE) announced a partnership with ReedPOP to launch a Robot Chicken merchandise collection, featuring a special assortment of T-shirts and other branded items to be sold at conventions, online, and at select retailers. The first three T-shirt designs launched at last week's New York Comic Con.
ReedPOP will be creating a range of non-exclusive items for Robot Chicken including apparel, barware, pins, plush toys, and keychains. The deal was brokered by Brandberry.
Robot Chicken is an Emmy Award-winning stop motion sketch comedy television series that recently aired its eighth season, created and executive produced by Seth Green and Matthew Senreich along with co-head writers Douglas Goldstein and Tom Root for Adult Swim. The team is currently in production on a new special themed to The Walking Dead that will premiere in 2017.
Beanstalk Signs Bear Grylls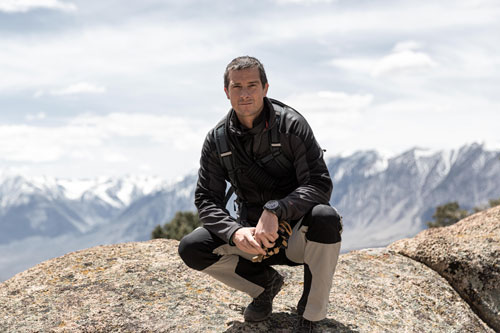 Beanstalk has signed adventurer Bear Grylls for representation. Building on the brand loyalty carved by the adventurer and global television personality, Beanstalk will work closely with Bear Grylls Ventures to build a lifestyle program in Europe and North America that will carry the brand's vision to Inspire, Equip, and Empower. Covering a broad range of categories, including apparel, accessories, and outdoor products, the licensing program will inspire and empower individuals to embrace their adventurous selves.
Bear Grylls has become known around the world as one of the most recognized faces of survival and outdoor adventure. His journey to this acclaim started in the UK, where his late father taught him to climb and sail. Trained from a young age in martial arts, he went on to spend three years as a soldier in the British Special Forces, serving with 21 SAS. It was here that he perfected many of the skills that his fans all over the world enjoy, watching him pit himself against Mother Nature. His Emmy award-winning television shows, Man Vs Wild and Born Survivor, became two of the most watched programs on the planet with an estimated audience of 1.2 billion. He also hosts the hit adventure show Running Wild on NBC in the U.S., as well as The Island with Bear Grylls for Channel 4 and Bear Grylls Survival School for ITV in the UK and Absolute Wild for Dragon TV, China. He is currently the youngest ever Chief Scout to the UK Scout Association and is an honorary Colonel to the Royal Marines Commandos.
Rainbow Fish, Pizza Hut Partner for Promotion
RJM Licensing announced that The Rainbow Fish is this fall's feature partner of the Pizza Hut BOOK IT! Program Give Me Twenty Reading Challenge. The Give Me Twenty Reading Challenge helps establish a reading routine and build reading-readiness skills with young readers and their families. Read 20 minutes per day, five days a week from October 17–December 9 to complete the eight-week challenge.
Young readers will have the opportunity to use fun Rainbow Fish-themed materials and fun printables in the Give Me Twenty Reading Challenge. Once the challenge is finished, early childhood classrooms and families can enter for a chance to win one of 50 prize packages, including a copy of The Rainbow Fish, The Rainbow Fish Share and Sparkle Game, and a Pizza Hut gift card.
Registration for the program is open at bookitprogram.com/givemetwenty until October 16. Rainbow Fish is represented by RJM Licensing.