CozyPhones Reveal New Nickelodeon Licensed Designs for Holiday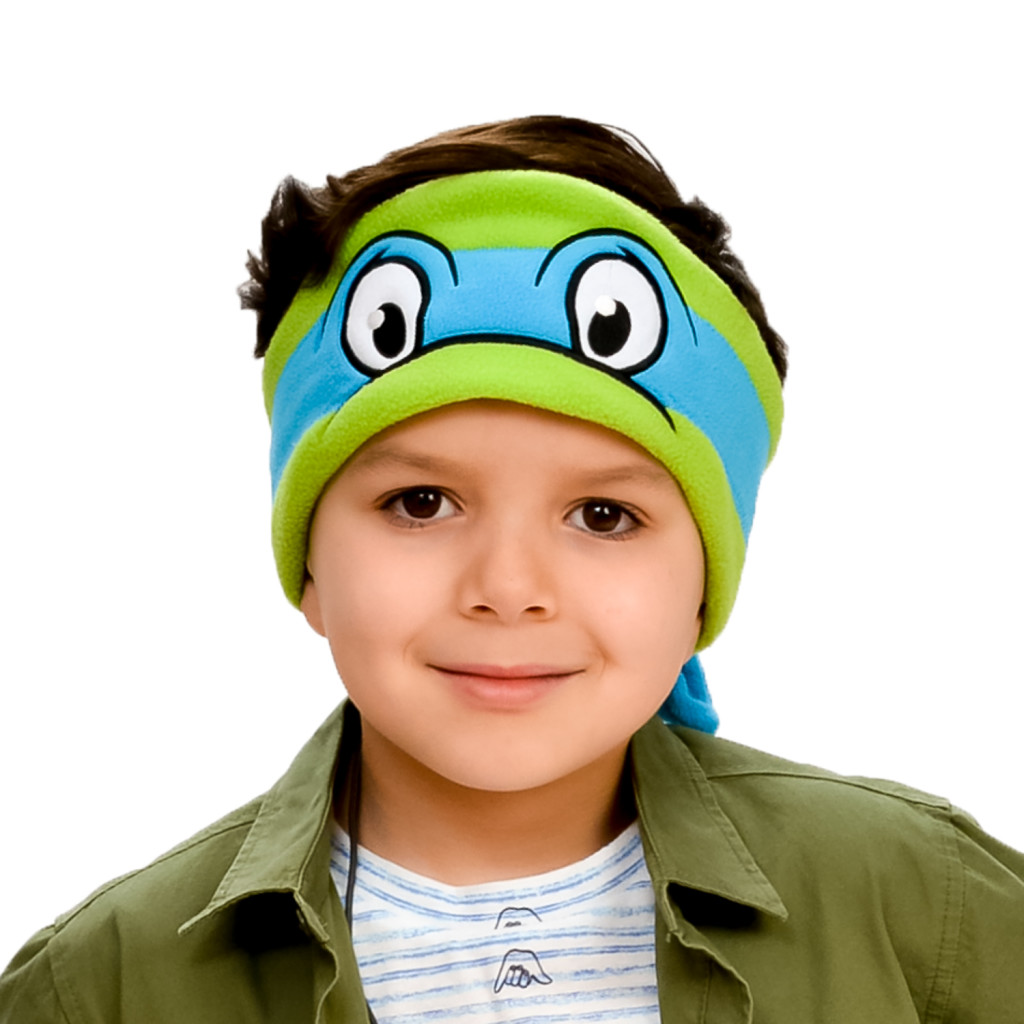 Halo Acoustic Wear LLC announces new CozyPhones kids headphones inspired by hit Nickelodeon brands JoJo Siwa and Teenage Mutant Ninja Turtles. Available now on CozyPhones.com, the JoJo Siwa CozyPhones Headphones featuring her signature bow, and Teenage Mutant Ninja Turtles CozyPhones headphones, join previously released PAW Patrol styles featuring Chase, Marshall and Skye. Great for young kids who consume music or video content at home or on the go, the company's top-selling and patent-pending CozyPhones combination 3-1 headphones, Sleep Mask and Headband with Kid Safe Volume Control are the No. 1 selling kids' headband headphone brand on Amazon.com and topped 2018 hot holiday gift and wish lists.
Just like the original styles, all licensed CozyPhones are lightweight, comfortable and washable with adjustable and removable ultra-thin speakers that provide the perfect fit. CozyPhones can also be pulled down over the eyes as a sleep mask and pack easily in a backpack or suitcase. Built-in volume limiting provides hearing protection. Also included is a 52-inch braided cable that will not kink, tangle or twist.
All CozyPhones are compatible with Apple iPhone, iPad, iPod, Android, Samsung Galaxy, Blackberry, Nokia, LG, HTC, Google Nexus, Lenovo, Asus, Sony, Dell, Toshiba, HP, MP3, MP4 and other audio devices.
Squishmallows Launch Walgreens-Exclusive Holiday Promotion
Kellytoy's Squishmallows will be featured as a Walgreens Gifts of the Week this holiday.
Eight Squishmallows characters in the large 16-inch size will be available at Walgreens in-stores and online and discounted 50 percent to $9.99 during the Gifts of the Week promotion, running November 18–24. Styles will include Gary (giraffe), Prince (dog), Fifi (pink fox), Tally (grey cat), Baron (bear), Mila (elephant), Lola (tie-dye unicorn), and Danny (teal dinosaur).
Barbie Celebrates Today Show Anchors Savannah Guthrie, Hoda Kotb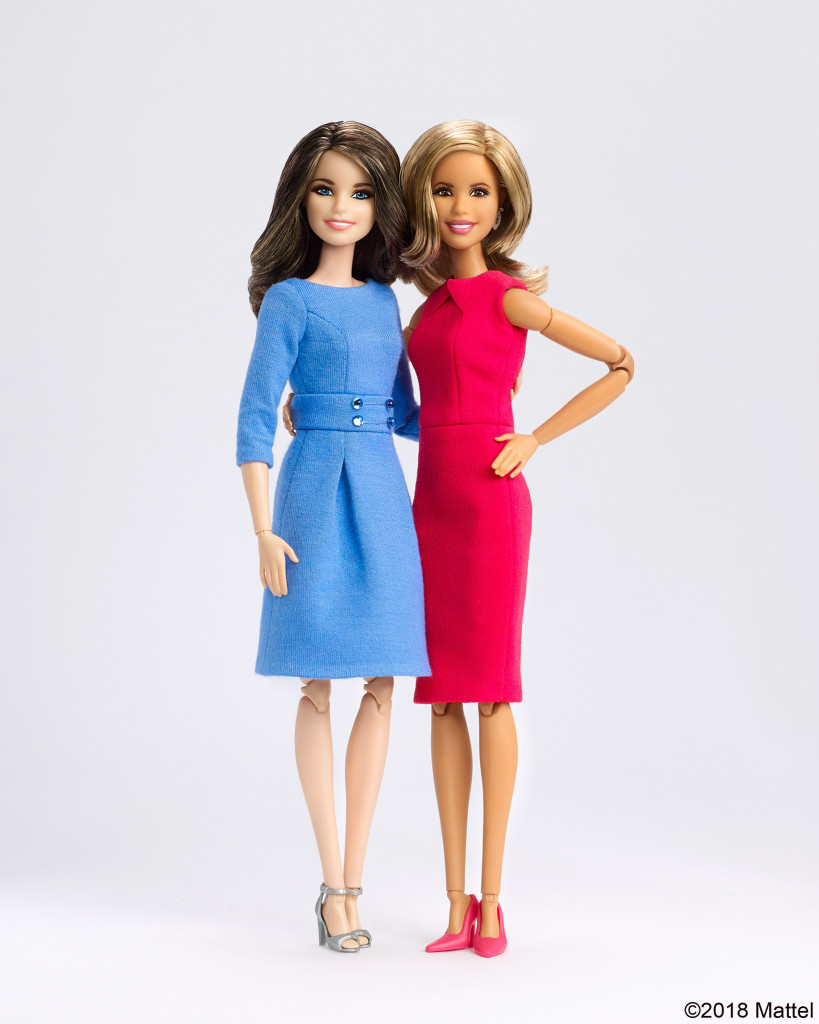 Barbie honors journalists Savannah Guthrie and Hoda Kotb as role models, or "Sheroes," as the first female duo to anchor NBC's Today Show in the franchise's 66-year history. Guthrie and Kotb will be awarded one-of-a-kind dolls in their likeness at the Glamour Women of the Year Summit.
This effort is part of the brand's commitment to show girls more role models through the Dream Gap Project, an ongoing global initiative to raise awareness around limiting factors that prevent girls from reaching their full potential. To help close the Dream Gap, Barbie is committed to highlight a minimum of 10 role models annually, because showing girls more role models is an effective way to inspire their limitless potential. To date, the brand has surpassed this goal by highlighting more than 20 historical and modern role models in 2018.
At the Glamour Women of the Year Summit, Barbie will honor Guthrie and Kotb on stage and lead a conversation around supporting girls. This is not the first time Barbie has partnered with Glamour, as the brand honored Ibtihaj Muhammad, the first American Olympian to compete while wearing a hijab, and Ashley Graham, model and body activist, at past Glamour Women of the Year events.
'Spyro Reignited Trilogy' Launches Worldwide
Spyro returns with the release of Spyro Reignited Trilogy. Spyro Reignited Trilogy introduces players to a fully remastered game collection with a re-imagined cast of characters, animations, environments, brand-new lighting and recreated cinematics—all in HD. Now fans can reach new heights and explore more than 100-plus environments filled with new detail that brings the Dragon Realms and Avalar to life . The trilogy is available now for PlayStation 4, PlayStation 4 Pro and the family of Xbox One devices from Microsoft, including the Xbox One X.
In Spyro Reignited Trilogy, lead developer Toys For Bob offers an all scaled-up version of the original three Spyro games that started it all, Spyro the Dragon, Spyro 2: Ripto's Rage! and Spyro: Year of the Dragon, but with a modern-day feel. Voice actor Tom Kenny returns to the franchise as the voice of Spyro in all three remastered games. Toys For Bob also offers reimagined versions of the classic soundtracks, in addition to an all-new title-screen theme from original soundtrack composer Stewart Copeland. Additionally, the new game brings an in-game audio feature that allows players to switch between the original and the newly remastered soundtracks, for those who want a more classic gameplay experience. Players can simply fly in to the "options menu" at any time during gameplay, unleash their preferred nostalgic or scaled-up groove, and glide right back into the Spyro action without losing saved data.
In support of the launch, Activision Blizzard Consumer Products Group (ABCPG) has also collaborated with Funko, Traly Pins, Exquisite Gaming, KidRobot, USAopoly, Trends International, Rubber Road, and Changes for Spyro apparel, collectibles, figurines and more, which are also now available at retailers worldwide. There's also a GameStop-exclusive Spyro TOTAKU Collection.
One Animation Launches Oddbods Kickstarter Exclusive Game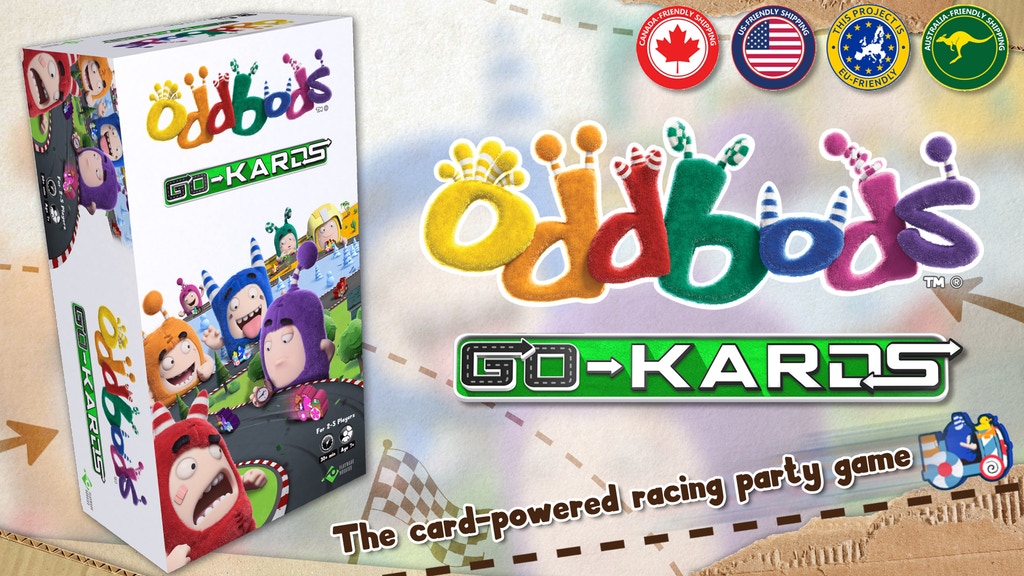 Oddbods, the non-dialogue animation series from One Animation, launched the Oddbods GO-KARDS card-based racing board game in partnership with game developer, Playware, on crowd-funding site, on Kickstarter.
Players must navigate challenges and obstacles strategically planted throughout the track while taking opportunities to prank their competitors in a race to the finish line.
Each of the board and card actions relate to each of the seven Oddbods' core personality traits—Pogo's mischievous side ensures that you can never quite predict what will happen, while Fuse may have a tantrum and change things to delight and frustrate. There are also forfeits to be paid before a player is permitted to move around the board: Can you lick your elbow? If not, then you can't pass go.
The game's interchangeable track allows players to build their own board game that plays differently depending on how it's constructed. It can also be sized for a quick game (four boards) or a long game (16 boards). Its functions are also modular, allowing players to add or remove levels of strategy and complexity to suit any age, 7 and up.
The Kickstarter campaign runs through December 3. The basic family set is priced at $49 and includes 80 play pieces with the pro set priced at $110 to include 155 pieces.