Uncle Milton Expands Sales Team
Uncle Milton Industries announced the appointments Don Hicks and Jonathan Johannessen to sales positions. Hicks has been named vice-president, national and international sales, and Johannessen has been named vice-president, regional accounts and specialty sales channels. Both appointments are effective immediately.
Hicks and Johannessen will be at New York Toy Fair, which starts on Sunday. Prior to joining Uncle Milton, Hicks and Johannessen held positions within the toy industry and join the company with more than a decade of experience within the industry.
Rubicon Appoints Ueno
Rubicon Group Holding has appointed Shin Ueno to the newly created position of global marketing and brand management director.
Based in Los Angeles at the company's U.S. division, Rubicon Studios, Ueno will lead the development and execution of global marketing strategies for Rubicon's growing roster of proprietary properties. He will seek to acquire intellectual properties and cultivate strategic partnerships around the world, and will manage communication initiatives in both traditional and emerging communications platforms.
Ueno comes to Rubicon with more than 20 years of experience in marketing and licensing. Most recently, Ueno served as vice-president of brand management at 4Kids Entertainment, Inc. He has also held posts at Jada, Playhut, Jakks, Bandai, and Hasbro.
Joan Ganz Cooney Center Appoints Abrams
The Joan Ganz Cooney Center at Sesame Workshop announced that Pam Abrams has joined the Cooney Center as director, partnership development and strategy. In this role, Abrams will develop and manage relationships with businesses, academic institutions, and philanthropies that are crucial to the Cooney Center's mission in harnessing digital media technologies to advance children's learning.
Prior to joining the Cooney Center, Abrams was senior vice-president at Downtown Bookworks, Inc. where she produced books in the areas of parenting, cooking, crafts, education, and business. She began her career at Harper's Magazine, and subsequently served as editor-in-chief of Child magazine, editorial director at eToys.com, and as senior publishing executive at Scholastic.
Abrams has written for national publications and is also the author of several books. She served on the board of directors of Consumers Union (publisher of Consumer Reports). Abrams has also been on advisory boards and acted as a consultant for many organizations including the Children's Defense Fund, The March of Dimes, McGraw-Hill and the Southern Poverty Law Center.
Fremantle Hires Cooper Sapire
FremantleMedia Enterprises has appointed Alyssa Cooper Sapire as vice-president, programming for children and family entertainment. Sapire brings more than 16 years of TV industry experience to FME. Most recently, she spent 10 years with Nickelodeon Kids and Family Networks, helping to launch Noggin, The N, and TeenNick Networks. She also oversaw series and multi-platform projects. Prior to Nickelodeon, she helped to launch Scholastic's new media business and developed a multiplatform brand for The Walt Disney Company.
Through its role in the creative process from beginning to end, FME is establishing a next generation model for the creative development, acquisition, production, and distribution of quality content in the children's and family entertainment space.
Duarte Joins Mind Candy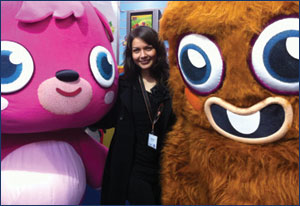 Mind Candy, publisher of moshimonsters.com, announced that it has appointed Nicola Duarte to run its internal global public relations.
She is tasked with raising the profile of Mind Candy and its lead brand Moshi Monsters on a global basis, predominantly focusing on the company's key territories, which are the UK, U.S., and Australia. Duarte is currently undertaking a review of the global strategy and will look to bring on a mix of in-house and agency support to roll out both consumer and trade campaigns throughout 2011 and beyond.
Duarte previously held the position of director of public relations for Classic Media. Prior to that she managed internal communications for the European arm of Discovery Communications.