aNb Media Promotes Leahey, Hires Lynch
aNb Media (that's us!) hired Jennifer Lynch as assistant editor. Lynch, a journalism major, is a recent graduate of Penn State. She also minored in French and spent a semester in Montpellier, France.
In addition, Laurie Leahey has been promoted to editor, expanding her role writing for TimetoPlayMag.com in addition to Toys & Family Entertainment and Royaltie$.
Promotions at Fremantle
FremantleMedia Enterprises (FME), the commercial and brand extension arm of FremantleMedia, announced four executive appointments within the North American licensing group.
The following appointments support FME's focus on the expansion of third party brand representation, children's programming and brand development, live events, digital content creation, and gaming initiatives.
David Luner, has been promoted to executive vice-president of consumer products, interactive and mobile. His new role expands his current responsibilities beyond the representation of FremantleMedia North America's (FMNA) portfolio of TV brands such as American Idol and The X Factor, and FME's third party TV and non-TV brands such as Rebecca Bonbon to include an upcoming slate of new children's content, licensed and original game brands, and the digital content development division.
Olivier Delfosse, has been promoted to vice-president of interactive, mobile and digital content. In his new role, Olivier will spearhead the continued expansion by FremantleMedia in the gaming space, including social media gaming, as well as building on recent successes in the digital content and mobile brand extensions.
Chris Donnan has been promoted to director of live events. In his newly expanded role, Donnan will be responsible for producing touring shows and budgeting across all areas of FME's live events such as the travel versions of The Price Is Right and other branded shows.
In addition, Dhivyah Ramanath has joined the FME team as senior manager of consumer products for softlines. Ramanath will be responsible for growing the apparel, accessory, and publishing businesses.
Child's Play Comm. Promotes Baker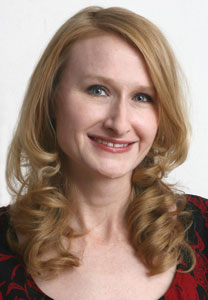 Child's Play Communications has promoted Marie Baker to director of social media.
In her new role, Baker will be responsible for expanding and managing the agency's social media immersion, across Facebook, Twitter, blogs, and other channels. She will continue to serve as director of Team Mom, the agency's proprietary network of mom review bloggers, as well as its offshoot, Music Moms, a music-industry-specific program targeted to mom bloggers.
Baker joined Child's Play in January of 2009 as senior account executive and was promoted to account supervisor the following year.