New Deal for Discovery's TLC Baby
Spuds Inc., a producer of organic and all natural infant and toddler feeding products, and Discovery Communications announced that they will develop a line of feeding products for TLC Baby, a brand dedicated to new and expecting parents. The product line will be introduced to retailers this spring.
The new line with Spuds represents the first product launch under the new TLC Baby franchise from Discovery Communications' Commerce Division. The line will feature plates, bowls, dishes, utensils, sippy cups, bottles, pacifiers, teethers, and various storage containers. Created from reclaimed potato starch, Spuds quality and creative feeding products are completely free of toxins and help provide a safe and healthy environment for children during key developmental stages.
The deal was brokered on behalf of TLC Baby by its licensing agent, Big Tent Entertainment.
Pizza Prints Signs WWE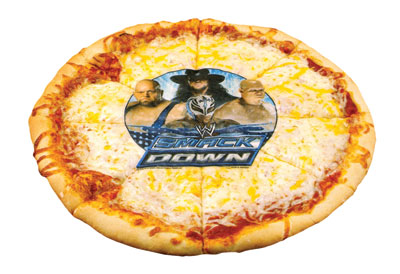 Pizza Prints announced a licensing deal for two new WWE Edible Image designs for pizza featuring Monday Night Raw and Friday Night SmackDown superstars. The WWE Edible Image designs are available at more than 1,200 independent pizza parlors nationwide.
In addition to WWE, Pizza Prints also has licensing deals with Nickelodeon, the National Basketball Association, the National Collegiate Athletic Association, and more than 80 colleges and universities, as well as HIT Entertainment for Bob the Builder and Thomas & Friends.
Patch Products Gets an App
Patch Products announced that its lightning-fast dice game, Word Shout, is now an app for the iPhone, iPad, and iPod Touch.
Created by Paze Interactive, players never know what words could be created after the 10 lettered dice are presented randomly. First, find a word. Then, swipe up to play your word. Players have 30 seconds (or 60 seconds based on your choosing) to spell as many legitimate words as possible—the longer the word, the higher the score.
Play solo or play one-on-one with friends on Game Center or with the Pass-n-Play feature. The app is available for $0.99.
Stone America, International Truck & Engine and Plasticolor
Stone America Licensing announced that a license was recently granted for International Truck & Engine to Plasticolor for floor mats, steering wheel covers, mud guards, utility mats, seat covers and cushions, hitch plugs, garage stools, key chains, tire covers, valve stem covers, auto organizers, CD visor, CD carry case, CD wallet, media visor, litter bag, backseat visor, glove box, automotive graphics, license plate tags and frames, screw cap covers, shoulder pads, auto ornaments, sunshades, air fresheners, travel tumblers, and travel coasters in the United States.