In 1951, television viewers met Lucy and Ricky Ricardo (played by real-life couple Lucille Ball and Desi Arnaz) on the TV show I Love Lucy. The comedic show focused on showbiz-wannabe Lucy, her Cuban bandleader husband, and their best friends and landlords Fred and Ethel Mertz (actors William Frawley and Vivian Vance). I Love Lucy ran until 1957, but the show still remains a favorite among both old and young. "We have a 45-plus core target audience, but what's interesting is that the TV show runs every day still on the Hallmark channel, and 20 million people see that show each year," says Liz Kalodner, executive vice-president and general manager, CBS Consumer Products. "As a result, we have picked up a younger audience."
Fans of all ages can celebrate I Love Lucy's 60th anniversary this year with new anniversary-themed licensed product. CBS Consumer Products, in collaboration with Unforgettable Licensing (CBS's agent for I Love Lucy), is expanding the existing licensing program with a yearlong campaign to celebrate the show.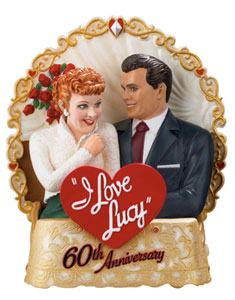 The campaign kicked off last month with The Heart Truth's Red Dress Collection Fashion Show, which honored the memory of Lucille Ball, who was a victim of heart disease, and I Love Lucy to help spread the message about women and heart disease.
Further anniversary celebrations include two live events. An I Love Lucy-themed cruise on Royal Caribbean's Oasis of the Seas sets sail on October 15, 2011. The week-long cruise will feature live shows, trivia contests, episode viewings, and special guests. A live stage show will tour the country, performing two famous I Love Lucy episodes at state fairs, theme parks, and other performance venues.
Fans can also pick up anniversary product at retail, including gifts from Vandor, calendars from Mead, ornaments from Kurt Adler and American Greetings, and a special-edition Barbie two-pack featuring Lucy and Ricky in outfits from the episode "The Diet" by Mattel.
"These are major milestones for one of the most influential television programs and entertainment figures in history," Kalodner says. "The events are just the start of a banner year for I Love Lucy."
Did You Know…
I Love Lucy was the first show to be shot with three cameras in front of a studio audience.
I Love Lucy won two Emmys for Best Situation Comedy in 1952 and 1953.
The show's familiar "heart on satin" opening was created for the 1959–1967 CBS daytime network rebroadcasts and subsequent syndication. Originally the episodes had opened with animated matchstick figures of Arnaz and Ball making reference to that particular episode's sponsor.
On January 19, 1953, Lucy Ricardo gave birth to Little Ricky on I Love Lucy. Coincidentally, Lucille Ball gave birth to Desi Arnaz, Jr. that same night.