LEGO's Ninjago to Air as Series on Cartoon Network
The LEGO Group announced this week that Ninjago, its original property inspired by martial arts lore, has been spun into 13 episodes of animated series content. Written by Kevin and Dan Hageman and produced in HD CGI by Wil Film, the series will air in the U.S. on Cartoon Network starting at the end of 2011. The search for distribution partners in global markets is underway.
To launch the story and establish the characters, Cartoon Network aired Ninjago: Masters of Spinjitzu, two 22-minute animated specials that introduced the characters and conflicts of the Ninjago universe in January and in March. The specials were consistently the highest rated program among boys in their time slot, across multiple airings.
Ninjago is a multi-faceted property with a story-driven universe that can be experienced across multiple platforms. Traditional LEGO building sets allow children to create and roleplay in the Ninjago world. Buildable spinners put the Ninjago characters at the center of a new social competitive game. Virtual gaming at ninjago.com, in a new content zone of LEGO Universe and through a Nintendo DS game all bring the world to life and unlock information and skills that further engagement with the property.
Walmart to Manage Eastern Stores from Atlanta
Reuters recently reported that Wal-Mart Stores, Inc., announced that it would manage nearly 1,600 stores in 20 eastern U.S. states from Atlanta, putting a closer focus on opportunities to grow its business in states such as New York.
Rosalind Brewer, president of Walmart East and executive vice-president of Walmart U.S., based in Atlanta will be responsible for this new eastern business unit.
The states in the new eastern business unit are: Alabama, Connecticut, Delaware, Florida, Georgia, Maine, Maryland, Massachusetts, Michigan, New Hampshire, New Jersey, New York, North Carolina, Ohio, Pennsylvania, Rhode Island, South Carolina, Vermont, Virginia, and West Virginia.
CAA Licensing Signs Quincy Jones
CAA Licensing announced that it has signed Quincy Jones as a client. The company will manage and develop a range of licensed consumer products across various categories on behalf of Jones. His career in entertainment, spanning six decades, has seen him take on numerous roles, including artist, arranger, composer, conductor, instrumentalist, magazine founder, multimedia entrepreneur, producer (film, music, television), and record company executive, among others. Jones is the most-nominated Grammy artist of all time with 79 nominations.
Fremantle Signs 3 Dice Football
FremantleMedia Enterprises (FME), the commercial and brand extension arm of FremantleMedia, announced the launch of 3 Dice Football, a new casino game, in partnership with casino and gaming specialists TCSJohnHuxley and game inventor Jamie Abrahamson. Recently approved by the Nevada Gaming Control Board, 3 Dice Football recently debuted at O'Sheas Casino on the Las Vegas Strip. The new table game aims to bring consumers the excitement of Craps combined with the sport of football, to provide a non-intimidating and easy-to-learn dice game.
Similar to real-life gridiron action, the primary objective of 3 Dice Football is to score a touchdown. The outcome of each down is determined by rolling three dice (two green, one red) delivering four possible outcomes. There are Yards Gained: Total of green dice minus red die; Penalty: Total of green dice is lower than red die; Trips TD: Instant Touchdown with any triple; Turnover: Red six rolled with Green 1–1 or 1–2.
The new partnership reinforces FME's recently announced goal of creating original IP and supporting third party brands.
Moonscoop Shows to Air in Russia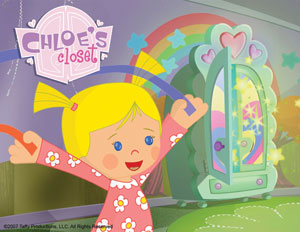 Moonscoop, the brand management and entertainment company, has signed a deal with Channel One in Russia. The broadcaster has acquired Moonscoop's preschool series Chloe's Closet and Dive Olly Dive 2.
Chloe's Closet currently airs in France on France 5 and on Playhouse Disney. It airs in the U.S. on PBS Kids Sprout, in Germany on KI.KA and on the Disney Channel, and Playhouse Disney in Spain. Other international broadcast platforms include: ITV in the UK; CBeebies Latin America; HOP Channel in Israel; Zebra in Romania; ATV-Minika in Turkey; Disney Channels in Australia and South East Asia; oktv (previously TV12) in Singapore; Chutti TV, Sun TV's children's channel in India; Cyprus Broadcasting; MBC3 in Middle East; and TFO in Canada.
A number of licensees are already on board including Bandai America as the global master toy licensee. In addition, Dragon d'Or Editions (Editis Group) has been signed to publish storybooks in France, joining other licensees in the territory such as Sun City (apparel), TM (bags), and Evasion Communication (character costumes).
Chloe's Closet is produced out of Moonscoop's L.A. office, in association with Wales Creative IP Fund, KI.KA/ARD, Trickompany FilmProduktion GMBH, European Film Partners, and Telegael.
Dive Olly Dive! is a co-production of Mike Young Productions Limited (MYP), Flying Bark Productions Pty Ltd. of Australia, KI.KA, ARD of Germany, Telegael Teo of Ireland, Atlantyca Entertainment of Italy, and GDC in China. The new second season has also sold to France 5, SVT Sweden, Finland's MTV3, and Al Jazeera Children's Channel in the Middle East alongside Disney Asia, Univision, TVA Canada, and co-producers KI.KA.
CopCorp Signs Zoodorable for Licensing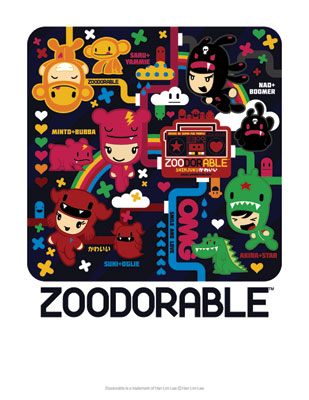 CopCorp Licensing has been appointed to launch and coordinate the global licensing program for Zoodorable, a new property from pop artist/illustrator Han L. Lee, the creator of the Bobby Jack brand.
CopCorp also announced the signing of three anchor licensees for the Zoodorable program in the U.S. Hybrid Apparel has been granted the rights to produce and sell T-shirts, fleece, thermals, junior novelty apparel, and tanks.
H.E.R. Accessories has been granted the rights to create jewelry and hairwear.
License 2 Play, Inc., has been granted the right to make a line of Zoodorable plush and plush pillows as well as vinyl and PVC figures (all sizes).