Earlier this year, the Motion Picture Association of America (MPAA) released its annual Theatrical Market Statistics Report for 2010. The MPAA reported that the number of tickets sold in the U.S. and Canada declined five percent, and theatrical revenue in the U.S. and Canada remained flat at $10.6 billion. (The international box office increased 13 percent.) Blame it on Netflix, the economy, or a lack of good movies. But don't blame 3-D—the 3-D market was a key driver at the U.S./Canada box office, making up 21 percent or $2.2 billion of the total theatrical revenue.
There will be more than 30 3-D films this year. However, it's too early to tell if 3-D will have the same effect on the box office as it did last year. "The novelty aspect of 3-D is sort of wearing off in North America," says Paul Dergarabedian, president of Hollywood.com's box-office division. Seeing a 3-D movie costs more money and moviegoers recognize when a movie uses 3-D just to use 3-D.
"There's a higher quality when something is conceived and shot in 3-D as opposed to stuff that's converted afterward," says Patrick Corcoran, director of media and research, California operations chief, National Association of Theatre Owners. "[3-D] has to serve the story, do something for the audience, and not just be there."
Dinner-and-a-movie theaters, which are cropping up throughout the U.S., serve the audience in a different way. Moviegoers can order a meal, have it brought to them, and eat it while watching a movie. Ryan Noonan, AMC's director of public relations, says it's all about offering options. "The dine-in theater option is a relatively new concept for us and it gives us an opportunity to reach guests who may want something more than just a traditional auditorium experience," he says.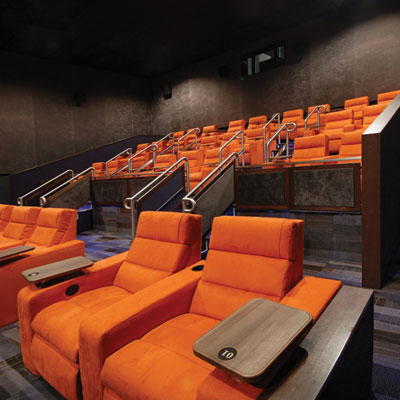 Even though the price may be slightly higher than a regular movie ticket, moviegoers don't mind paying a little more for ultra-suede recliners and chef-prepared meals, says Jim Lee, vice-president of marketing, IPic Entertainment, which operates Gold Class Cinemas/IPic Theaters in the U.S. "The value is there for the price of the ticket and once the guests experience it, they recognize that," he says.
No matter the movie or the theater, getting people to the theater comes down to three things for Hollywood.com's Dergarabedian: "Keep the prices somewhat flat, deliver great product time after time, and keep the quality of 3-D to a level where people will feel like it's worth the money."
Movie Release Chart
Here is a sampling of movies coming out in the second half of the summer. Many are in 3-D.
| Movie | Date |
| --- | --- |
| Captain America: The First Avenger | 7/22/11 |
| Cowboys & Aliens | 7/29/11 |
| The Smurfs (3-D) | 7/29/11 |
| Rise of the Planet of the Apes | 8/5/11 |
| Final Destination 5 (3-D) | 8/12/11 |
| The Help | 8/12/11 |
| Conan the Barbarian (3-D) | 8/19/11 |
| Fright Night (3-D) | 8/19/11 |
| Spy Kids 4: All the Time in the World (4-D) | 8/19/11 |
| Shark Night 3D | 9/2/11 |