Fisher-Price is a brand name that transcends the toy industry. Its equity is certainly known by parents and caregivers but it's also a name known by those who don't have children in their lives.
Within the toy industry, Fisher-Price is well-known for its sub-brands such as Little People, Imaginext, and Laugh 'N Learn. Each has its own unique visual brand language. But the concept of creating a cohesive brand statement for Fisher-Price itself has never been addressed.
Now, for the first time, Fisher-Price is defining itself as a lifestyle brand complete with its own designs, which will be turned into a licensing program. The concept, known as Signature Style, was introduced at Licensing Show this past June.
"Fisher-Price has always had the potential to be a lifestyle brand," says Tina Zinter-Chahin, senior vice-president of design for Fisher-Price. "The brand has elasticity in mom's mind beyond toys. For years, we have had a robust consumer products business. The reason for launching Signature Style now is to dial up that business and dial up that potential for satisfying mom's needs in a broader array of product."
She explains that as a company, "we set out pondering, 'what is the core of Fisher-Price?'" It's a challenging question to answer because it has such a broad portfolio. It is not about one iconic character such as Barbie. It is a brand whose appeal runs the gamut from pregnant women to a 5-year-old child to a grandparent.
"We spent a lot of time studying our heritage," Zinter-Chahin says. "Last year we created a heritage design center on our campus to engage our partners and employees in the richness of Fisher-Price's past so we can better envision our future."
She explains that the project had the design team looking through old archives and old art, which was turned into a mini museum. "It really helped us get into the psyche of our past and our roots," she says. "As we studied it deeper, we realized that the one common thread for Fisher-Price over all these years has been the iconic red scallop design. It transcends everything. It's the heart and soul of the company's visual inventory."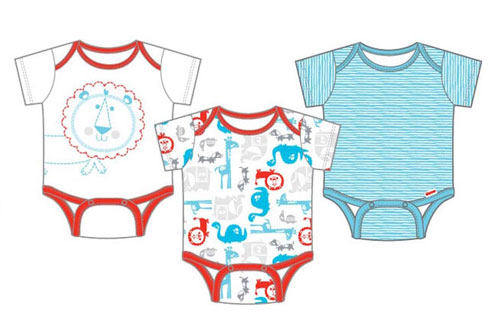 Fisher-Price, a company created in 1930, wants to be associated with an "ownable design" for the Signature Style brand, and there is nothing more ownable than its red scallop logo.
"Lauren Bingle [a principal designer] has been art-directing the development of the characters," says Zinter-Chahin. "She has been looking at trends and one of the current trends focuses on mid-century retro art—the art of the 1950s, Jetsons style, campy looks. Signature Style has that look."
Fisher-Price is developing Signature Style into a long-term licensing program. The current designs will evolve over time to remain fresh and Zinter-Chahin expects there will be sub-collections and various executions and interpretations as well.
This will be a global roll-out with some items seeding the market in 2012 and the majority of the line launching in 2013.
"The style guide assets went out in early summer," says Zinter-Chahin. "Apparel will be the linchpin of the program. We are in discussions for many categories such as footwear, eyewear, bedding, and home décor."
She explains that once the key categories are named that others will fall into place such as gear companies for strollers and diaper bags, among other baby-related goods.
"The sky is the limit on where we can go with this and we are just on the ground floor," she says. "Fisher-Price is happy to be part of something so completely ownable for this iconic brand."