By Elaine Andrus
It's no longer enough for toy makers to introduce a cuddly, beautifully designed plush toy. Consumers are looking for something surprising and unexpected through interactions and different faces, shapes, and textures. Parents are also continuing to look for items that kids will play with multiple times.
YouTube videos continue to have an impact on this category, as several toymakers are launching products based on popular online videos and are incorporating unique packaging to maximize the unboxing experience that consumers are continuing to capture and share online.
Pet Rescue
Moose Toys based its Scruff-a-Luv  collection on an online video that depicts an abandoned animal being rescued, taken home, and cared for by a kind human, resulting in a completely transformed and happy animal. Drawing on the unboxing trend, kids only know the color of the Scruff-a-Luv, and they discover whether they've adopted a dog, rabbit or cat after combing the toy's matted fur, washing it, and then drying the toy with a towel.
"We try to incorporate an element of play right from the moment the toy enters a child's hands, which ensures the unboxing experience is just as exciting and suspenseful as the final toy reveal," says Belinda Gruebner, executive vice-president of global marketing at Moose Toys. "In the plush category, the rescue pet trend is being driven by the animal rescue videos and stories that are being shared online. Everyone loves a feel-good story and finds it rewarding to be able to help animals in need."
Selling out on Amazon during the first week of its launch in June, RescueRunts  also features stuffed puppies that come in crate-style packaging and need to be brushed, plucked of fake fleas, and cleaned by kids.
"When we were working on the product, we put a lot of attention into the process of transforming a ragged runt into a beautiful pet magically. It was also important for us to create a repeat play pattern—kids can clean the RescueRunts up over and over again—so it's not a one-time experience," says Eric Levin, KD Group strategic director.
Levin also noted that rescue pets fall into the nurturing and caring play patterns to which many kids are naturally drawn. "Toys that introduce kids to the concept of rescue will continue to be popular for two reasons: first, because kids love and easily understand the idea of caring for an animal that needs help; second, because parents who are passionate about animal rescue can feel good about buying toys for their kids that promote this message," he says.
But not all plush rescue pets are cute and cuddly. Spin Master recently launched Fugglers featuring "funny ugly" monsters with multiple eyes and mismatched or protruding teeth. Started as a handmade product in an Etsy shop and already popular in the UK, 50 Fuggler characters will be featured in nine-inch and 12-inch sizes online and at U.S. retailers. Special collectibles will feature glow-in-the-dark eyes and teeth.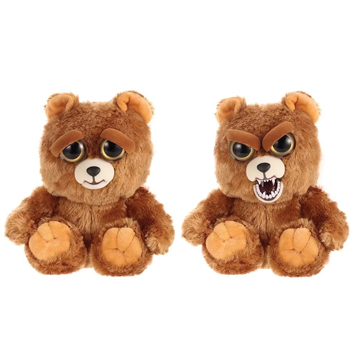 Jazwares also signed an agreement with Surge Licensing to quickly launch a Feisty Pets line based on a viral video that was viewed more than 20 million times in three days. The line features stuffed bears, unicorns, and other animals that appear friendly but boast fangs, evil grins, or ferocious faces when squeezed. In the fall, the line is planning to offer a new tongue-out expression and then begin offering additional grin expressions in 2019.
"Our play pattern coincides with a 'pet play' trend that encourages kids to be empathetic and nurturing. Going one step further, Feisty Pets are even trendier as an 'anti-virtual pet' where they do things that aren't so cute or cuddly, like going from aww to ahh in just a squeeze," says Ashley Ferguson, business development and public relations manager for Jazwares.
Interactivity
Hatchimals inspired a new level of interaction with its robotic plush characters that peck out of hard shells. This fall, the Hatchimals' line of robotic creatures expands further with the launch of Hatchibabies. Unlike Hatchimals of the past, Hatchibabies stay in baby mode and feature five surprise accessories included to care for them, while the egg itself can also be reused as a nest/highchair for Hatchibabies.
WowWee launched a larger, plush version of its Fingerlings. Fingerlings Hugs inspires a variety of play patterns, since kids can cuddle the stuffed monkeys, incorporate them into imaginative scenarios or toss them in the air, tickle them, or have them give you a kiss for different reactions.
"We looked to see if we could offer a larger plush version of Fingerlings that could literally hang onto you and interact in new and meaningful ways," says Davin Sufer, WowWee's chief technology officer. "We've unlocked interactions and play that you don't even see in more expensive items. We've offered the cute and softness factors that you would normally expect from a traditional stuffed animal, while adding fun and surprising sounds without limiting the play experience or adding large battery boxes. It's a level of interaction and fun that you would not expect to see in an item that's intuitive, soft, and cuddly."
Hasbro also expands its FurReal line this year to include an animatronic puppy; a show bird that sings, dances and tells jokes; and a baby T-Rex that begs for attention and eats pretend broccoli and caveman cookies.
Anticipated to be one of the hottest toys this holiday season, Skyrocket's Pomsies interactive plush kittens feature tails that can be wrapped around backpacks, wrists, ankles, and more.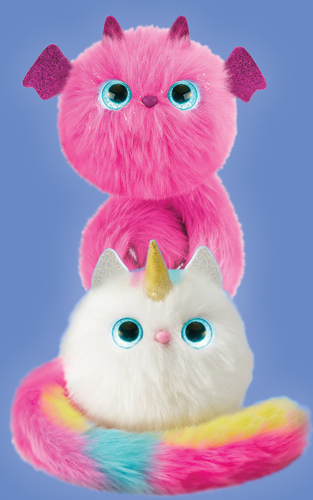 "Pomsies was inspired by the idea of a virtual pet that can be nurtured and cared for like a Tamagotchi but with a plush feature to make it sweet and cuddly," says John Ardell, Skyrocket's executive vice-president and chief marketing officer. "We also wanted to make it fashionable and wearable, like the pompom accessories that are so popular with young girls today."
Pomsies express emotions through their eye colors, and kids can pet one of their three touch sensors to wipe away sniffles, feed them, or make them purr. The line is already expanding beyond kittens this fall with new exclusive characters such as a unicorn, a koala, and a dragon.
Stuffed Collectibles
Beverly Hills Teddy Bear launched its Squeezamals line featuring 20 squishy scented pets. GennComm's ImaGENNation, which perfected the design, says, the goal was to combine the comfort and seductiveness of a fidget toy, with the warmth of friendly stuffed animals.
"We saw the trend for squishy toys emerging in 2016 and identified a hole in the marketplace," says Jeremy Medwed, director of ImaGENNation.
Moose Toys launched its Pikmi Pops last year and has added two additional seasons since then with new characters, patterns, and scents. Each scented plush collectible toy is housed in a lollipop or push-pop vessel and includes a collector's guide. An additional line of Pikmi Flips were inspired by cotton candy and feature a reversible plush that flips from a pompom into a Pikmi character.
"Over the last few years, having a beautifully styled item with a great feel is no longer good enough," says Moose's Gruebner. "Plush is becoming increasingly experiential-based, which means making the item feel more magical through a reveal process or an unboxing experience is essential. The technology in the category is also getting better and better, so I expect to see plush with more textures, and toys that feel more lifelike being introduced into the category in the future."