Since its debut in 2008, 50 million users worldwide have registered on MoshiMonsters.com. The massively multiplayer online (MMO) game for 6–12 year olds continues to add 100,000 new registered users per day. By the end of 2011, Mind Candy, the company behind Moshi Monsters, estimates that there will be 60 million registered users worldwide, with half of them in the U.S. Licensing programs in the UK and Australia have already proven successful for the brand. Eric Karp, head of licensing Americas at Mind Candy, explains how the company will bring a Moshi Monsters licensing program to the U.S. this summer.
Laurie Leahey: How does MoshiMonsters.com work?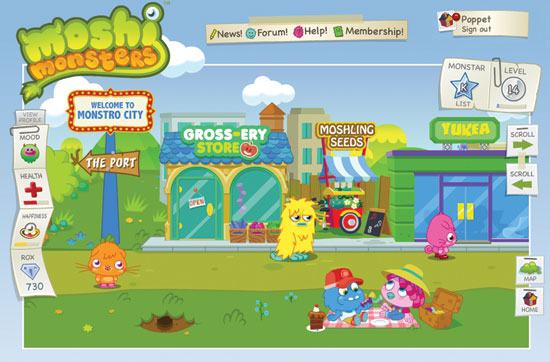 Eric Karp: Subscriptions to MoshiMonsters.com are between $5 and $7 [per month] depending on the subscription plan you choose. You don't have to be a subscriber to enjoy the site. A lot of kids get enjoyment out of just being a basic registered user and a monster guardian. [Subscriptions offer access to more features.]
Kids go online and choose one of the six classes of virtual pets, which are all monsters, and they personalize them. They play mini games, and through those mini games they earn a currency called Rox. Using Rox they can purchase virtual goods and deck out their monster and their monster's home.
L.L.: What sets Moshi Monsters apart from other similar websites for kids?
E.K.: In many ways there isn't a lot of daylight between Moshi Monsters and a lot of other great MMOs that have come before us. But those are really limited experiences. Ten percent of what we offer is very similar to what other folks offer, but the other 90 percent is completely different.
Like with any virtual world for kids, you adopt a pet, and in our case it's a monster. Beyond that you can go to your virtual garden and grow flowers. Based on the configuration of flowers that you grow, you attract smaller monsters called Moshlings. There are more than 300 different Moshlings that you can collect. The other way to attract Moshlings is to go on quests. There's a really cool nurturing aspect to Moshi Monsters that ties into a Pokémon-esque collection play pattern. If you don't have novelty and you don't have variation, if you don't have, in our case, a collectability pattern, we're quite sure that kids' enthusiasm for the [online] world will diminish very quickly.
One of the other things we know kids love to do online is watch videos. The videos that we're going to allow our users to upload and that we're going to put online will be funny and cool, but we are going to moderate it very, very heavily and make sure that none of the truly inappropriate stuff gets on there.
We know kids love to play mini games, so we have something called MoshiGames.com, which gives kids an outlet for playing all sorts of mini games. Ninety-nine percent of them have nothing to do with Moshi Monsters, but it's a vehicle for kids to get what they're looking for out of web usage.
The last thing we're doing is providing a social platform for kids so they can share and compare their monsters and rooms with other kids online. Coming next year we will be developing a product that allows kids to create a very secure walled garden so that the kids they are friends with online are only kids they have met in the real world. A 9-year-old doesn't need 500 friends that he's never met in the real world, but he does want to have an ongoing social relationship online with the 50 or 60 kids that he does know. So we're going to give kids a vehicle for that.
L.L.: How did the Moshi Monsters licensing program develop?
E.K.: We're not looking to have kids play Moshi Monsters for four hours a day. We want them to come online and have a nice little finite experience that's maybe 15 or 20 minutes or half an hour on a daily basis. And then we recognize that that means, at the very least, there are 23.5 hours of the day where kids could be enjoying something Moshi Monsters-related. Now, we're not looking to own that entire day because we do know that kids have to eat and sleep and go to school. But there's no reason that kids shouldn't have access to some sort of legitimate and quality Moshi Monsters experience while they're away from the computer.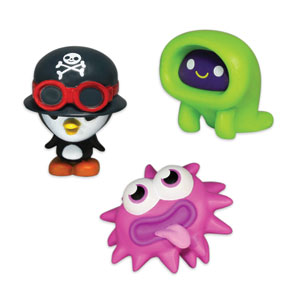 When we realize that better than one in four kids [in the 6–12 demographic] in any market are registered users, then we know that the market is absolutely ready for merchandise, most likely at one major retailer, that is collector- and fan-based. By the time we get to a one in three ratio, we know that we can go to mass, department stores, and specialty in many, many categories. By the time we get to one in two, we know there's not a single category of licensed merchandise or a single retailer that would be inhospitable for Moshi merchandise, and we know that consumers will respond. We followed that path and discovered that calculus during our work in the UK. We didn't know the mathematics before we went into it, but we quickly found out that's the math that works and it's followed suit in Australia. The UK is very close to a one in two. Australia is a one in three or a little bit better. Canada is approaching a one in three, and the U.S. is not quite at a one in four but will hit one in three by August.
L.L.: Mind Candy signed Spin Master as its toy distribution partner, Scholastic as publishing distribution partner, Topps for trading cards, and Basic Fun for key chains. What other Moshi Monsters product do you hope to bring to the U.S.?
E.K.: A couple things that are very important to me that will extend the life of the brand and turn it into a lifestyle brand are all of those categories that are design-dependent: apparel and accessories, back-to-school, and stationery. We want to make sure that it's not just an advertisement for Moshi Monsters, but something design-friendly that kids think is beautiful and that they sort of cherish. The big winds down the road, of course, are getting into the food aisle and consumer promotions. There really isn't a category right now where we're getting any sort of cold reception, but it's just a question of timing.