Jarden Sports Licensing (JSL) is showing off its latest TLG8 brand and product offerings in a unique campaign that's bringing the brand to five top collegiate stadiums across the country in search of the ultimate tailgaters and "failgaters." The tour wraps up at Ohio State's "Horseshoe" stadium for the Penn State vs. Ohio State game on November 19, and the ultimate tailgaters will win a full suite of licensed TLG8 gear.
Jennifer Lynch: What led to the creation of the TLG8 brand?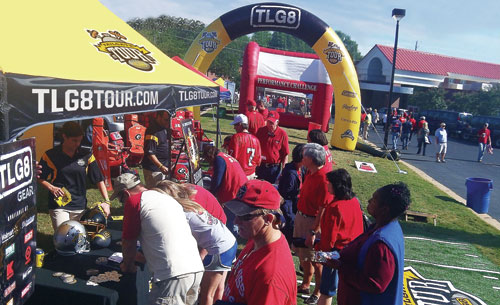 Eric Reinsfelder: It was to a) create something kind of authentic in tailgating and to b) bring a branded look to the tailgate business, which we felt no one had really done before. We were able to do that under the TLG8 umbrella with our consumer brands such as Coleman and Rawlings. From the Rawlings perspective, it's sort of a natural association from the parking lot to the gridiron. Knowing that Rawlings has been an authentic on-field brand, we're sort of taking that to the fans in the parking lot so they can have that same authentic experience tailgating.
J.L.: What do the exclusive tailgate licensing agreements with the NFL, which took effect this year, and the collegiate licensing agreements with the NCAA offer Jarden?
E.R.: Our agreements with the NFL and the Collegiate [NCAA], as well as MLB, have just opened the doors at retail. I think again that retailers and consumers are looking for their core teams. So yes, they're buying this because it's the St. Louis Cardinals or the St. Louis Rams, or whatever your team is, but they get the added bonus that it is a Coleman product so they know it's going to be a quality product. Our moniker is "Real Brands for Real Fans," and I think we deliver on that.
J.L.: How is Jarden's TLG8 Tour helping the brand interact with consumers?
E.R.: It's an integrated campaign. We wanted to do more for collegiate tailgating than any other company out there, so we developed the TLG8 Tour to seek out the ultimate tailgaters and introduce the line. We're going to five highly ranked collegiate tailgating schools out of the 20 that Tailgater Monthly has earmarked.
We're doing product giveaways with food and contests so, there's really that grassroots effort. In addition, we've tied in media with local radio stations, a Facebook page, and Twitter. Then what happens in seeking the ultimate tailgaters is if they are selected as semi-finalists, they will get their own page on our website, www.tlg8tour.com, where people can go and vote for them. The voting is really based on the fans so they determine who is the ultimate tailgater.
J.L.: And how are you promoting the TLG8 line at these events?
E.R.: Certainly for us it's the retail component of it; how do we let consumers know where they can find these great products? We've been at the University of Mississippi, University of Arkansas, and the University of Oregon so far. The fans have been very receptive, saying 'Hey, why are you here? What are you doing?' and once they find out, they can touch some of the product and engage with it. It's really been interesting for us to see the passion that fan has. They've gravitated toward wanting to look at product and find better product. And once they hear we're seeking the ultimate tailgater, a lot of folks feel they fit that bill.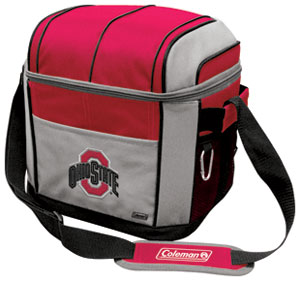 J.L.: Who is JSL's target consumer and what types of products are you offering them?
E.R.: Our target consumer is the core tailgater. It's pretty broad in age, but if you look at the core demographic, it's predominately a college-educated male between the ages of 35–44.
We have a full line of canopies, chairs, soft-sided coolers, hard-sided coolers, grills, stadium seats, and footballs. It's really an all-inclusive one-stop shop for fans. Our first year out, we've been able to develop some things that are very user-friendly, practical in nature, and I think as we start to ramp up in future years, there will be a lot more innovative product in market.
J.L.: What about tailgating do you think attracts consumers to make repeat purchases?
E.R.: There's that whole social aspect that draws people into tailgating. There's a little bit of the competitive nature of wanting the latest and greatest and updating their tailgate gear. Each year tailgaters add to what they have. They may start with a canopy and a couple chairs and the following year they'll add a team cooler, and the next year they'll add something else. I think that's part of what drives those repeat purchases. Tailgaters will spend more than $500 on tailgating per season, and that's just exclusive of food and beverage, so we know they're passionate about their teams.