Pet gear is a big business—a $50 billion business. There is no doubt that consumers love their pets and they are proving their love—and expressing their style—by spending money. The I ♥ Pet Head brand was created to focus on the pet grooming, fashion, and accessories categories. As we move into 2012, the brand will expand into Walmart and Target.
Nancy Lombardi: Explain the I ♥ Pet Head licensing program and the type of consumer who purchases the products.

Caren Calabrese: I ♥ Pet Head is a spinoff of the Bed Head brand. The I ♥ Pet Head brand is not just about products, but a lifestyle that caters to only the coolest pets. I ♥ Pet Head appeals to any pet owner who adores their pet and has a sense of humor, a socially savvy attitude, trendsetting style, and a creatively loud and proud identity. Our core consumer is women ages 25–45. Visit us at facebook.com/PetHeadStyle or at petheadshop.com.
N.L.: Who owns the brand and handles the licensing?
C.C.: In conjunction with Toni and Guy (Kyara & Bruno Mascolo), MIKE Licensing created the brand concept, is handling all licensing, and has successfully developed it from the ground up. The I ♥ Pet Head line is currently sold at pet specialty, mass market, drug, and grocery. Due to the success of the licensing program, 2012 brings expansion of the I ♥ Pet Head brand into Target, Walmart, and more. Licensees include Fetch for grooming and apparel, Ginsey Home Solutions for soft bath products and treats, Jarden Consumer Solutions for electric grooming, beds, bowls, gates, etc.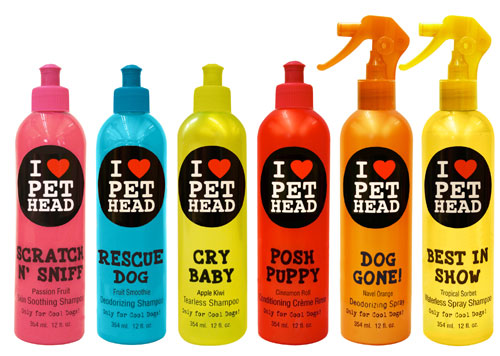 N.L.: How much has this category grown over the past few years? Has the recession hurt the pet accessory category? How much are consumers spending on their pets?
C.C.: Although 2010 was even tougher than 2009 due to the lingering impact of the down economy, the market is regaining traction, with advertising spending and new product activity achieving historic highs in 2009 and 2010. As a result, U.S. pet industry sales are expected to reach $58 billion in 2011, with steady growth bringing the market to more than $74 billion in 2015. The products we create for this brand fall under the pet grooming, fashion, accessories, and feeding products categories. (These numbers come from the U.S. Pet Market Outlook 2011–2012 report, which tracks U.S. pet industry trends and forecasts across all of the four core categories: veterinary services, pet food, non-food pet supplies, and non-medical pet services such as grooming, boarding, training, etc.)
An estimated 45.6 million households own pets. The following spending statistics are gathered by The American Pet Products Association from various market research sources and are not included in the organization's bi-annual National Pet Owners Survey.
Total U.S. Pet Industry Expenditures
Year                 Billion
2011                 $50.84 Estimated
2010                 $48.35 Actual
2009                 $45.5
2008                 $43.2
2007                 $41.2
2006                 $38.5