Disney Announces New Princess Targeting Preschoolers: Sofia the First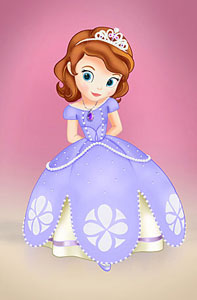 Disney announced this morning that Sofia the First will join the Disney Princess legacy in an animated TV movie airing on Disney Channel in fall 2012 with a series set to follow in spring 2013 on the newly launching Disney Junior channel globally. Sofia the First will fulfill a lot of "firsts" for Disney. She is the first princess created specifically for preschool-aged children and the first time a series has centered on a princess as a little girl. These productions of Disney Television Animation are designed to communicate positive messages and life lessons to viewers. Themes in the series are expected to include learning how to fit in, making new friends, conquering new skills, and building sibling relationships, according to a statement from Disney.
Sofia the First is set in the storybook world of young Sofia who starts out life as a "regular" girl—a commoner. But when her mom marries the king, she is whisked off to a glamorous, but sometimes confusing, castle world of royalty, pomp, and new step-siblings, Amber and James. Sofia the First will include appearances by Fauna, Flora, and Merryweather (fairies seen in Disney's classic Sleeping Beauty). Classic Disney Princesses will also make special appearances.
Providing the voice of Sofia is Ariel Winter (ABC's Modern Family). Also highlighting the voice cast is Sara Ramirez (ABC's Grey's Anatomy) as Queen Miranda; Wayne Brady (Whose Line Is It Anyway?) as Clover, a wise-talking Rabbit; and Tim Gunn (ABC's The Revolution, Project Runway) as Baileywick, the family's Royal Steward. The actors providing the voices of King Roland, Amber, and James will be announced soon, says Disney.
TRU Reports Q3
Toys "R" Us, Inc., reported financial results for the third quarter ended October 29, 2011.
Highlights from the third quarter, compared with one-year ago, include:
Net sales were $2,700 million, compared to $2,719 million in the prior year. The learning and core toy categories continued to be strong, generating net sales growth of 3.8 percent and 2.7 percent, respectively. The entertainment category (which includes video game hardware and software) was down 14.5 percent, reflecting overall softness across the video game industry. Excluding the entertainment category, net sales increased 0.9 percent.
Comparable store net sales decreased by 2.2 percent in the domestic segment and 3.9 percent in the international segment. Internet sales continued to be strong.
Gross margin dollars were $986 million, compared to $987 million in the prior year. Gross margin, as a percentage of net sales, was 36.5 percent, an increase of 0.2 percentage points.
Selling, general, and administrative expenses (SG&A) were $973 million, compared to $957 million in the prior year. Excluding the impact of foreign currency translation of $22 million, SG&A decreased primarily as a result of a decrease in litigation settlement expenses for certain legal matters.
Operating loss was $75 million, compared to $62 million in the prior year. Adjusted EBITDA was $36 million, compared to $49 million in the prior year.
Interest expense declined $52 million. The prior year period was higher primarily due to the write-off of deferred financing charges as a result of debt refinancing.
Net loss before income taxes improved by $39 million to a loss of $179 million, compared to a loss of $218 million in the prior year. Net loss after income taxes was $93 million, consistent with the same period last year and reflects a decrease in interest expense, which was offset by a decrease in income tax benefit and an increase in SG&A.
Foreign currency translation had the following impacts in the third quarter of fiscal 2011: Net sales were increased by $63 million, gross margin was increased by $24 million and SG&A was increased by $22 million. Foreign currency translation did not have a material impact on operating loss and net loss.
The company ended the quarter with total liquidity of $1.8 billion including cash and cash equivalents of $432 million and unused available lines of credit of $1,367 million. Stockholders' equity was $210 million, up from a deficit of $3 million in the prior year.
The company's capital expenditure program is a key component of its long-term juvenile integration strategy, which integrates the toy and juvenile businesses into one store. Through the end of the third quarter of fiscal 2011, the company invested $266 million primarily to convert, expand, and remodel existing stores, open new stores and upgrade its information technology systems and capabilities, compared to $231 million in the prior year.
Additionally on October 31, 2011, the company acquired a 70 percent ownership interest in Toys (Labuan) Holding Limited from Li & Fung Retailing Limited for a purchase price of approximately $80 million plus $5 million of contingent consideration. The terms of the agreement also provide TRU with the future option to acquire Li & Fung's 30 percent interest in the business and also provides Li & Fung the option to require TRU to buy its 30 percent interest in the business.
As of October 31, 2011, Labuan operated 90 Toys "R" Us retail stores in Brunei, China, Hong Kong, Malaysia, Singapore, Taiwan, and Thailand. These stores are now considered part of TRU's operating store count, bringing the total to more than 600 operating stores in TRU's international business. Additionally, Labuan has sublicensed to a third party the right to operate stores in the Philippines and Macau, which are not included in the company's operating store count.
The results of operations of Labuan will be included in the consolidated financial statements for fiscal 2011 from the date of acquisition. It is not expected to have a material impact on TRU's consolidated results of operations in fiscal 2011.
Jerry Storch, chairman and CEO, Toys "R" Us, Inc., stated, "During the third quarter, we prepared for the upcoming holiday season and took some important steps to position the company for long-term growth."
"Recently, we acquired the majority stake in our operations in China and Southeast Asia, presenting what we believe will be a significant opportunity for the company.  And, just two weeks ago, we opened our first store in Poland. International growth in new and emerging markets remains a key part of our overall business strategy."
"At the same time, among our most important strategic priorities in the U.S. is creating new ways for customers to shop seamlessly between our online and bricks and mortar businesses, wherever, whenever, and however they choose. Important to increasing the depth of our omni-channel services, was the recent opening of our state-of-the-art e-commerce fulfillment center in Nevada, which provides increased capacity to meet the needs of our customers who shop online," said Storch.
Brand-Xpand Creates Toot & Puddle; Mama Mirabelle Online Stores
Brand-Xpand has announced a new licensing agreement between its retail site TysToyBox.com and National Geographic Kids Entertainment to open two new online stores, one devoted to Toot & Puddle merchandise (tootandpuddle.tystoybox.com) and the other to selling licensed products featuring characters from Mama Mirabelle's Home Movies (mamamirabelle.tystoybox.com).
Both of the new online stores offer personalized clothing, accessories, and décor. The complete line of personalized Toot & Puddle and Mama Mirabelle soft and hard goods will include products such as water bottles, T-shirts, sweatshirts, and backpacks.
Brand-Xpand is a leading provider of e-commerce retail strategy and services for the licensing industry and currently operates TysToyBox.com and other e-commerce sites.
A Squared and Tata Enter Partnership
A Squared Entertainment (A2), an international kids' entertainment company, and Tata Elxsi, the technology arm of the multi-billion dollar Tata Group, India's largest business conglomerate, announce the formation of A Squared Elxsi Entertainment LLC (A2E2), a joint venture pursuant to a memo of understanding entered into in January, in India. Together, they will create, develop, and distribute original brands, including animated entertainment, digital gaming, and originally designed consumer products.
The new venture's daily operations will be managed by co-presidents Andy and Amy Heyward from the Los Angeles office. The partnership was orchestrated by Indian-born tennis superstar, international sports commentator, and consultant Vijay Amritraj who introduced the parties and will remain on in an advisory role, according to the statement released by the company.
Also serving an advisory role for the new venture is University of Southern California's (USC) School of Cinematic Arts Dean, Elizabeth Daley. Daley joins the newly formed A2E2 Board.
Genius Brands Hires IRTH
Genius Brands International, Inc., developer and marketer of The Baby Genius line, announced it has retained IRTH Communications, LLC. IRTH Communications is an investor relations and communications firm focused on socially responsible investments and companies.
Genius Brands and IRTH will be creating several different initiatives aimed at increasing corporate exposure with new investors, as well as current shareholders, customers, and vendors.