Puppet Heap, founded by Paul Andrejco in 2004, is a puppet design studio with three divisions that works with clients such as The Walt Disney Company and Nickelodeon. In the fall of 2011, the company's first line of retail puppets was sold in the U.S. Andrejco describes his philosophy behind the studio, puppetry, and the characters his team is creating.
Nancy Lombardi: Explain Puppet Heap and its three divisions.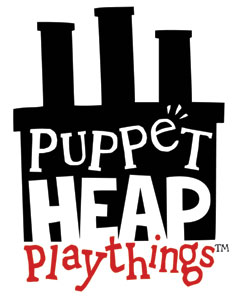 Paul Andrejco: Puppet Heap has always been a company that considers puppetry a whole art, in that design, fabrication, and performance are considered equally with every project we do. For legal and business-related reasons, we have three divisions: Puppet Heap, Puppet Heap Playthings, and Puppet Heap Moving Picture Company. Puppet Heap, you might say is the original parent company. It is the workshop, the heart of the whole operation. This is where all our characters are designed and built. It is where most of our experimentation and play happens. It's where we figure things out and new ideas are born. The retail line is designed and prototyped here, as well.
Puppet Heap Playthings is our retail division. This is the company that produces our puppets to be sold to consumers. The first series of these puppets is called Mother Hubbard Among Others, and features six characters from Spudbottom, a whole town of stories. We call it Puppet Heap Playthings because our intention is that everything we make will embody a sense of play, no matter if it's a puppet, a pillow, or a greeting card.
Our multimedia division is Puppet Heap Moving Picture Company. This is the entity that produces our web content and short films. Through this company, we specialize in productions that heavily utilize puppets to tell their stories.
N.L.: Let's focus on the Puppet Heap Playthings branch first. What does the product line entail? Where are the items manufactured and sold? How are you marketing the line?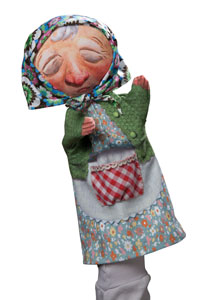 P.A.: At this moment the product line is comprised of the first series of hand puppets, which is called Mother Hubbard Among Others. The characters are: Mother Hubbard, Toby (her dog), Lucy (the cat and the fiddle), the Constable, the Doctor, and the Cabby. They sell for $19.99 each and are manufactured in China. They are sold in toy stores all across the U.S., as well as a few online retailers including Amazon.com and museumtour.com. Consumers can also check out the store locator on our website www.spudbottom.com.
We are marketing the line mainly through our website, social networking sites such as Facebook and Twitter, but also through various magazines and newspaper articles.
N.L.: With all of the tech-based things ready to grab kids' attention, how do puppets fit into the world of today's kids? Why is this type of play important?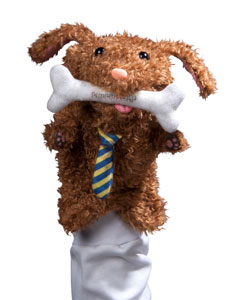 P.A.: It wouldn't be entirely accurate to say our puppets are not in some way tech-based. A big part of what these characters are can be found on our website where people can watch fun video shorts and experience the world of stories they are immersed in. In addition, we will soon incorporate games and a video platform on the site where people can upload and share their puppet shows.
But, yes, fundamentally we are selling real physical objects—puppets! And the thing about puppets is that they are not a private, internalized experience. They are not dolls who come to life entirely within our imaginations. Puppets are meant to be performed, to be played with out loud, in real space, with—and for—other people. It is a kind of play that externalizes our imaginations and manifests something spontaneous and new. And it all happens now—in this moment, in this place. Where dolls are introspective, puppets are interactive and alive.
I think, by playing in this way, entirely new and unexpected ideas and stories come into being. This is how we "write" at Puppet Heap. We take thing A and thing B, put them together and listen to the story they want to tell us. This is what I find exciting about being able to offer these puppets not only to kids, but to everyone.
N.L.: Who is the audience for the films created by the Puppet Heap Moving Picture Company? Where are they aired/released? Are these original stories created by your company or do others come to you with ideas and you create the puppets for the story?
P.A.: The stories we create are original, but they are usually based on mythology, folklore, old songs, that sort of thing. I'd like to think the films are for everyone—there's something in each of them for kids and adults alike. We show them on our websites, www.spudbottom.com and www.puppetheap.com and in film festivals around the country.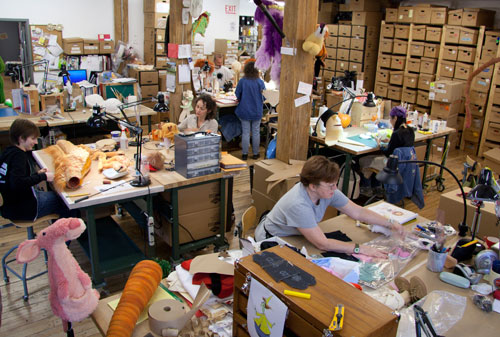 N.L.: What have been some of the most unusual puppets you have created for the Puppet Heap Workshop?
P.A.: That is hard to say because I usually prefer to design and build the unusual. They are all unusual in some way. I think the Cabby is interesting because of his amazing mass of tentacles pouring out of his little jacket. Fritz the Goat is also neat because of his rag-mop pelt and Taiwanese-style construction. To view the characters, click here: www.puppetheap.com