Mattel/Fisher-Price's Diana Dunn-Graves Passed Away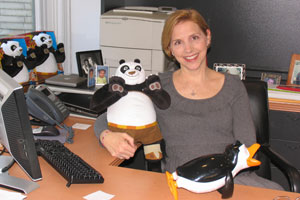 The toy industry is off to a sad start in 2012. The Mattel/Fisher-Price family is mourning yet another loss this week as Diana Dunn-Graves, 49, passed away from complications from breast cancer on January 1. It was announced on Tuesday that Mattel's Stan Clutton passed away right before Christmas.
Dunn-Graves began her career in the toy industry in licensing for plush manufacturer Eden. Her responsibilities grew to include marketing, product development, and sales in the U.S. and Asia. Dunn-Graves then moved onto Gund and became VP of marketing. She managed all aspects of marketing for licenses such as Classic Pooh, Rugrats, and Harry Potter. She also launched the Baby Gund line.
In 2001, she moved to Fisher-Price as director of marketing for the girls division and then moved onto manage the newborn line. Early in 2011 she was named VP of marketing for Fisher-Price Brands.
She is survived by her husband of 13 years, Andre Graves and their two beloved children, Carson and Victoria. Dunn-Graves is also survived by her mother, Virginia Dunn; her three sisters, Kathleen and husband Neal Carney; Patricia Dunn; Judy and husband John Horan; and her brother David Dunn; her in-laws Katie and William Graves; sister-in-law, Ingrid and husband Renato Vasconez; along with nieces and nephews Rachel, Colin, Alexis, Jack, Sean, Julia, Liam, and Michael. Her father, Frank, passed away in 2009.
A wake is being held today (Thursday, January 5) from 2–4pm and 7–9pm at the Thompson Memorial Home in Red Bank, N.J. A funeral mass will be celebrated tomorrow (Friday, January 6) at 11am at the St. James R.C. Church in Red Bank, N.J. Interment will follow at the Mt. Olive Cemetery in Middletown, N.J. In lieu of flowers, the family requests that donations be made in her honor to the Triple Negative Breast Cancer Foundation, P.O. Box 204, Norwood, N.J. 07648; www.tnbcfoundation.org.
"A life cut too short, Diana was blessed with many cherished family members and dear friends," says the statement in the obituary provided by her family.
Her friends at Mattel/Fisher-Price had this to add, "Throughout her career, Diana was known for her exceptional leadership, management skills, creativity, and exceedingly sharp wit."
Joester Loria Group to Represent World of Eric Carle

Eric Carle and his senior management team appointed The Joester Loria Group as the exclusive worldwide licensing agent for The World of Eric Carle. The New York City-based agency will staff a satellite office in Northampton, Mass., at the Eric Carle Studio to oversee product development for the program.
Eric Carle has written and illustrated more than 70 books, which have sold more than 110 million copies worldwide. His best-known book, The Very Hungry Caterpillar has been translated into more than 50 languages. The World of Eric Carle is an established global licensing and merchandising program based on artwork from his picture books.
The Joester Loria Group plans to build on the program's success in the U.S., Japan, the UK, Australia, and Europe where products are already sold by leading retailers. Key merchandising categories of infant and toddler toys, apparel, feeding, home products, and others will be expanded to include more art and content from The World of Eric Carle. The licensing program will also reinforce the brand in classrooms and libraries with teacher's materials and supplies. Additionally, The Joester Loria Group plans to launch lifestyle products for adults including museum quality gifts and home décor and a whimsical collection of junior and young adult apparel, loungewear, and accessories featuring the colorful artwork of Eric Carle.
Thinkway Named Master Toy Licensee for Despicable Me 2
Universal Partnerships & Licensing (UP&L), Illumination Entertainment, and Thinkway Toys just announced that Thinkway has been awarded the master global toy license for the motion-picture film Despicable Me 2, which is expected in theaters on July 3, 2013.
Despicable Me rocketed its mischievous, scene-stealing Minions to the forefront of pop culture, and the characters naturally lend themselves to toys. Thinkway Toys will develop a wide variety of toys featuring the Minions and other key characters including interactive toys, figures, plush, dolls, playsets, vehicles, roleplay, and novelty items. Products are expected to be on shelf in summer 2013.
American Girl 2012 Doll Introduced
Mattel introduces McKenna as the 2012 Girl of the Year American Girl Doll. A determined, energetic girl who loves gymnastics, McKenna shines on the balance beam, but when she falls behind in school, she must use her strengths to turn challenges into triumphs. Through McKenna, girls will discover the power of believing in yourself and your potential to achieve great things.
Available for one year, McKenna will launch with two books that tell her story; an 18-inch McKenna doll featuring long, caramel-colored hair and blue eyes; and an array of outfits and accessories that bring her world to life. In addition, an all-new movie based on McKenna's stories will premiere on DVD from Universal Studios Home Entertainment this year.
Aurora, Ty Settle Copyright Case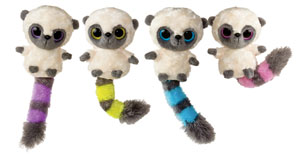 Aurora World, Inc., announced that it has reached a settlement agreement with Ty, Inc., in regards to the federal copyright lawsuit over Aurora's brand, YooHoo & Friends. The parties have reached an amicable settlement of their dispute and the Court has entered a consent decree in the action.