My Dirty Jobs, a company creating a line of heavy-duty cleaning products inspired by the Discovery Channel series Dirty Jobs staring Mike Rowe, is the first reality-based brand to enter the household-cleaning aisle.
Company co-founders Adam Lerner and Christian Darby created the idea. Less than 18 months ago the duo embarked on an uphill battle to convince both Rowe and Discovery Communications to take a chance on their start-up. Their vision became reality and the product line debuted at Walmart last month.
Both Lerner and Tracy VanBibber, national sales director of My Dirty Jobs, spoke with aNb Media about the brand's launch and strategy.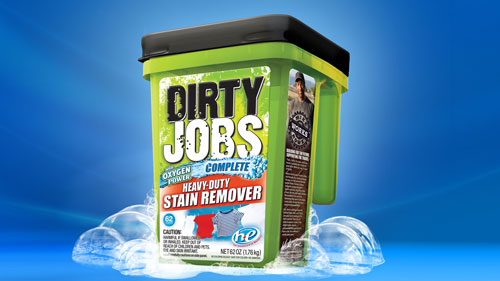 Jennifer Lynch: What made you decide to create this company and work with Discovery and Mike Rowe?
Adam Lerner: Darby looked at the name Dirty Jobs and said, "I can't think of a better brand name for the household cleaning category or a better spokesperson than Mike Rowe." We then assessed the household-cleaning category to understand what the market potential could be. Household cleaning in North America is a huge category with a ton of dollars up for grabs. However, it is a category that's growing at the pace of molasses.
We saw an opportunity to infuse some innovation. We saw a terrific opportunity to really shake it up from marketing and merchandising standpoint. That is where Mike Rowe and Discovery Communications enter the picture.
J.L.: How did the concept for My Dirty Jobs come to fruition?
A.L.: Darby and I set up a meeting with Mary Sullivan co-president of mikeroweWORKS.  [Editor's note: mikeroweWORKS is Mike Rowe's company that manages opportunities for the realty star/spokesman. The mikeroweWORKS Foundation support trades workers. Mike Rowe is also co-president.]
We did our homework. We researched the category and put a presentation and business plan together that mapped out how we would manufacture and fulfill orders. We also put together some product and packaging samples so they could get an idea of what a consumer would see on shelf and, ultimately, purchase.
Our first meeting, which we'd expected to run about 15 minutes, lasted about two and a half hours. A few weeks later, Sullivan contacted me and said, "Mike's intrigued, but we think that before this goes any further, you need to come here and meet him. Let's talk about his vision and the history of Dirty Jobs. We'll also talk about what he will and won't support in the market."
J.L.: Walmart has been a key partner for the My Dirty Jobs launch. Can you explain the partnership?
A.L.: Even when we had Discovery saying "yes" and Mike Rowe saying "yes," everyone still wanted to confirm that we weren't drinking our own Kool-Aid. Darby and I set up a meeting with Walmart executives. We flew down with Mike Rowe and Elizabeth Bakacs of Discovery Communications to make a formal presentation. The Walmart executive team liked what they saw. We also pitched them to be our launch partner to introduce My Dirty Jobs to the household-cleaning category in the mass market.
Tracy VanBibber: Mike Rowe resonates with the Walmart consumer. mikeroweWORKS supports the trades and continues to makes sure that it makes a difference in improving the unemployment rates in that space. Mix in the fact that it's a quality product line and those elements meet the Walmart shoppers' needs. Walmart really embraced us and moved quickly from the start.

J.L.: What specific characteristics differentiate the My Dirty Jobs line from its competitors?
T.V.: The My Dirty Jobs brand doesn't sugar coat or glorify the cleaning process. Our packaging is grittier. It's not trying to be unicorns and rainbows. The My Dirty Jobs product line is a solution for dirty jobs—the type that you see unscripted on the show. It is a cleaning solution for real life and it delivers on the brand promise. Mike Rowe spotlighting the hard work that so many people across this country do every day is part of that brand promise.
The other aspect that's been positive—and really sets us apart from competitors—is our launch partners working closely with us to bring 12 SKUs to market. When starting from zero with a product line, 12 SKUs makes an impactful statement.
A.L.: We also want to impart the message that, "It's ok to get dirty." From our perspective, if you get dirty, that's a day or a life well-spent working hard. So our message to consumers is also to get out there and live life to its fullest. We'll make the clean up as easy as possible. That's what's so core to mikeroweWORKS and it's what Mike Rowe stands for in the marketplace.
J.L.: Who is the target consumer for My Dirty Jobs?
T.V.: It's really anybody that has to clean up after a "Mike Rowe" in his or her life. We estimate that the shopper will primarily be the female head of household, but that certainly won't be the case every time. Having a product line that actually works for the clean up process is what's resonating with folks.
J.L.: Where can consumers find the line in stores? What is the expansion plan for the brand?
A.L.: We are in the laundry care additives section and the household cleaning section. We have more opportunities to build out in both those sections, so we already have plans in place this year and next year to do that. We have an innovative pipeline strategy to make sure that we have earned the right to move into other areas of the store. There's a lot of planning going on now to create a long-term vision for the My Dirty Jobs brand. We are assessing how it resonates, where it's a good fit, and how it can add value to any retailer.