Sears Licenses Out its Brand Names
Sears Holdings announced that its Kenmore, Craftsman, and DieHard (KCD) business unit has appointed Leveraged Marketing Corporation of America (LMCA) as its exclusive global licensing agent. The agreement with LMCA supports KCD's global initiatives to extend the Kenmore, Craftsman, and DieHard brands to new product categories and geographic markets, both within Sears Holdings and externally. LMCA will work closely with KCD to identify, evaluate, and manage licensing opportunities around the world.
Hasbro to Make Major Product Packaging Changes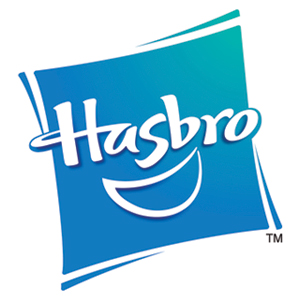 Hasbro announced plans to reduce materials used in product packaging for many of its global brands. Over the next two years, retailers and consumers will begin to see an even broader range of packaging efficiencies put in place by Hasbro, including redesigned disposable boxes and blister packs that use less material. As an example, a more efficient package design for the 2013 My Little Pony assortment pack is expected to reduce the size of shipping containers by 20 percent, creating transportation efficiencies, according to Hasbro.
Packaging that serves the dual purpose of long-term storage, such as game boxes, is not included in the initiative.
Reducing total packaging size is the most recent effort in a series of sustainable packaging initiatives by Hasbro. The company has already announced a number of changes that are in the process of taking effect such as:
Phase-out of PVC in packaging: In 2011, Hasbro announced plans to eliminate PVC from all new core toy and game packaging beginning in 2013.
Elimination of wire ties: In 2011, Hasbro replaced all wire ties in its packages with ties made from paper rattan or bamboo mix to reduce environmental impact. The effort eliminated approximately 34,000 miles of wire ties.
Increasing recycled content: In 2011, Hasbro achieved its goal to derive at least 75 percent of paper and board packaging from recycled material, or from sources that practice sustainable forest management. By 2015, Hasbro plans to increase that target to 90 percent.
Responsible paper sourcing policy: Hasbro implemented an aggressive paper sourcing policy in 2011, providing guidelines for suppliers regarding sustainable paper sourcing to help ensure that paper used in Hasbro products aligns with the company's commitment to environmental sustainability. Among the policy's key requirements is the expectation that suppliers will source paper with as much post-consumer recycled content as practical and financially viable. The company has communicated the policy to its suppliers, and has made it a part of its company-wide quality assurance procedures.
Justin Time TV Series Launches; Licensing Program to Follow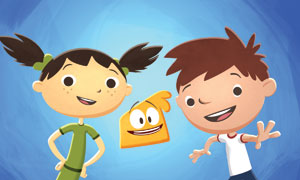 Guru Studio will debut its first original adventure series, Justin Time, on 24-hour preschool channel Sprout in the U.S., beginning April 22, 2012. Sprout acquired two seasons of Justin Time, the animated preschool show that is already a huge hit on networks around the world, including Discovery Kids Latin America and Disney Junior.
Justin Time features a young boy named Justin, who embarks on imaginary adventures with his make-believe friends Squidgy, a shape-shifting piece of yellow clay, and Olive, the group's trusty navigator and guide. Together, the trio takes off on bite-size historical adventures. During their quests, they encounter a wide range of memorable and endearing characters—from burly Vikings on the high seas and a yodeling grandpa in the mountain tops to a lost monkey in space.
In addition, the Justin Time website, co-produced by Zincroe and Guru Studio, invites preschoolers and their families into Justin's world to extend the fun and further the pro-social messages of the series beyond the TV screen with a range of online scroller games and apps.
Guru Studio is setting the stage for a wide-ranging licensing program, with deals expected to be announced later this year.
Justin Time was created by Brandon Scott and developed by Frank Falcone, Mary Bredin, and Scott. The series was produced by Guru Studio, well-known for its work on the Emmy Award-winning preschool series, The Backyardigans, as well as Guess with Jess and Babar and The New Adventures of Badou.
Target, Disney Partner for Princess Week
Target and The Walt Disney Company, along with actress Julie Andrews, introduce the first annual National Princess Week scheduled for April 22–28.
During National Princess Week, Target will showcase a variety of products including the 10th anniversary release of The Princess Diaries and The Princess Diaries 2: Royal Engagement starring Julie Andrews and Anne Hathaway. These will be available for the first time on Blu-ray.
Target shoppers will also find Julie Andrews' The Very Fairy Princess: Here Comes the Flower Girl! co-authored with her daughter, Emma Walton Hamilton, and published by Little, Brown Books for Young Readers. It is the latest publication in their The Very Fairy Princess children's franchise.
Fans of Disney's princess characters will find an array of themed merchandise at Target stores and Target.com. Items include Blu-rays, books, toys, bedroom décor, games, and more, inspired by Disney's classic animated films including Beauty and The Beast, The Princess and The Frog, and Tangled.
The Passing of Thomas Kinkade
Artist Thomas Kinkade died at age 54 in his home in California last Friday. To view the obituary for Kinkade, known as the Painter of Light, click here.
To visit the company's official website click here.