Licensing efforts for the UK animated preschool series Peppa Pig are ramping up as it prepares for its debut at retail in the U.S. this August. Peppa Pig currently airs daily at 12 p.m. EST on Nick Jr. and is created and produced by Astley Baker Davies (ABD) and distributed by E1 Kids, a division of Entertainment One (eOne).
Jennifer Lynch: How did Peppa Pig get its start?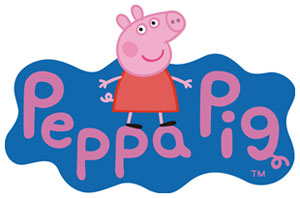 Andrew Carley: Eight years ago, Peppa Pig launched as a co-production of Contender, which was bought by eOne five years ago, and the studio ABD, which created the show. We've always had a 50/50 relationship with ABD. eOne doesn't produce the show but it's handled all the commercial aspects of it.
J.L.: When did licensing efforts for the property start?
A.C.: Licensing for Peppa Pig also began at the same time in the UK, and it's grown up very steadily since then. It's now the No. 1 preschool toy property in the UK.
As momentum has built in the UK, activity in the international markets has also picked up. We now have a broadcasting presence in about 180 territories, but merchandising-wise it's a very different story. We're focusing on the territories where we have the right broadcast partner, the right toy partner, and then rolling out from there. Other territories are following suit, such Spain, Australia, Eastern Europe, Greece, Italy, and now the U.S.
J.L.: What is it about the program that has been resonating with viewers?
A.C.: First and foremost, it's the quality of the programming. ABD is first-class in creating shows that it knows will be loved by children, and by doing that we've also brought on parents so there is high co-viewership for the show. Parents endorse it.
The second thing, which is just as important, is that children age 1–6 can relate to the show. So much of what you see in the show is what 4 year olds encounter every day. Going to school, meeting their friends, going swimming, going on holiday, celebrating Christmas—all of that is very relatable to their world, and children love that. It's not that dissimilar to adult programming. For example, if there's a show on television about your hometown, you'll want to sit and watch it. The same is true of Peppa Pig.
J.L.: How have you worked to translate those qualities into licensing?
A.C.: It's making sure that the product we develop with our licensees carries the DNA from the show. For the toy range, yes, it's vehicles, it's roleplay, it's houses, but when you look at it, you immediately think "That's Peppa. That sums up what Peppa is about." We do the same across all product. Some of these you can translate more easily than others, and we do that by involving ABD. ABD is able to add that little tweak that moves it from being something that's perhaps just a vehicle to being something that's very much a vehicle that's incorporated into the show.
J.L.: Moving into a new territory is always a challenge. This is especially true for the U.S. market, which is so saturated. Why do you think Peppa Pig has been able to translate so well thus far?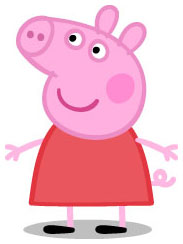 A.C.: The key is that we've handled the growth of Peppa very carefully. Our sense is that by letting it grow organically, it has a greater chance of sustaining and becoming a long-term opportunity. We're now in the position in the UK, where it could be cast as an evergreen. I chose those words carefully because there aren't many, but I think we're getting to that point where children growing up will look back and consider Peppa Pig as something they grew up with and impart on to their children.
J.L.: Can you talk a bit about some of the partners you're teaming up with for Peppa's U.S. licensing launch?
A.C.: When we brought Nickelodeon on board approximately a year and a half ago we knew we had the right broadcast platform to launch a licensing program. Broadcast began in February 2011 on Nick Jr. twice per week and then it moved to five days. It now airs all seven days and the audience is growing. We're getting all the fundamentals in place before moving ahead with the full-scale rollout of product this August.
We brought Fisher-Price on as our U.S. master toy partner last year and Scholastic and Candlewick just came on board as our publishing partners. We also signed an exclusive with Toys "R" Us running through the end of this year. A mass rollout will probably occur around June/July next year in time for fall 2013. We're making sure all the building blocks are in place before we move on to that next stage. Again, it reflects the way we've grown in the UK.
[Editor's note: eOne also appointed Joan Grasso as vice-president of licensing for North America to spearhead the U.S. launch of Peppa Pig and implement an integrated marketing program to support the brand's debut at retail. Toronto-based licensing agency Studio Licensing was also signed to represent Peppa Pig in Canada.]
J.L.: Do you think your strategy thus far has helped build the brand's momentum in the U.S.?
A.C.: The U.S. is the same as it is in the UK. It's very difficult to get a new preschool property off the ground. It's not impossible but it is highly competitive and the market is very cautious. So we're taking steps to ensure that the market realizes the opportunity. No question that the partners that we've brought on board have made a difference. The fact that we've got Nick Jr. as our broadcast partner, Fisher-Price as our toy partner, Scholastic and Candlewick for publishing, is making people sit up and think, "This is something I need to pay attention to." It's always been our policy to bring on a bedrock of partners that make people take note. But at the same time, we don't want to just look at the UK and think that because it's a sure-fire hit in the UK, therefore it will be the same in the U.S. We've got to make sure that everything is working and we build on that success, rather then rushing into the market. Peppa is still a new property in the U.S., the momentum is building and the licensing program needs to reflect that, as opposed to force-feeding it.
J.L.: What are some of the qualities you are looking for in a licensee?
A.C.: We want to work with a licensee for the long term and that licensee needs to understand that and build the product and property in a manner that sits comfortably with the way that we're working with it. There are some licensees that are very good at that and there are other licensees, where it perhaps doesn't quite fit their model. We also look at the product development and their relationship with the retailers. But first and foremost is they have to understand the way we want to build the property, and not, for example, like a film property where you are in and out.
I understand that this can be a difficult art, particularly in today's daily environment, where retailers want to see that instantaneous hit, but if we manage the expectations from day one and point to the UK, which has taken eight years to get where we are, then I think we're on the right road.
J.L.: What other licensing plans do you have in store for Peppa Pig?
A.C.: The next main category will be apparel. We are comfortable with the licensing program we've established to date and the key categories that will take us through to the end of the year. So what we're now looking at now is the next trench of licensees that will enable that rollout for 2013. Apparel is very much the key amongst those.