Saban Partners with The CW
Kidsco Media Ventures LLC, an affiliate of Saban Brands, announced that it will supply programming for The CW Network's five-hour, Saturday morning kids' television block, allowing the company to create a revitalized and branded block with powerful programming and promotion. The block will be anchored by key franchises such as Power Rangers and Yu-Gi-Oh!, in addition to other soon-to-be-announced action/adventure and comedy shows. The company plans to rebrand the day segment, which will air on The CW Saturday mornings from 7a.m.–12 p.m. starting this fall.
The new block will provide the company's programming, brands, and marketing initiatives with access to 110 million households. A new website will also be launching providing kids with content and activities.
This announcement comes as Saban and Konami split the assets of 4Kids Entertainment in court recently. Saban's Kidsco gained ownership of domestic master rights to the Dragon Ball, Cubix, and Sonic X licenses, and 4Kids' agreement with The CW television network for Saturday morning broadcast programming.
Meanwhile, Konami acquired the 4Kids New York office including its contents and domestic rights to the Yu-Gi-Oh franchise. Konami is the master licensor and distributor of the Yu-Gi-Oh! property in Japan.
GreenLight to Represent Ansel Adams
GreenLight LLC, a global media licensing, talent negotiation, and rights representation consultancy, announced that it has been selected to represent Ansel Adams' personality rights and fine art copyrights for commercial usage, including advertising and merchandising. For more than a decade, GreenLight's parent company, Corbis, has been a trusted image licensing partner of The Ansel Adams Publishing Rights Trust and this new, exclusive arrangement is the first time the Trust has worked with a third party to represent Ansel's body of work worldwide, for commercial licensing.
"Ansel's signature black-and-white photographs inspired an appreciation for natural beauty and a strong environmental ethic," said Mark Owens, senior vice-president of GreenLight, in a statement. "Our assignment is to present the totality of the man by creating meaningful partnerships with a variety of global brands and we are honored to be chosen as the first partner to represent his legacy."
Monsuno to Air in Japan
Pacific Animation Partners, LLC announced that Monsuno is set to premiere on TV Tokyo in Japan in October 2012. TV Tokyo is one of the major Tokyo television stations and specializes in anime programming.
"Securing placement on TV Tokyo fulfills the vision for global TV and toy distribution that Jakks shared with its partners at the outset of the Monsuno program," said Jeremy Padawer, executive vice-president, marketing and business development, Jakks Pacific, in a statement. "The meaningful digital and terrestrial placement in more than 60 countries, paired with best-in-class toy distribution deals in over 40 international markets, has set the stage for achieving true worldwide success for the Monsuno franchise."
Monsuno will roll out in more than 60 countries on Nickelodeon and free-to-air channels this fall.
The Monsuno series is co-produced by Pacific Animation Partners LLC, a joint venture between Jakks Pacific, Inc., and Dentsu Entertainment USA, Inc., with FremantleMedia Enterprises and The Topps Company, Inc. Jakks Pacific is the creator of the underlying Monsuno property and master toymaker for the Monsuno toy line. The Topps Company produces Monsuno trading card games, confectioneries and related products.
Marvel Launches All-Winners Squad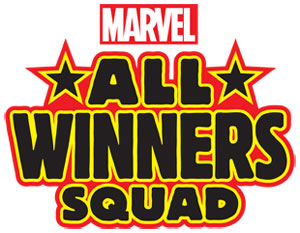 With the surge in popularity among Marvel Superheroes this summer, a group of lesser-known heroes and villains of Marvel Entertainment will be getting a team of their own. This new group is called The All-Winners Squad—an ensemble of Marvel cult favorites.
The National Entertainment Collectibles Association, Inc. (NECA), in partnership with Marvel Consumer Products, will create a full line of offbeat All-Winners Squad merchandise launching this fall. Toys, apparel, and collectibles will celebrate the solidarity of these newly revived characters.