The Toy Industry Foundation (TIF) celebrated the start of summer by bringing a ray of sunshine to the lives of sick children through its "Play Heals" partnership with Ronald McDonald House Charities (RMHC).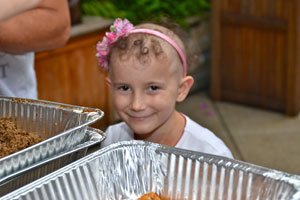 First, the Foundation participated in a "day of play" on June 4 with young patients from Montefiore Hospital in the Bronx and residents from the Ronald McDonald Houses of Manhattan and Long Island. The children and their families enjoyed a day of toys, barbecuing, boating, swimming, and fishing at the Woodmere Bay Yacht Club in Long Island. The children received bubbles, blasters, and battleship games generously donated to TIF's Toy Bank.
On June 22, TIF threw a fiesta-themed party at the Ronald McDonald House of New York for 80 pediatric cancer patients and their family members. TIF helped brighten the faces of the children, who popped a piñata, planted hot peppers, blew bubbles, made paper flowers, and shook maracas with the performing mariachi band on the House's terrace, where dinner and dessert were also served.
To continue putting smiles on the faces of these children, TIF is in great need of toys to support the "Play Heals" partnership. The partnership provides toys year-round to Ronald McDonald Houses across the United States and Canada. Everything from arts and crafts to action figures, dolls, costumes, and books are welcome. Companies that would like to get involved are encouraged to contact Dawn Herrschaft, foundation coordinator, to find out how to donate products to these special children while they are staying at their "home away from home." She can be reached at (646) 454-5581 or at dherrschaft@toyindustryfoundation.org
To learn more about all of TIF's activities visit ToyIndustryFoundation.org.