By Kristin Morency Goldman
If we can find a silver lining to the global pandemic, it's that more families than ever are at home playing and learning together. During this critical time, The Toy Association and its philanthropic arm, The Toy Foundation, have been working daily to promote play and deliver the tools of play to children across the nation.
"Our goal is to ensure that as many children as possible can reap the benefits of play, from building cognitive skills, and developing creativity and confidence, to finding an emotional and physical outlet for what they are experiencing during this difficult period," said
Ken Seiter, executive vice president of marketing communications at The Toy Association. "Our team has reached millions of families with toys, tips, and resources to make playing and homeschooling a little bit easier during what is surely a challenging time for so many parents and caregivers."
The Genius of Play
The Genius of Play has been a crucial resource for parents since the outset of the pandemic. From launching its "Worldwide Headquarters of Play" public service announcement in March, to the "Play Today" campaign, which ran from April to June, The Genius of Play has been providing millions of families with free at-home play ideas and learning resources at www.TheGeniusofPlay.org.
"The Genius of Play has been resonating with kids and parents more than ever, helping them cope, learn, and have fun while social distancing," said Anna Yudina, senior director of marketing initiatives at The Toy Association. "Our website and social engagements were through the roof for the first half of the year, proving that these resources were crucial for so many families stuck at home."
Throughout August and September, The Genius of Play will host "Play-Fall Giveaways," featuring educational toys and games from participating companies. Products featured on The Genius of Play's social media channels will also be used as giveaway prizes to help families gear up for the school year.
Providing Play & Necessities to Underserved Communities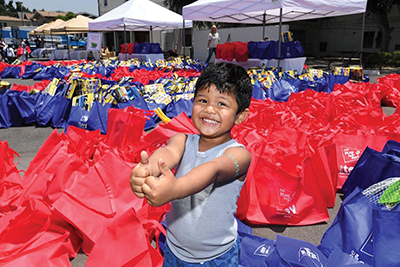 With the pandemic having a significant impact on underserved communities, The Toy Foundation has taken on a new direction to help kids in vulnerable situations.
"If children are food insecure, or fearful, it is very hard to be joyful," explained Ellen Lambert, interim executive director of The Toy Foundation. "When the pandemic struck, we moved quickly to approve several cash grants that would respond to the immediate, essential needs of children and families, in addition to our commitment of delivering toys and games to these communities"
More than $260,000 in grants were released by The Toy Foundation to organizations across the country to help provide food, educational materials, toys, digital devices, clothing, support/learning staff, face masks/protective clothing, college scholarships, and more to children in vulnerable situations.
Additionally, with play becoming more paramount than ever in the COVID-19 era, The Toy Foundation is exploring new ways to bring play into classrooms; how to make play more inclusive, diverse, and representative of kids and youth across the country; and other avenues for promoting and delivering the undeniable benefits of play to kids everywhere.
Trends to Watch
Despite physical travel being limited the last few months, The Toy Association's trends team has been "hitting the road" virtually to promote members' toys and games – and the importance of play – in broadcast segments and trade publications around the world.
"Throughout everything, we have remained committed to helping families find the perfect toys and games for their kids as they spend more time at home this summer and prepare for back-to-school season," said Adrienne Appell, senior director of strategic communications at The Toy Association.
The trends team has also been tracking emerging trends that have evolved or intensified as a result of the pandemic and will unveil its predictions for Q4 in a presentation during the August Toy Fair Everywhere virtual market week.
"There have been so many unpredictable changes in our world since we announced our top trends at Toy Fair New York," said Appell. "Our mid-year trends presentation at Toy Fair Everywhere will look at how trends related to play, shopping, and spending have developed and will impact sales for the holiday season."
For more information about The Toy Association's recent activities – from supporting the business of play through its Toy Fair Everywhere virtual market weeks, to tackling counterfeit toys, to helping toy companies navigate the pandemic, and more – visit www.ToyAssociation.org and www.ToyFairEverywhere.info.