'Uncle Milton' Levine Dies at Age 97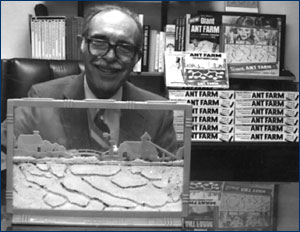 Uncle Milton Industries sadly announced the death of its founder Milton Levine, who passed away on January 16, 2011, at age 97. Levine was best known as a toy industry pioneer and inventor of the Ant Farm. Beyond Levine's contribution to the toy industry and American pop culture, his focus was on his family—his wife of 65 years, Mauricette, and children Steve, Ellen, and Harriet Levine, of which Steve and Ellen have been actively involved in growing and running Uncle Milton Industries through the decades after Milton's retirement.
Brand Central Is on the 'Dot'
Blu Dot, a modern furniture brand, has selected Brand Central as its agency of record to seek licensing partnerships and design collaborations. Brand Central will leverage Blu Dot's home brand and design aesthetic into a consumer products lifestyle brand beyond the home.
Brand Central will be seeking design collaborations and high design licensees in product categories ranging from outdoor living and office to home décor and tabletop. In addition, Brand Central will work on category-specific co-brand collaborations as well as direct-to-retail exclusives.
HGTV Launches HGTV Home Lifestyle Brand
HGTV will expand its collection of licensed products with the launch of the HGTV Home brand and three new product lines in the paint, flooring, and bedding categories. Sherwin-Williams will launch the exclusive HGTV Home by Sherwin-Williams, a line of interior paint and painting supplies, by June. Beginning this spring, Shaw Industries will launch the exclusive HGTV Home—Flooring by Shaw in select retail outlets, and the HGTV Home fashion bedding collection, in partnership with Victoria Classics, will become available at retail nationwide.
The new product lines will showcase a variety of offerings within the targeted categories. HGTV Home by Sherwin-Williams features eight color collections, durable and low-odor paint, as well as tools designed to help consumers enjoy the painting experience. HGTV Home—Flooring by Shaw features carpet, hardwood, laminate, and area rugs. The selection also will include green choices such as Shaw's Anso nylon and Epic hardwood.
Toys 'R' Us Hosts Great Trade-In Event
Toys "R" Us issued a new call to action for customers to rid their homes of potentially
unsafe, old, and second-hand baby products and exchange them for savings on a new item during the Great Trade-In event, which is a national safety program designed to draw attention to certain used baby products that can carry potential hazards, but are still in circulation and are not the best candidates to be handed down or resold.
The Great Trade-In event begins January 28 and continues through February 21 in Babies "R" Us and Toys "R" Us locations nationwide. During this time, stores will accept any used cribs, car seats, bassinets, strollers, travel systems, play yards, high chairs, and toddler beds in exchange for a 25 percent savings on the purchase of a new baby item, in any of these product categories, from select manufacturers. Through this program, Toys "R" Us continues to raise awareness among parents about ways to be proactive where children's safety is concerned.
Joe DiMaggio Brand Gets a Boost
Joe DiMaggio will soon grace a host of licensed consumer products. DiMaggio, LLC—the sole licensing company and owner of DiMaggio's name and image since the player's death in 1999—has partnered with MODA Licensing and Dominant Players. The newly created group—Joe DiMaggio, LLC—will energize, promote, and license the Joe DiMaggio brand. This partnership coincides with the 70th anniversary of DiMaggio's famous 56-game hitting streak—one of the most enduring records in sports that remains unbroken to this day.
DiMaggio licensing will be developed, executed, and managed by MODA Licensing. Brand identity, integrated marketing, and communications will be created and executed by Dominant Players.