Toy Fair Recap
Toy Fair at the Javits Center had an energy this year that has not been felt in years. Innovative products, value, and classic characters remain the key themes.
Toy Fair kicked off early for aNb Media as we began previewing items in January as manufacturers braved a snowy New York City to show lines early.
Listed below (in alphabetical order) is a sampling of the companies we visited during Toy Fair along with some of the key products in each line.
Activision: Skylanders Spryo Adventure comes with a game, portal, and three figures. Place the figure on the portal and it appears in the video game. All information from the game is automatically and immediately saved—no buttons to push. Figures can be brought to a friend's house to use on their portal.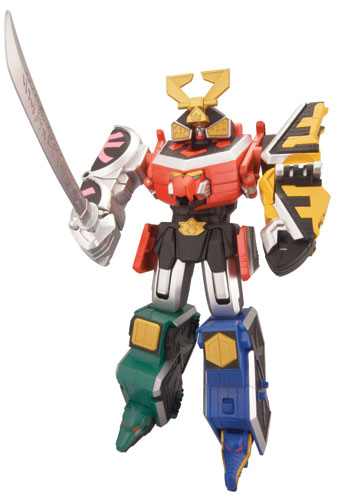 Alex: Signed a licensing deal with Dylan Lauren of Dylan's Candy Bar. The line of crafts features a number of items, most notably Candy Wrapper Jewelry. In the bath toys segment, the Diving Monster comes with diving board and suction cup, which adheres to the tub. The Cupcake Crafts set has kids using cupcake liners to make crafts. A variety of fabric Advent Calendars is also available.
Bandai: Power Rangers Samarai (complete with a variety of Megazords) was the key part of the line. Thundercats, Ben 10, and Pocoyo were also front and center. In a departure for Bandai, the company introduced a proprietary brand called Skreemsters. Talk into the car to power it up. There are track sets to test out whose car will move faster.

Basic Fun: Frogger, Tetris, Space Invaders, Operation, Battleship, and Yahtzee are available as carabiner games. Unravels are wax pencils with a message written on the inside to be read as tweens unravel the pencil.
Briarpatch: The I Spy Wonder Tube has players solving riddles and looking for items inside the glitter, sand, and water-filled tube.
BSW Toys: The company is introducing a line of Shrinky Dinks.
Cepia: Dagedar is a marble-based line where players race the marbles on ramps. Each character has a code that refers back to a website. Of course, the Zhu Zhu brand continues to expand with puppies, babies, and a new movie this fall. It has yet to be determined if the film will be theatrical or direct to DVD.
Crayola: Color Wonder now comes in metallic versions. Buy a 17-foot roll of Color Wonder paper, which can be attached to the wall. Sidewalk tattoos are stencils that rub shapes into a driveway. Glow explosion expands into paint and sand art. Crayola now has bubbles in color. eMarker is for use on an iPad, download the free app and use the pen on the pad.
Discovery Bay Games: Duo is a game piece to be used on the iPad. Apps are available to play games with the attachment, one such free app is Yoomi. Others are available for purchase.
Educational Insights: In the Sneaky Snacky Squirrel Game, players use the squirrel tongs to place nuts on the tree stump. Players must be careful because the nuts can be blown away or stolen.
Endless Games: In Flipping Out, there are a number of chips all featuring a letter. If the category is "bands," be the fastest player to name a band with the available letters. Players volley back and forth until the letters are eliminated.
Fundex: Phil 'Up Chuck has players stuffing pieces of food into Phil. The more he eats, the bigger his cheeks get, his ears pop out, and his eyebrows rise. When Phil is full, his head explodes and food flies out. The player who makes Phil 'Up Chuck upchuck is the winner.
Gund: The company introduces feature plush with Peek-a-Boo bear for babies and the Gridiron Fanatic Bear for adults. Peppermint Elves allow you to record a message to Santa. Squaredy Cats plush is a tween-targeted property born on Facebook. Nuzzles are soft plush with giant heads, which will nuzzle your neck.
Hasbro: Showed an extensive line for its new Sesame Street license. Elmo remains the center of the line with key driver, Let's Rock Elmo. The feature plush incorporates instruments so kids can play along with Elmo. The line expands beyond Elmo and focuses on the other core characters such as Cookie Monster, Bert and Ernie, Big Bird, Oscar, and Abby with feature items and classic play patterns. The company also focused on its new building system, Kre-o, featuring the Transformers license. Mr. and Mrs. Potato Head are being featured in slimmed-down versions in action adventure sets. Lite Brite now has LED lights. Play-doh expands featuring the Sesame Street license. Connect 4 Launcher features a double decker version of the game where players flick the pieces into slots. Scrabble Alphabet Soup is for the youngest game players. Monopoly Live and Battleship Live introduce lots of technology into the game play. Captain America, Thor, and Transformers are key product lines based on films. Easy Bake Oven drops the light bulb for battery-powered baking. Star Wars Ultimate FX Lightsaber is the most realistic version yet. Littlest Pet Shop Walkables scoot across the table. Stay tuned on 9/10/11 for the latest in Vortex news.
Jakks Pacific: Jakks is introducing a line of games and puzzles across many brands such as Pirates of the Caribbean, Pokémon, and Phineas & Ferb. RC Fast Wheels allows kids to take any 1:64-scale vehicle and add an attachment to the back to make it an RC vehicle. The Max Force Blaster shoots paper pellet "spit balls." Only the supplied pellets will work in the blaster's chamber for safety reasons. The Real Construction line is expanding with power tools. In the TV Games line, Jakks is introducing Golden T-Golf and Big Buck Safari. From Disguise comes Marge and Homer Simpson costumes along with Duffman and Duffwoman. The Kids Only division is offering Cars 2 Puzzle Furniture and a Cars 2 swing. Cabbage Patch Kids have new looks and new personalities. Storytime Belle is being introduced from Tollytots. Slip your hands inside the gloves of CDI's Big Power Hands. Jakks signed a deal with rapper T-pain for the I Am T-Pain Mic.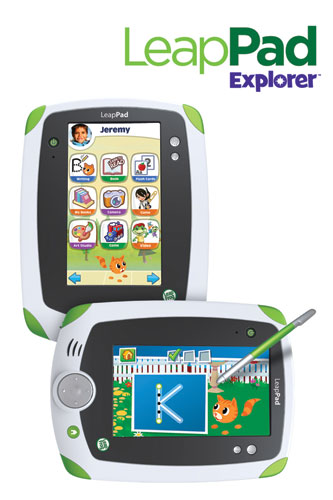 LeapFrog: LeapPad Explorer, an "iPad-like device," is a multifunctional learning tablet for kids ages 4 and up. It is housed in a sleek, kid-tough, and compact design for easy portability. It allows for learning, digital reading, and personal creativity. LeapFrog's largest-ever learning library at launch, it will feature 100-plus learning games, videos, eBooks, flash cards, and more. It is compatible with the entire existing Leapster Explorer library. There's a tilt-sensor for game control and 5-inch color, touch screen. It features a built-in camera, video-recorder, and microphone. The MSRP is $99.99, with downloadable applications priced at MSRP $7.50 and up. Additional game cartridges will have an MSRP $24.99.
Learning Curve: The Chuggington Interactive Railway has SmartTalk technology, which allows the engines to recognize and interact with each other and with major train destinations in the collection. The more engines and destinations that are added, the more interactive the world becomes. For Dinosaur Train, kids can keep track of their collectible figures inside Boris' head with the Boris Storage Case. It holds up to 20 assorted figures.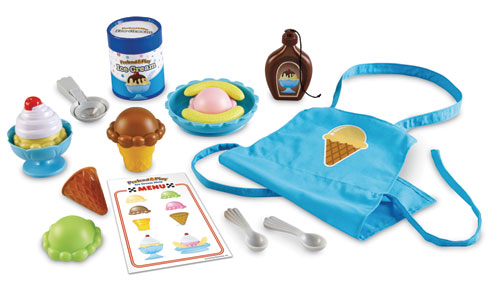 Learning Resources: The Pretend & Play Ice Cream Shop has four scoops of ice cream, two cones, two ice cream dishes, two spoons, a banana that "splits," a scooper, apron, and chocolate syrup bottle that "squirts" mess-free "string" of pretend chocolate.
LEGO: Ninjago is the newest proprietary brand from LEGO. Disney/Pixar's Cars, Winnie the Pooh, and Pirates of the Caribbean are all part of the 2011 line. LEGO is also introducing an Alien Quest line. The UFO Abduction set allows the figures to be captured by the aliens in the space ship.
Little Kids: Crunch art has been retooled making it easier for kids to complete. Toobers & Zots is the "foamstruction" set to bend, build, and pretend. Junkyard Ball Ballpark in a Box—well, that one seems self-explanatory.
Manhattan Toy: The Monster and Me line of costumes is for kids to wear. Matching monster plush is also available. Boysterous is a line of action figure plush for boys. Parents magazine line of classic specialty-style toys was on display. Fraggle Rock Bobblehead plush is available.
Mattel: Some of the highlights coming from Mattel this year include Sing-a-ma-jigs Duets and Rock Star Mickey. The iCan Play Case houses an iPhone or iPod so parents can safely let baby handle their device. The KidTough See Yourself Camera lets kids take a photo of themselves with ease. The Dora Fiesta Favorites Kitchen has even more accessories and activities than ever before. There is a complete Thomas & Friends line. The Angry Birds board game, based on the popular app, was the talk of CES. Barbie's Hairtastic, allows girls to print out hair extensions from their home computer. There are new additions to Monster High and a Toy Story Space theme. Hot Wheels Wall Tracks allows the sets to attach to the wall in a partnership with 3M Command Strips. Video Racer puts a camera inside a Matchbox car. Green Lantern movie figures, vehicles, and roleplay are also key in the line.
MEGA Brands: The company has signed a license for the Need for Speed video game. The newest innovation in puzzles comes from 3-D Breakthrough puzzles featuring Spider-Man, Cars, SpongeBob, and Mickey Mouse. Put together a traditional puzzle and assemble the 3-D puzzle pieces making the puzzle pop out—makes for great room décor.
Ohio Art: Attach flat pieces together to build using the Clics Construction System. Nanoblocks (the world's smallest building blocks from Japan) World Sets are available. Air Picks is shaped like a guitar pick that fits in the palm of a user's hand. Play "air guitar" by listening to the pre-recorded music featured on the pick.
Patch Products: Patch has entered the licensing arena with a Tales to Play line of games featuring The Little Engine that Could, Mother Goose, Where the Wild Things Are, and The Berenstain Bears. The Take and Play Design and Doodle line features SpongeBob SquarePants, Dora the Explorer, and Sesame Street.
Playmobil: Secret agent is the theme for fall. The Spy Camera Set includes a camera with USB port and a color monitor. The images shot from the camera are displayed on the monitor via wireless transmission. The Spy Camera Set can be added to the Playmobil Robo Gang Truck (sold separately). The set also contains a bracket for mounting the monitor onto the Playmobil RC Module Set Plus (sold separately).
Razor: Draw while riding with The Graffiti Chalk Scooter. It holds large pieces of chalk that hit the surface of the ground while the scooter is in use.
Schleich: Classic Smurfs are featured in decade packs from the 1960s, 1970s, and 1980s.
Spin Master: Redakai, developed by Spin Master, is a new property set to air in Cartoon Network. The line features lenticular cards as well as figures. Spin Master has been named the master toy licensee for Nickelodeon's Victorious. For the Liv line, there are styling heads for hairplay that girls can then wear as a wig. An extensive line of Cars 2 die-cast features 1:24 scale, a zero gravity car, and many others.
Step 2/Infantino: Step 2 is celebrating its 20th anniversary. The "My Own" line of BBQ, Laundry, Baking, and Workbench sets are small so kids can play on a tabletop.
Techno Source: Tetris Link is a tabletop game of strategy for up to four players. The game launches in Barnes & Noble this spring. A smaller version will be available for grocery chains in the fall. 20Q now has colors and lights for added personality.
Uncle Milton: Dinosaur Poop is one of the key items in the Dinosaur Train line. Kids can dig through the "poop," which is a brown, dough-like material to dig out the fossils. New for the In My Room line is the Fireworks Lights Show. The handheld device displays a fireworks lightshow onto the wall of any dark room. The 3-D Home Planetarium follows a similar concept.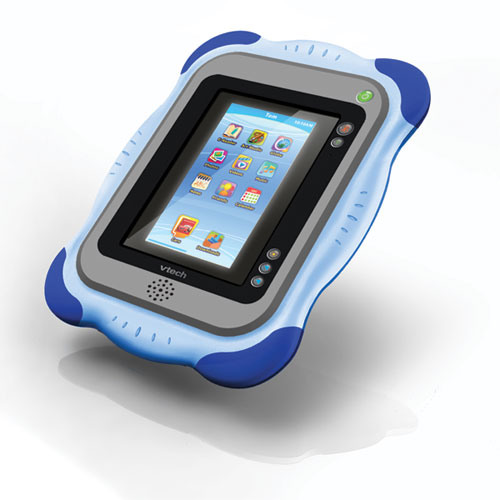 VTech: InnoPad is an "iPad-like device" for kids ages 4–9 with an MSRP of $79.99. It combines interactive and animated reading, learning games, creative activities, and a collection of applications. It features a 5-inch color touch screen LCD, a tilt-sensor for game control, microphone. It is housed in a sleek, kid-tough, and compact design for easy portability. Cartridges are sold separately for $24.99 featuring the latest licenses such as Cars, Toy Story, Disney Fairies, Disney Princess, Dora the Explorer, Mickey Mouse Clubhouse, and SpongeBob SquarePants.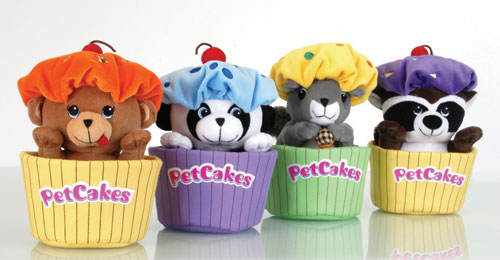 Well Made: The company is expanding its line of PetCakes to include backpacks, slippers, and a giant roll-out mat. Also available are forest animals and mini PetCakes.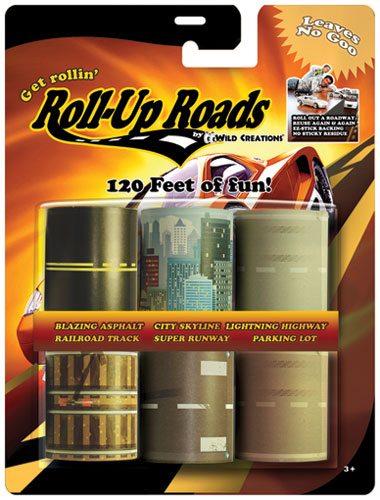 Wild Creations: Roll-Up Roads resembles a lint brush. Unroll up to 16 feet of roadway so kids can play with their vehicles. Roll-Up Roads tape clings to most surfaces and leaves no goo behind, says the company. It is available in a variety of styles such as highway, runway, and railroad tracks.
Wild Planet: The company featured an extensive line of outdoor play items such as Whip Slammer, which is a cross between dodge ball and tetherball. There's Smash Stix, which are foam sticks to be held horizontally. Players have to use two hands to hit the blue target in the center of the stick.
Wonder Forge/I Can Do That Games: Richard Scarry's Busy Busy Airport Game has players collecting the most souvenirs to win the game. The original art is engaging, mixing modern day airport occurrences with Richard Scarry humor. The Let's Ride the Rails Game has players getting the animals to the county fair. Traintastic Cargo features a similar theme where players have to load cargo onto the train.
WowWee: New for Paper Jamz is the Paper Jamz Pro Series Microphone, which includes three built-in hits and enhanced features to help kids sound like professional recording artists. It featured Perfect Pitch Technology, which analyzes and tunes a singer's pitch in real time. Sing with the artist or become the artist by turning the original vocal track on or off. Recreate the original sound of the song with real-time effects control. Also available this year is a Justin Bieber PaperJamz "wearable keyboard." The Paper Jamz Pro guitar is now MP3 compatible.
Walmart Reports Q4 and Year-End Results
Wal-Mart Stores, Inc., reported financial results for the quarter and the year ended January 31, 2011. Net sales for the fourth quarter of fiscal year 2011 were $115.6 billion, an increase of 2.5 percent from $112.8 billion in the fourth quarter last year.
Net sales included a currency exchange rate benefit of $664 million. Income from continuing operations attributable to Walmart for the quarter was $5 billion, up from $4.8 billion in the fourth quarter last year.
Diluted earnings per share from continuing operations attributable to Walmart ("reported EPS") for the fourth quarter of fiscal year 2011 were $1.41. The underlying diluted earnings per share from continuing operations attributable to Walmart ("underlying EPS") were $1.34, exceeding consensus estimates and company guidance. Underlying EPS for the fourth quarter represents reported EPS that is adjusted to exclude the effects of certain tax benefits of $243 million, or approximately $0.07 per share. The tax benefits are due primarily to the repatriation of certain non-U.S. earnings that increased U.S. foreign tax credits.
By comparison, underlying EPS for the fourth quarter of fiscal 2010 was $1.21. The amount reflects an adjustment to reported EPS to exclude several restructuring charges totaling $260 million ($162 million net of tax), or approximately $0.04 per share, and a net tax benefit of $372 million or approximately $0.09 per share.
For the fourth quarter, the company recognized in discontinued operations, an approximate $1 billion tax benefit in connection with the disposition of its German operations in fiscal 2007. This matter was resolved with the U.S. Internal Revenue Service during the fourth quarter of this fiscal year. Diluted earnings per share attributable to Walmart, inclusive of continuing operations and discontinued operations of $0.29 per share from the recognized tax benefit, were $1.70 for the fourth quarter.
Net sales for the fiscal year 2011 were $419 billion, an increase of 3.4 percent over fiscal 2010. Net sales included a currency exchange rate benefit of $4.5 billion. Income from continuing operations attributable to Walmart were $15.4 billion, a 6.3 percent increase from $14.4 billion last year.
For fiscal year 2011, reported EPS and underlying EPS were $4.18 and $4.07, respectively, versus $3.73 per share and $3.67 per share, respectively, in the prior year. Fiscal 2011 reported EPS reflects certain tax benefits recorded in the third and fourth quarters that aggregate to approximately $0.11 per share. Diluted earnings per share attributable to Walmart for fiscal 2011, inclusive of continuing operations and discontinued operations from the recognized tax benefit, were $4.47.
"We are pleased with Walmart's strong earnings performance for both the fourth quarter and the full year across our three operating segments. At the same time, we are disappointed by Walmart U.S. fourth quarter sales," said Mike Duke, Wal-Mart Stores, Inc. president and CEO in a statement.
Duke pointed out that under the leadership of president and CEO Bill Simon, Walmart U.S. is implementing a four-point plan designed to deliver better results. He acknowledged that it would take some time to see positive comparable store sales.
"Some of the pricing and merchandising issues in Walmart ran deeper than we initially expected, and they require a response that will take time to see results," Duke said. "There is no greater priority for Bill or me than getting sales back into positive territory." In addition, Duke also recognized the strong full year operating results of Walmart International and Sam's Club. "Walmart International continues to be our growth engine, and we expect accelerated growth in emerging markets. International net sales exceeded $109 billion this year, an increase of more than 12 percent over the prior year. Every country contributed a sales increase in fiscal 2011, compared to the prior year," Duke said in a statement. "Sam's Club reached almost $50 billion in annual net sales. And, during the year, Sam's Club comp sales, excluding fuel, improved sequentially every quarter, with the fourth quarter being the strongest."
Walmart's Plan to Get U.S. Stores Back on Track
When Walmart released its earnings earlier this week, the mass retailers also outlined a plan to get U.S. stores back on track. The Walmart U.S. four-point plan is designed to improve performance in existing stores, according to a statement released by the chain.
The points are:
Everyday Low Price leadership. Walmart will deliver consistent every day low price on a basket of goods.
Broadest assortment possible. Walmart is always working with suppliers to deliver the broadest and most relevant assortment possible at the lowest price in the market. This includes continued focus on adding merchandise back on the shelves, as well as in action alley in the stores.
Improve remodel program. Improve store remodel efficiency and returns to right-size square footage for various merchandise departments and categories.
Multi-channel initiatives. Increase access for customers through multi-channel shopping options so they can shop on their own terms.
"We are confident that through these initiatives, as well as the commitment of our 1.4 million associates, we can improve sales throughout the rest of the year," said Walmart, U.S., president and CEO Bill Simon, in a statement. "And, we will make meaningful progress on new store growth, as we add supercenters and expand our store format portfolio."