Stardoll Licensing Program From Innovative Artists
Innovative Artists has launched a multi-year, multi-partner licensing agreement for Stardoll, the tween and teen online fashion and social community. The partnership will take the Stardoll brand from the virtual world into the retail space when it debuts for the 2011 back-to-school season.
The deal includes an exclusive partnership in more than 300 J.C. Penney stores nationwide featuring girls' apparel, accessories, footwear, hosiery, and cosmetics, with additional categories rolling out in 2012.
"Stardoll is one of the most exciting and unique brands that I have ever seen in the licensing arena," said Maggie Dumais partner and head of licensing and brand development for Innovative Artists, in a statement. "It is an incredible, groundbreaking opportunity to bring to life the creativity and imagination of girls on a worldwide scope. We are thrilled to be a part of the Stardoll brand experience."
J.C. Penney is joined by master toy partner Mattel in adapting the online experience at retail venues with a collection of fashion dolls. In addition, the dolls will debut in November 2011 at Toys "R" Us, mass, and specialty chains worldwide.
Live from the Red Carpet's Licensing Program
E! Entertainment Television is launching the first-ever line of consumer products inspired by the network's long-running series of Red Carpet awards show specials. Live From the Red Carpet branded products are being introduced throughout the U.S. The licensing programs were structured in partnership with ACI Licensing.
The comprehensive line launches with an array of products that includes apparel, cosmetics, self-tanner, and a home food delivery service, with additional products to launch throughout the coming year. The first four companies to introduce products under the new E! Live From the Red Carpet brand include: Stila Cosmetics available exclusively at cosmetics retailer Ulta; Adrianna Papell for special occasion dresses; Freshology for Red Carpet Gourmet a 28-day rotational menu; Xen-Tan self-tanner and bronzer for face and body.
JTMG Signs for Dolphin Tale Movie
Alcon Entertainment, the production company behind The Blind Side and David Yates CEO of Clearwater Marine Aquarium, have selected Joy Tashjian Marketing Group (JTMG) as the exclusive licensing agent for the company's upcoming 3-D family film, Dolphin Tale. Financed and produced by Alcon Entertainment and distributed worldwide by Warner Bros., the motion picture stars Academy Award winner Morgan Freeman, Harry Connick Jr., Ashley Judd, and Kris Kristofferson.
Set for release across 3,000-plus theaters in 2011, Dolphin Tale, is inspired by the true story of an introverted boy who befriends Winter, a dolphin who lost her tail in a crab trap. The boy motivates everyone around him to help save Winter.
For the film's licensing campaign, JTMG will focus on all major consumer products categories including apparel, travel and leisure, games, and electronics, among many others.
Godard, ECI Furniture in Deal
RainMaker$ Licensing announced a licensing agreement with ECI Furniture on behalf of its client, artist Michael Godard, to develop a collection of high-end home bar furniture and recreation room-related products.
Godard's colorful art provides a lighthearted perspective of "The Good Life." Subjects such as martinis, champagne, cigars, and gambling are infused with humanized olives and strawberries that are central characters in the tongue-in-cheek narrative.
The products will be shown at the International Home Furnishings Market on April 2–7 in High Point, N.C.
Pizza Prints Brands Its Name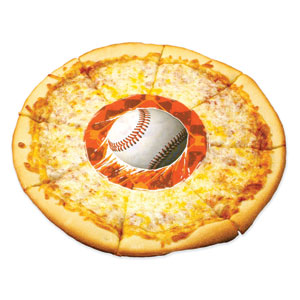 Pizza Fest has recently rebranded to Pizza Prints, a more recognizable name based on consumer focus group research results. Pizza Prints images are made by Lucks, the same company that invented Edible Image designs for cake. Pizza Prints have been seen at more than 600 pizzerias around the country.
Sanrio, BabyLegs Partnership
Sanrio's Hello Kitty will be featured on BabyLegs socks, tights, leg warmers, and arm warmers. The collection will be available at better department stores, specialty stores, and select Sanrio stores this summer. It will also be available online. Expected this fall from BabyLegs are Sanrio characters such as My Melody, Badtz-Maru, and Little Twin Stars.