Scholastic Celebrates 20 Years of I Spy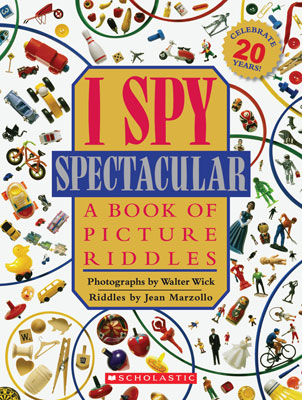 Scholastic Media announced that its 20th anniversary celebration of the I Spy franchise will kick off next month in conjunction with the publication of I Spy Spectacular: A Book of Picture Riddles with riddles by Jean Marzollo and photographs by Walter Wick.
The year-long campaign will include a slate of new I Spy releases across multiple categories and platforms, a new signature My I Spy online game, a live promotional event, and coordinated brand promotion across all of Scholastic, Inc.
Since the first I Spy book was published in 1991, the program has expanded to include 42 million books in print and an Emmy Award-winning television series that currently airs on HBO Family in the U.S. and has been sold to more than 20 countries in 12 languages worldwide.
Briarpatch, Scholastic's exclusive licensee for board games, puzzles, and card games for the past 17 years, will release five new titles this year. The new game honoring the 20th anniversary, I Spy Spectacular, will be released this spring to coincide with Scholastic's book of the same name. To date, Briarpatch has sold more than 10 million copies of more than 50 branded I Spy board games, card games, toys and puzzles, and has recently been granted rights for worldwide distribution.
Beginning April 11, the new products will be supported by the I Spy A Celebration campaign that will include, among other initiatives, a national advertising campaign that will invite audiences to participate in the largest game of I Spy by playing and personalizing their own My I Spy at www.scholastic.com/ispy.
In New York City, Scholastic will host a live I Spy event in Times Square on April 12 and The Scholastic Store in Soho will host Jean Marzollo at an event on April 9 featuring an I Spy scavenger hunt, raffle, and product demonstrations in addition to a month-long I Spy window display at the company's New York City headquarters. Currently, Scholastic is hosting two I Spy anniversary sweepstakes in conjunction with the recent launch of I Spy-branded fruit snacks and another through Scholastic Book Clubs.
WeHeartJapan.com to Host L.A. Benefit Tonight
In response to the events unfolding in Japan, some in the art and anime industries have come together to create www.weheartjapan.com and to host a benefit tonight (March 17) at 8pm at Meltdown Comics (7522 Sunset Blvd., Los Angeles, CA 90046). More information can be found at www.weheartjapan.com.
The group says that thanks to generous sponsorships and donations from Harmony Gold, Geneon Entertainment, Pacific Media Expomx, Cosplay in America, Bandai Entertainment, Am22m, Crunchyroll, Nan Desu Kan, Sweet Streets LA, Love the Truth Clothing, and many more the event was able to come together so quickly.
We Heart Japan will feature a silent auction with art from Shinichi "Nabeshin" Watanabe, Sweet Streets LA, Cathy Clark, Zane DeGaine, Kevissimo, Dekker Dreyer, Aaron Bjork, Shibuya Girls Pop, Sam Randazzo, Sawdust Bear, Sasha Palacio, Sara Tea, Patrick Smith, Eron Rauch, and many more. In addition, prizes will be raffled off over the course of the night.
All proceeds will go to the Japan NGO Earthquake Relief and Recovery Fund, which provides support to organizations in Japan that are taking part in the relief effort, as well as to ensure longer-term support for local organizations working hard to rebuild their communities. For more information visit: www.jcie.org/earthquake
Nickelodeon's Brodsky to Be Inducted into LIMA Hall of Fame
Leigh Anne Brodsky, president of Nickelodeon Consumer Products, has been selected for induction into the International Licensing Industry Merchandisers' Association (LIMA) Licensing Industry Hall of Fame. The induction ceremony will take place on Tuesday, June 14, 2011, at the annual LIMA Opening Night Awards Ceremony during Licensing Show at the Mandalay Bay Convention Center in Las Vegas.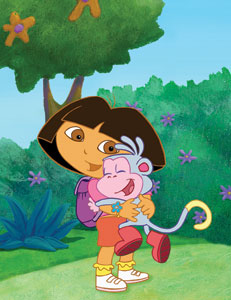 A licensing professional for more than 25 years, Brodsky has broken new ground in many ways, most notably by popularizing multicultural franchises. One of Brodsky's biggest professional accomplishments is creating a licensing juggernaut for preschoolers with Nickelodeon's Latina character, Dora the Explorer.
"Leigh Anne Brodsky represents the best of our industry with her passion for bringing people of all ages together through characters and products that entertain, enlighten, and become part of our shared cultural experience," said Charles Riotto, president of LIMA. "Her dedication and commitment to our industry and her service to our organization is exemplary and she has tirelessly led our charitable efforts. For all of her accomplishments, we are proud to honor Leigh Anne by inducting her into the Licensing Industry Hall of Fame."
She spearheaded the development and growth of SpongeBob SquarePants. Additionally, Brodsky was also responsible for building the Rugrats and Blue's Clues properties into huge successes. And in the past few years, Brodsky broke new ground, licensing properties to healthy food categories, ranging from clementines to frozen edamame. Earlier in her career, while at United Media, Brodsky made her mark on the Snoopy licensing business via partnerships with flagship companies including Hallmark. She built the Garfield licensing program into a multi-billion dollar retail property globally. At Lorne Michaels' Broadway Video, she developed a variety of consumer products and retail programs for iconic television and movie properties such as Saturday Night Live and its big screen spinoff Wayne's World, The Lone Ranger, Rudolph the Red Nosed Reindeer, and Lassie.
A passionate children's advocate, Brodsky is a former member of LIMA's board of directors and continues to co-chair LIMA's charity committee. Under her leadership, LIMA's ambitious five-year, $1 million fundraising goal to benefit the Children's Brain Tumor Foundation (CBTF) was achieved in less than three years. She is an active board member of the TIA and CBTF.