Sprint, Big Idea Partner for VeggieTales Promo
Big Idea Entertainment announced delivery of mobile-based VeggieTales content to fans and audiences nationwide via a VeggieTales channel on Sprint TV.
The VeggieTales channel features complete shows of Big Idea Entertainment's best-selling silly songs and DVD content including, Pistachio: The Little Boy That Woodn't; Sweetpea Beauty: A Girl After God's Own Heart; Gideon: Tuba Warrior; Josh and the Big Wall!; Saint Nicholas: A Story of Joyful Giving; and The Star of Christmas among others.
In addition, Sprint TV will organize a "free preview" week for Sprint phone customers from April 18–24 to access a clip of the popular VeggieTales: An Easter Carol DVD by texting VEGGIE to 43888 on their phone. Both new partnerships coincide with the marketing campaign and social networking Big Idea Entertainment has organized for their most recent Easter-themed DVD release, VeggieTales: 'Twas The Night Before Easter.
Sesame Characters Have Themed Area in Spain's PortAventura Theme Park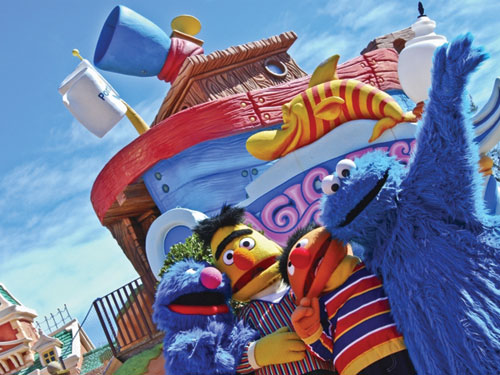 PortAventura, the theme park leader in Spain, opened a new themed area dedicated to Sesame Street characters. Elmo, Bert, Ernie, the Cookie Monster, Grover, and Zoe have been mascots of the park since 2008. Now they have their own area specifically designed for young families.
The Sesame Adventure area features 11 rides, attractions, shows, restaurants, and shops with licensed merchandise available for purchase.
Buffalo Games in Promo Deal with Tyson Foods
Buffalo Games announced its partnership with Tyson Foods to implement a six-month national campaign to promote great friends, great food, and great fun. Buffalo Games will offer $2 off any of its three award-winning party games included in the promotion: Last Word, Likewise, and/or Truth Be Told, via a mail-in rebate program.
As part of the nationwide promotion scheduled for May 28–November 30, 2011, the games will be featured on stickers on packages and in-store point-of-sale displays and coupons, as well as counter cards and window clings in more than 3,000 retail outlets and supermarket delis where Tyson Chicken Tenders are sold. In exchange, Buffalo Games will offer $2 off any of the three party games via a mail-in rebate program through www.delianytime.com. Both Buffalo Games and Tyson Foods will promote the program through their online and social media channels.
Promotional marketing agency Envision Promotions, based in Dublin, Ohio, developed and brokered the partnership.