Walmart Reports First Quarter Results
Wal-Mart Stores, Inc., reported financial results for the first quarter ended April 30, 2011. Net sales for the first quarter of fiscal year 2012 were $103.4 billion, an increase of 4.4 percent from $99.1 billion in the first quarter last year. Net sales for the quarter included a currency exchange rate benefit of $1.3 billion.
Income from continuing operations attributable to Walmart for the quarter was $3.4 billion, up 3.8 percent from the first quarter last year. Diluted earnings per share from continuing operations attributable to Walmart for the first quarter of fiscal year 2012 were $0.98, which included a benefit of $0.01 per share related to currency translation. By comparison, last year's EPS were $0.87, which benefitted from currency translation of $0.02.
Walmart added that for comparative purposes, in addition to the impact of currency translation, the company had certain discrete, pre-tax items in the first quarter of this year which are described below:
Approximately $117 million from mark-to-market gains on certain foreign currency derivative positions.
ASDA recorded approximately a $67 million charge for the realization of expenses in the current period related to the removal of future benefit accruals and the effect of future pay increases associated with its defined benefit plan.
Walmart Japan recorded approximately a $51 million charge for casualty losses related to the March earthquake and tsunami.
Walmart Chile recorded approximately a $51 million gain from the sale of an investment. All of these items are included in operating expenses, with the exception of the gain from the sale in Chile, which is recorded in membership and other income. In summary, the net of these items accounted for approximately $0.01 of the company's EPS for the quarter. "Walmart is reporting first quarter earnings from continuing operations of $0.98 per share, which was above guidance," said Mike Duke, Wal-Mart Stores, Inc., president and CEO, in a statement. "This reflects the stability and strength of our global operations." "Walmart U.S. comp sales for the first quarter were within our guidance range," Duke said. "We recognize we still have work to do and comp sales growth remains the greatest priority for me and the entire Walmart U.S. team. The good news is that the plan Bill Simon and his team are executing is gaining traction. We're focused on delivering every day low price and a wide assortment."
Walmart International grew first quarter net sales by 11.5 percent over last year to almost $28 billion, with all countries except Japan showing sales increases. The March 11 earthquake and tsunami negatively affected sales in Japan. Because of the calendar shift, the majority of Easter holiday sales for International will fall in the company's second quarter.
"International remains the key growth driver for our company, and the segment is seeing continued growth through a combination of comp sales and new stores," Duke said. "Mexico, China, and Chile had the highest percentage sales increases for the first quarter compared to last year."
Duke also highlighted the strong Sam's Club performance.
"Sam's Club delivered really good results this quarter, with a 4.2 percent comp that was well above our guidance," he said. "Sam's momentum is reflected in comp sales and increases in new members. The warehouse channel is increasing in importance in the retail landscape and Sam's is gaining further momentum. We expect Sam's to add even more value to the company's overall portfolio."
According to Duke, Walmart has tremendous growth opportunities in e-commerce. "The recent acquisition of Kosmix is now integrated into @Walmartlabs in Silicon Valley, and allows us to expand our capabilities in the online social commerce environment," Duke said. "On Friday, we announced that we are acquiring a minority stake in Yihaodian, one of the leading online retailers in China. We expect ongoing activity in the e-commerce area around the world."
ASTRA Commissions Web Shopping Study
The American Specialty Toy Retailing Association (ASTRA) announced that it has commissioned a study, which will explore the effects of discount internet sales from all aspects. The findings will be presented at ASTRA's Marketplace & Academy in June. ASTRA commissioned researcher Stacy Mitchell of the Institute for Local Self-Reliance to work with manufacturers, retailers, and others to identify concerns and develop solutions for navigating this new frontier. A preliminary report will be presented at the ASTRA annual membership meeting, Monday, June 20 from 8:00­–9:30am in Anaheim, CA.
"At ASTRA, we value the perspectives and business interests of all our members—retailers, manufacturers, and sales representatives alike," says Kathleen McHugh, ASTRA's president. "It is important that we find common ground on the issue of internet sales and pricing, and ASTRA is leading the way with top drawer research and analysis that will give all parties a strong platform for engaging in a productive conversation. We encourage all ASTRA members to attend this membership meeting."
Do Good Stuff-a-Thon Event Helps with National Foster Care Month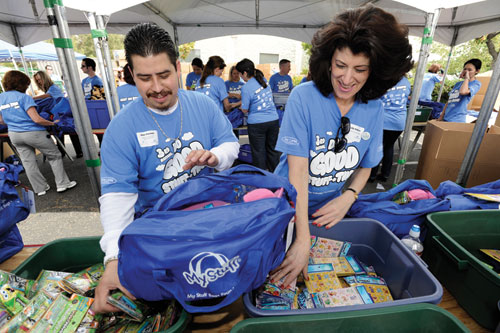 Executives and employees from across the toy industry joined forces with California legislators and local volunteers to commemorate National Foster Care Month and help children in need at the Third Annual Toy Industry Foundation (TIF) and My Stuff Bags Foundation Do Good Stuff-a-Thon. Held at the My Stuff Bags headquarters in Westlake Village, Calif., more than 200 volunteers came together to fill 5,000 duffel bags with toys, toiletries, handmade blankets, and other items that will be distributed to agencies across the United States that rescue abused and neglected children. The My Stuff Bags Foundation will distribute the duffels nationwide to more than 50 organizations. Companies such as Educational Insights, Funrise, Jakks Pacific, Mattel, Pacific Play Tents, The Piggy Story, Razor, Spin Master, Warner Bros., Women in Toys, and World of EPI were all there to help. Members of the TIF and My Stuff Bags Foundation boards of directors, including MSB board director Michael Reagan, joined in the effort.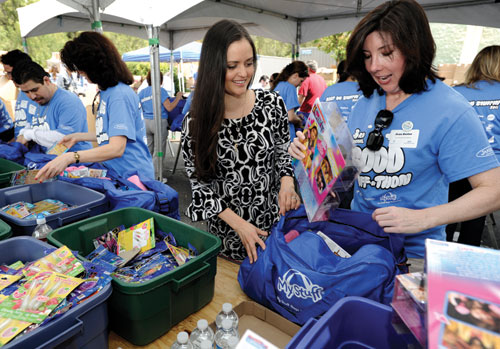 In addition to those present, North American toy companies such as Bandai, Hap Palmer, Hasbro, Imperial Toy, Ravensburger, Rose Art, and Schoenhut Piano Company also donated items to include in the duffel bags. LeapFrog served as an event sponsor.
"This is a day when members of the toy industry roll up their sleeves and work together to ensure toys get to kids in need," said Jean Butler, TIF executive director and vice-president of membership at the Toy Industry Association. "We are grateful to all of our volunteers, toy companies and My Stuff Bag partners for their generous support in helping to spread the joy of play to kids in stressful situations."
The Toy Industry Foundation has provided grant funding of $525,000 and more than 100,000 new toys over three years to My Stuff Bags Foundation; toys are donated via The Toy Bank™, which is stocked by toy industry manufacturer contributions throughout the year. For more information on the Do Good Stuff-a-Thon, visit www.toyindustryfoundation.org.