Scott Bachrach Forms The Wish Factory
Toy Industry veteran, Scott Bachrach announced the formation of his new company, The Wish Factory, Inc.
After selling Think Tank Toys to Wow Wee, USA, Inc., in August 2008, Bachrach says that he had the opportunity to work with a terrific team of toy industry professionals. "In the past three years we developed and distributed novelty toys including Disney's Hannah Montana, High School Musical, and The Jonas Brothers in addition to Mr. Men and Little Miss plush, Jamba Juice, Icee, Entenmann's food toys, and more," he said in an email sent to industry colleagues.
The Wish Factory will leverage the team's years of industry experience and contacts. The first series of products from The Wish Factory are scheduled to be in stores in spring 2012. Based in Montclair, N.J., Bachrach can be reached at scott@thewishfactoryinc.com.
FunGoPlay Signs with Sports Illustrated Kids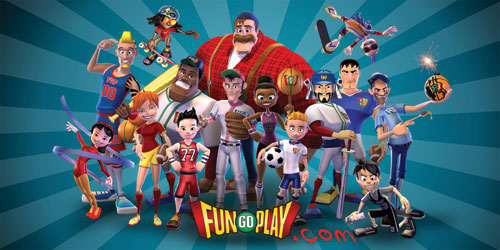 FunGoPlay, an online sports theme park that bridges the gap between offline and online play will feature content from Sports Illustrated Kids (SI Kids). Participants in the virtual world will have the opportunity to access SI Kids sports videos, editorial content, and contests. Visitors to FunGoPlay will also receive SI Kids Real World Sports content in the FunGoPlay Newsletter. The partnership will launch in July with additional content appearing in early August.
Also, FunGoPlay TV (FGPTV), an online video player and a leading destination for fun sports clips, funny videos, and athlete features, called FGP Big League Bios, will feature SI Kids videos. SI Kids offers access to athletes and sports information that kids crave with in-depth reporting, action photography, and first-person athlete accounts.
Kidz Bop Launches Second Talent Search
Kidz Bop announced the launch of its second annual Kidz Star USA Talent Search, the national talent competition for kids and teens ages 15 and under. The online talent search is hosted on kidzbop.com and gives aspiring young singers a shot at fame, right from home. Now until August 15, kids can upload a :90 second performance video to the website to compete for a chance to win a recording contract with the RCA/Jive Label Group, a starring role in the next Kidz Bop TV commercial and music video, and much more.
Endemol is producing a series of webisodes following the musical journey of the top Kidz Star USA contestants. A panel of celebrity judges, who will be announced shortly, will help select the winners. Fans will also have the opportunity to vote online for their favorites to help determine the semi-finalists and Grand Prize Winner.
The top four Kidz Star USA finalists will be announced in September.
Licensing Works Signs ABC's Castle
Licensing Works announced that it has been named as global licensing agent for ABC's Castle television series. The initial licensing program will focus on key categories such as games, interactive applications, calendars, greeting cards, pens, journals, and other author-inspired products based on the series.
Castle is now entering its fourth consecutive season on ABC.