Angry Birds in Retail Loyalty Promotion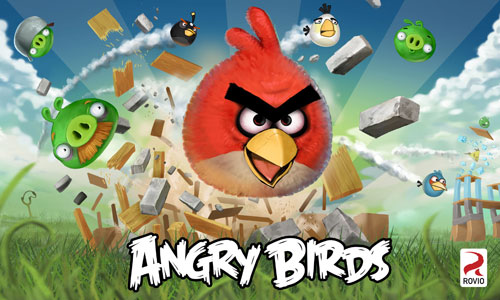 TCC, a company that created marketing programs that change shopper behavior to increase store sales, has been granted a global license for retail loyalty promotions to Rovio's Angry Birds franchise.
The multi-year agreement grants TCC worldwide rights in a wide range of distribution channels including: supermarkets and hypermarkets, drug stores, health and beauty chains, newspaper and newspaper kiosks, fuel chains, and convenience stores.
In addition to working with retailers in the U.S., TCC's UK and Hong Kong offices will target select retailers to design customized Angry Birds' programs across the globe.
Rovio's Angry Birds franchise, which consists of the games Angry Birds, Angry Birds Seasons, and Angry Birds Rio, recently passed 200 million total downloads on various platforms across the globe.
Sesame Street Classics Debut on iTunes

Watch favorite Sesame Street Muppets from the early years with full-length Sesame Street classic television episodes, available for download exclusively from the iTunes Store at  www.iTunes.com/SesameStreetClassics, including the very first episode from 1969.
Sesame Street Classics: Volume 1 consists of 12 episodes: four episodes from each of seasons 1, 10, and 20.  Fans who purchase all 12 episodes will also receive Behind the Street: Volume 1, a 25-minute bonus video with fun pop-up series facts. Sesame Street Classics episodes are available for $1.99 each. A special free retrospective of Sesame Street through the years is also now available to download on iTunes.
Other great Sesame Street content includes:
The iYip App, a Sesame Street soundboard app featuring the Yip Yips, interplanetary visitors from Mars who valiantly explore our world despite their frequent terrifying encounters with everyday objects.
Best of Sesame Street Spoofs, Volumes 1 and 2. From the beginning, Sesame Street has always been known for entertaining both children and adults with spoofs on popular culture that happen to teach something too. Now Grey's Anatomy becomes A's Anatomy; Mad Men is really about teaching emotions; and The Closer is about "open" and "close." Fans will be nostalgic over classics Hill Street Two's and Twin Beaks.
Brand Sense Partners Acquires Stake in DwellStudio
Brand Sense Partners LLC (bsp) announced a strategic investment in lifestyle brand, DwellStudio. Founded in 1999 by designer Christiane Lemieux, DwellStudio sells a broad range of home textile products, case good and upholstered furniture, and baby and kids products. In addition, the brand operates a shop-in-shop at ABC Home in New York City. DwellStudio can be found in more than 750 retailers and over 2,000 doors in 30 countries worldwide.
DwellStudio represents the second major home furnishings investment for bsp, who also owns a controlling interest in the Shabby Chic brand.
bsp's strategic investment will allow DwellStudio to focus on continuing the brand's growth within the wholesale and direct-to-consumer channels.
In addition there are plans to open a flagship store that will allow the company to merchandise the entire collection together for the first time. bsp will be taking a hands-on operating role in helping drive licensing, international, and business development initiatives.