Holiday Previews Continue
Holiday Previews are in full swing: Discovery, Zing Toys, and First Act were on tap over the past week. Look for more updates as the month progresses.
Discovery:
Discovery's yearly holiday preview always features a number of great items from licensees. A few things that were particularly appealing this year include submariner cases for iPod/iPhone/iPad and cameras available on amazon.com. At DiscoveryStore.com there are numerous "App-cessories" for the iPhone and iPod Touch. Just one example is the Jackpot Slots for $39.95. Slip the device into the tabletop accessory and pull the lever on the slot just as you would in a casino. Pinball machines and arcade games are also available.
Available only at Toys "R" Us are the Animal Planet Swimmers. Designed for ages 8 and up, each giant lightweight metallic balloon can be flown using a remote control. It's available as a shark or clownfish for $49.99 each. Each is more than four feet long and requires helium to inflate. Helium tank is sold separately.
Zing Toys:
Known for its outdoor toys such as the Z-Curve Bow archery set, Zing is entering the competitive niche of "squishy collectibles" with ICKEE Stikeez.
The squishy, squeezy, sticky collectible figures feature patented suction cups as its point of difference. Unlike other collectable miniatures, ICKEE Stikeez can stick to any flat surface and pop off with a pull making a "pop" sound.
The Podz they come packed in, which look like small plastic balls, can also be used for play. Stick them to other ICKEE Podz to create a structure. Each ICKEE has its own story and characteristics. Designed for ages 4 and up, the single pack has an MSRP of $1.25 and the triple pack is $2.99.
Competitors in the "squishy collectibles" category: Blip Toys with Squinkies and Sqwishland of Sqwishland, LLC.
First Act: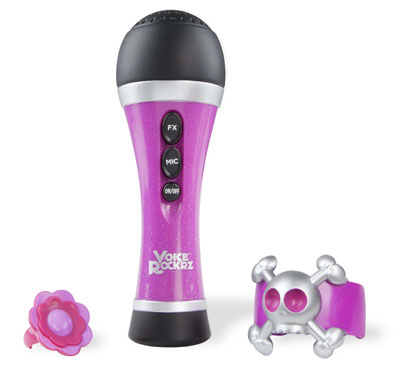 First Act, a company known for its musical instruments, introduces the Voice Rockrz Mic, a wireless interactive microphone that can change a child's voice as they perform. Kids simply tap one of the included accessories—a ring and bracelet—to the Mic's target zone, which activates the Mic's sound and voice effects, including Hi-Note, Echo-Tastic and Robot-Riffic. Kids can also use it as a traditional microphone.
Also included is the drum roll and audience applause sound effects. Kids simply press the FX button on the Mic to cycle through these sounds.
For additional play, kids can plug in any MP3 player into the jack (MP3 player not included), and sing along to their favorite songs.
Voice Rockrz Mic comes in pink with a flower ring and "kid-version" skull bracelet as well as blue with a "kid-version" skull ring and zipper bracelet. Designed for ages 4 and up, it has an MSRP of $24.99. It requires three "AAA" batteries, which are included.
Competitors: Microphones are a hot topic this fall. Jakks Pacific and WowWee will be battling it out. Jakks is introducing the I Am T-Pain Mic for ages 7 and up with an MSRP of $39.99: www.iamtpainmic.com while WowWee is offering the Paper Jamz Pro Series for ages 8 and up at $29.99: www.paperjamzpro.com
However, the First Act microphone is not a direct competitor for Jakks or WowWee because it is for a younger child. It offers basic, timeless roleplay fun at a low price point.
Atari Files Lawsuit
Atari issued a statement last week that it has filed a lawsuit naming Tommo, Inc., d/b/a Tommo Video Game Distribution and its owner Jonathan Wan in Federal Court in the Central District of California for willful copyright infringement, trademark infringement, and unfair competition related to sales and manufacturing of counterfeit versions of Atari's plug and play product known as Flashback 2 in the amount of $30 million. Atari's Flashback 2 product contains 40 of its classic video game titles and looks and plays very much like Atari's original 2600 console, with the modern convenience of plugging it in to play on your TV. Atari highly values its intellectual property. It will protect it and pursue infringers as necessary and is maximizing its resources to do so.
Solid Sales Results for June
Target Corporation reported that its net retail sales for the five weeks ended July 2, 2011, were $6,256 million, an increase of 5.7 percent from $5,918 million for the five weeks ended July 3, 2010. On this same basis, June comparable-store sales increased 4.5 percent.
"We're very pleased with Target's June comparable-store sales, which were at the high end of our expected range," said Gregg Steinhafel, chairman, president and CEO of Target Corporation, in a statement. "Our teams continue to focus on delivering fashion, value, and reliability in every merchandise category both in stores and online. We believe that offering our guests the right combination of wants and needs, along with a great shopping experience, will lead to continued success for Target."
Kohl's Corporation reported that for the five-week month ended July 2, 2011, total sales increased 9.2 percent and comparable store sales increased 7.5 percent over the five-week month ended July 3, 2010. Year to date, total sales increased 4.4 percent and comparable store sales increased 2.6 percent.
Kevin Mansell, Kohl's chairman, president and CEO, said in a statement, "After a sluggish May, we are very pleased with our June results. The Midwest, Mid-Atlantic, and Northeast regions—our most weather-sensitive regions—reported especially strong comparable store sales as weather turned seasonable in those regions. All lines of business reported positive comparable store sales increases."
Costco Wholesale Corporation reported net sales of $8.69 billion for the month of June, the five weeks ended July 3, 2011, an increase of 18 percent from $7.33 billion during the similar period last year. This year's five-week period included 34 days in the U.S. (U.S. warehouses closed Memorial Day) versus 33 days last year (U.S. warehouses closed Memorial Day and Independence Day). The calendar shift positively impacted this year's total and comparable sales by approximately two to three percent (three percent in the U.S.). Also, this year's five-week period included sales from the company's Mexico joint venture; otherwise the net sales increase would have been 15 percent.
For the 44 weeks ended July 3, 2011, the company reported net sales of $73.44 billion, an increase of 14 percent from $64.51 billion during the similar period last year; excluding Mexico sales, the increase would have been 11 percent.
Care Bears Signed for TV Series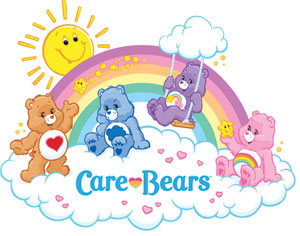 American Greetings Properties, the intellectual property and outbound licensing division of American Greetings Corp., announced that it has green lit the production of an all new CGI-animated television series for the Care Bears. The series is slated to debut in 2012 to coincide with the property's 30th anniversary. In addition, a toy line from Hasbro, Inc. is planned for 2013.