HoodieBuddie in Australian retail chain Jay Jays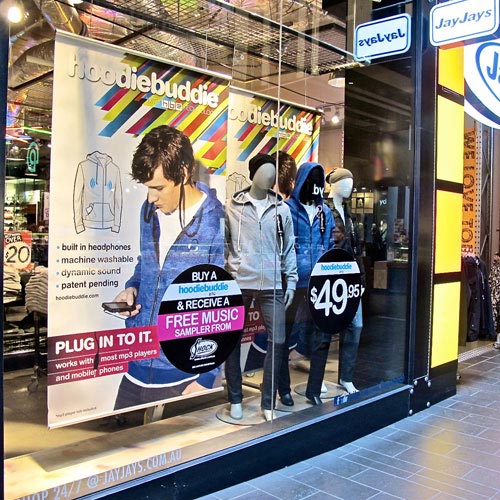 Global brand management company BAM Brick & Mortar Brands announced that Australian retail chain Jay Jays launched HoodieBuddie with HB3 Technology into its stores across Australia, New Zealand, and South Africa.
HB3 Technology is a patent-pending innovation that connects audio devices including mp3 players and mobile phones to apparel. All HB3 Technology garments feature embedded wired draw-string cords complete with a universal device jack and ear buds, and are 100 percent machine washable.
The HoodieBuddie and Jay Jays partnership initially includes two menswear styles in four colors, which are available at 226 Jay Jays stores across Australia, New Zealand, and South Africa.
The launch incorporates a major promotion with Shock Records, offering free music downloads with any Jay Jays HoodieBuddie purchase. The rollout also includes an online component with an integrated web and social media campaign.
The deal brokered by BAM Brands, the appointed brand manager for HB3 Technology in Australia, New Zealand, and South Africa, is part of a larger worldwide rollout, which has so far seen the shipment of 6.5 million units worldwide.
Jazwares Signs Poptropica
Poptropica, the virtual world for kids, has signed a licensing agreement with Jazwares, Inc. The company created plush figures, three- and six-inch action figures as well as playsets. The lines are now available exclusively at Toys "R" Us.
Each toy comes with a code redeemable for an in-game costume or power to enhance kids' online adventures. Kids can collect all of the toys to get each of the exclusive costumes or powers never before available online at Poptropica.
VeggieTales Signs Deal with Wacky Wallscapes
Big Idea Entertainment announced that it has signed an exclusive licensing deal with Wacky Wallscapes, custom children's wall coverings, which will feature VeggieTales characters.
Wacky Wallscapes creates wall coverings, wallpaper, and murals for children's bedrooms and areas in churches, daycare facilities, schools, medical offices, and hospitals. Under this new deal, the company will offer full size VeggieTales characters including Larry the Cucumber, Bob the Tomato, Junior Asparagus, Pa Grape, and more along with a complete library of themed-background scenes. Wacky Wallscapes images can be sized into custom floor-to-ceiling murals to fit any space.
Parragon to Publish Power Rangers Books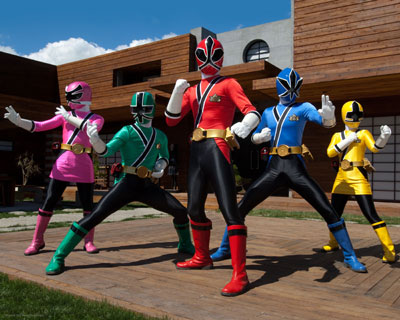 Parragon announced that it is set to release a range of books based on Power Rangers Samurai after a deal was brokered by licensing agent CPLG UK and licensor Saban Brands.
The series premiered on Nickelodeon in the U.S. in February 2011 and in the UK in May. Bandai's toy line is due to hit stores in the UK this month.
The books will be released in the U.S., before hitting UK shelves in February 2012 and the agreement covers a variety of formats including color, sticker, and activity books, novelty titles, 3-D storybooks as well as the key category of annuals (books based on a theme) for the UK market.
Geronimo Stilton to Be Featured on Alitalia Flights
Geronimo Stilton, Italy's most famous mouse-author, has been signed to a deal with Alitalia's Airbus A320 Specials, says Atlantyca Entertainment.
As the result of a new agreement between RAI Sales Management and Alitalia, "Operazione Shufongfong," an episode from the Geronimo Stilton animated series, will be a part of a schedule of Italian and international cartoons offered to children traveling on long-distance flights aboard the airline's fleet of Airbus A320 Specials.