TIA Applauds Signing of H.R. 2715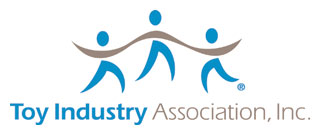 The Toy Industry Association (TIA) announced that it applauds President Barack Obama's signature of H.R. 2715 and the positive changes it will bring to current consumer product safety standards as well as the authority and discretion it provides to the Consumer Product Safety Commission in its implementation of the Consumer Product Safety Improvement Act (CPSIA).
The TIA said in a statement that the President's action, taken on August 12, provides long-anticipated and much-needed relief for the toy and children's product industries from some of the unintended and unnecessary burdens of the CPSIA that have arisen since the law was passed in 2008.
"We appreciate the positive steps that Congress and the President have taken to preserve the important consumer product safety protections contained in the CPSIA while also fixing some of the unintended consequences of the Act," said TIA president Carter Keithley. "This Amendment enhances the ability of American companies to conform to the CPSIA's requirements without unnecessary burdens and the CPSC [U.S. Consumer Product Safety Commission] will now be able to move forward with implementing 'common sense' regulations that assure continued consumer protection."
TIA and members of the toy industry look forward to working with CPSC commissioners and staff to assure that consumers continue to feel confident that they are being protected with common sense safety measures, added Keithley.
Twilight Signs Alfred Angelo for Bridal Gowns
Bridal gown maker, Alfred Angelo has been named as the exclusive and officially licensed bridal gown manufacturer for Twilight Bridal, based on the film Twilight Saga: Breaking Dawn Part 1, which is scheduled to be in theaters November 18, 2011.
The gown offered by Alfred Angelo will be a replica of the dress expected to be worn in the film by actress Kristen Stewart as she plays Bella. The gown will be priced in accordance with the company's bridal collections and available to fit sizes 0–30W.
The next chapter of the Twilight series will be released as two separate films. Breaking Dawn Part 1 this November with Breaking Dawn Part 2 scheduled for November 16, 2012.
Alfred Angelo is also the licensee for Disney's collection of wedding gowns.
Sears/Kmart Reports 2Q Results
Sears Holdings Corporation reported its second quarter 2011 results. The retailer released the following summary:
Net loss attributable to holdings' shareholders for the quarter of $146 million, or $1.37 loss per diluted share, in 2011, and $39 million, or $0.35 loss per diluted share, in 2010;
Adjusted loss per diluted share for the second quarter of $1.13 in 2011 and $0.19 in 2010;
Adjusted EBITDA for the quarter of $79 million ($51 million domestic and $28 million at Sears Canada) in 2011 and $254 million ($178 million domestic and $76 million at Sears Canada) in 2010;
Kmart's comparable store sales were flat, Sears Domestic comparable store sales declined 1.2 percent;
Store closing and severance charges of $48 million recognized in the second quarter of fiscal 2011 as part of restructuring initiatives;
Domestic inventory declined $75 million from the prior year balance; and
Cash on hand of $679 million and nearly $3 billion of availability on domestic and Canadian revolving credit facilities.
Lou D'Ambrosio, Sears Holdings' CEO and president, said, "We are not satisfied with our results and are taking actions to turn around our performance in a challenging economic environment. While we improved our revenue trend, including growing our online business by more than 30 percent, we had lower gross margins. The margin decline was due to markdowns taken to clear seasonal inventory and promotional activity. Inventory was tightly managed, as we finished the quarter with domestic inventory $75 million lower than prior year compared to the first quarter when inventory was $416 million higher than prior year."
D'Ambrosio added, "We implemented targeted expense actions, continued to invest in the business to serve our customers, and welcomed talented new leaders to the team, including Rob Schriesheim as CFO, Edgar Huber to lead Lands' End and Monica Woo as head of Sears marketing. We are launching new exclusive brands in apparel—the Kardashian Kollection at Sears and Sofia by Sofia Vergara at Kmart. We also introduced innovative products, such as the newly launched 31 cubic foot Kenmore Trio refrigerator, as Kenmore recaptured the leadership position in major appliances."
During the second quarter, the retailer recognized $48 million of costs associated with various actions to improve productivity as follows:
Closing 29 stores, which consist of 10 Kmart stores, three full-line stores, 12 Hardware and Appliance stores, two Sears Auto Centers and two The Great Indoors stores;
Converting 14 Sears Grand stores to Kmart stores;
Closing seven product repair center locations; and
In addition to position reductions from the above actions, reducing approximately 250 existing support positions.
CreditReport.com Sponsors Buffet's Kid Webisodes
CreditReport.com, part of the Experian family of brands, announced that it has been selected as the exclusive sponsor of the Learn and Earn promotion that supports the Secret Millionaires Club, a series of webisodes that features Warren Buffett as a mentor to a group of kids. An educational youth program that originated as a result of Buffett's desire to share his values with kids, Secret Millionaires Club was created to ensure kids learn good financial habits at a young age. CreditReport.com will play an instrumental role in this fully integrated educational campaign, which includes instructive materials as well as an online challenge that will push the limits of smart financial literacy among youth.
Launching in October 2011, in coordination with the airing of the first Secret Millionaires Club television special on The Hub Network, the Secret Millionaires Club Learn and Earn promotion will be promoted in schools, in youth organizations, and through outreach partner organizations. Created for children in the third through sixth grades, the yearlong promotion will offer fun, educational activities, developed by Houghton Mifflin Harcourt, that extends Buffett's lessons in economic principles and the basics of financial saving and investing. Secret Millionaires Club information and webisodes will be hosted on AOL Kids at www.smckids.com, where CreditReport.com will also be the exclusive sponsor of the website through June 2012.