Rebecca Bonbon in Stardoll Promotion
FremantleMedia Enterprises (FME) announced a fashion design contest as part of a comprehensive online marketing campaign for the Rebecca Bonbon brand with Stardoll, the website for teen and tween girls.
The fashion design contest offers one winner the chance to have a virtually-created design sold offline as part of an upcoming Rebecca Bonbon apparel line available through Kmart. The winning design will be chosen by the Stardoll community and is open to U.S. residents. Details on how to enter the contest will be announced on Stardoll this fall. The initiative marks the first time a Stardoll member's design will be produced and sold at retail.
Stardoll, launched in 2006, has more than 120 million registered users globally and reaches more than 18 million unique users per month.
Discovery Gets Kids Tech Savvy with Puterbugs

Discovery Communications, Inc., launches Discovery Kids Puterbugs, a technology-based program that teaches kids age 8 and under to use technology to solve problems and build skills. DiscoveryKids.com/Puterbugs is presented by Discovery Kids and Imagine Tomorrow, a provider of computer classes for young children.
A first-of-its-kind program, Discovery Kids Puterbugs is the only interactive experience available that teaches kids, in a fun and age-appropriate way, the full scope of technology skills in today's digital world. In a safe environment that promotes a healthy foundation and proper tech etiquette, the program helps kids master skills that range from basic file navigation, internet, and keyboarding skills to an understanding of the latest in cutting-edge technology, such as mobile apps and cloud computing. Discovery Kids Puterbugs takes kids natural tech abilities to a new level essential for their future success.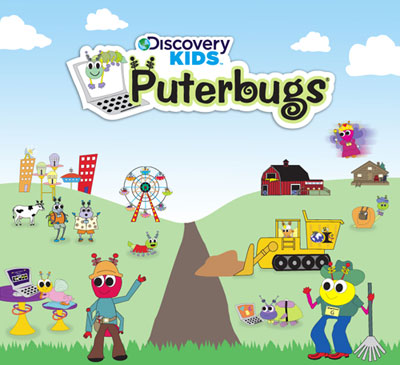 Guided by a live-action teacher, Mr. Scott (who always wears his signature cowboy hat), kids take on the role of computer detectives to solve interactive online missions that promote respect for technology while teaching the top 100 computer and internet skills that all children should know at a young age. Mr. Scott welcomes kids into the virtual neighborhood and leads them through missions set in tech-themed destinations such as Email Trail, Laptop Lagoon, Webwood Forest, and Great Wireless Reef. He speaks directly to the child through webcam-style videos. Each 30-minute animated mission adapts to a child's skill level as the adventure moves along. The classes are currently being offered across the country in more than 700 locations including a roll-out of schools through a national partnership with early childhood education provider, Learning Care Group.
The deal was brokered on behalf of Discovery Communications by Big Tent Entertainment, the North American licensing agent for the Discovery Kids brand.
Liquidation of Russ Berrie Product
SB Capital Group, LLC, Worldwide Merchandise Resources Corp., and Just Inventory Solutions, LLC announced the formation of a joint venture to dispose of all remaining inventory of The Russ Companies, Inc. The joint venture was the successful bidder of the inventory sold as a result of Chapter 7 proceedings in the United States Bankruptcy Court.
Inventory valued at more than $52 million at suggested retail will be liquidated to the last piece. Russell Berrie passed away in 2002. Shortly afterward the company acquired Sassy, Inc., and then went on to acquire the Applause trademark. Russ Berrie was then renamed Kid Brands, Inc., and went public a few years ago.
For more information about the product, and to arrange inspection of the inventory, contact Jerry Goldstein at sbcapitalgroup.com.
Bert and Ernie Are Not Tying the Knot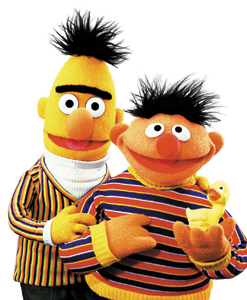 Now that gay marriage has been legalized in New York, there have been calls from the public for Bert and Ernie to marry. While the sentiment may be well intentioned, they are, after all, puppets. Just last week, aNb Media received a press release from change.org citing a petition started by an Illinois resident asking Sesame Street to marry Bert and Ernie. No word on which Muppet should conduct the ceremony.
Believe it or not, nearly 10,000 people have signed Illinois-resident Lair Scott's change.org petition.
"I started this change.org petition because I believe we need more media representation of gay and lesbian people in children's programming," said Scott in a statement. "I do not expect Sesame Street to actually marry Bert and Ernie, but I am glad that my petition is inspiring a broader discussion about how vital it is for children to see themselves and their families represented in media programming," he said.
Change.org says it is the world's fastest-growing platform for social change—growing by more than 400,000 new members a month. Anyone can sign up and launch a petition.
"Change.org is a platform where anyone, anywhere, can start, join, and win campaigns for social change," said Joe Mirabella, organizing manager for LGBT rights at change.org. "While we take no position on the content of the petition, Lair Scott's campaign asking Sesame Street to marry Bert and Ernie is a great example of passionate people using our platform to bring attention to issues important to them."
While Bert and Ernie have been unwillingly dragged into the discussion on gay marriage, they will not be getting married. The reason is simple: they are puppets.
Here is the official response from Sesame Workshop regarding this issue: "Bert and Ernie are best friends," says Sesame Workshop. "They were created to teach preschoolers that people can be good friends with those who are very different from themselves. Even though they are identified as male characters and possess many human traits and characteristics (as most Sesame Street Muppets do), they remain puppets, and do not have a sexual orientation."
Let's hope that closes the case on this issue. It seems more than likely that change.org is using Bert and Ernie for cheap publicity—and apparently it's working.
In fact, this week's gripe from change.org attacks Learning Express and Wild Creations. A petition started by an animal rights activist says that the companies should stop selling the EcoAquariums because frogs are not toys.