Dentsu Seeking Partners in the Americas for LBX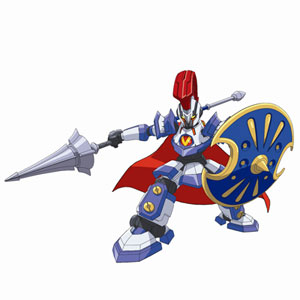 Dentsu Entertainment, USA, Inc., announced that the Japanese Little Battlers eXperience (LBX), a popular television series and franchise based on miniature customizable robots, is seeking licensing partners in the Americas.
In the series, children in the year 2050 have miniature LBX robots, which they build, customize, and play with in robot battles. The young hero, 13-year-old Van Ridgeway, has control over the LBX model, a super-charged version left for him by a mysterious woman. Van and friends, with their own unique robots, are now involved in a global conspiracy in which the robot battles have become deadly serious. The friends have joined together to fight for the very safety of the world.
In Japan, LBX has demonstrated ratings success since it first launched on TV Tokyo in March, and was quickly followed by a successful video game launch by LEVEL-5 in June. Dentsu Entertainment USA will build upon the broadcasting and product success in Japan for all regions throughout the Americas.
SqwishLand Gets Canadian Distributor
SqwishLand hired Toronto-based Zibbers, Inc., to be its exclusive Canadian distributor.
Previously available only in vending machines, SqwishLand's products can now be found on specialty, drug, craft, and toy store shelves.
Zibbers will help bring two new SqwishLand products to market in Canada, the DIY SqwishLand Kit and the SqwishLand soft 'n squishy bracelet. They'll also increase distribution of the original SqwishLand soft 'n squishy characters and online game codes in capsules.
Super Why Adds New Character
A new character joins the cast of Super Why starting this fall. Woofster is a new book-loving puppy pal with dictionary power. PBS is promoting the introduction of this character with Meet Woofster Week, beginning September 12 on PBS Kids.
To promote the addition of Woofster, the series introduces the newest Super Reader with the premiere of a never-before-seen episode each day.
Also, PBSKIDS.org/superwhy will feature Woofster with his own character landing page and a special "doggie dictionary" feature. Also coming to the site is an all-new Journey to the Golden Bone game in September.