Power Rangers in Latin America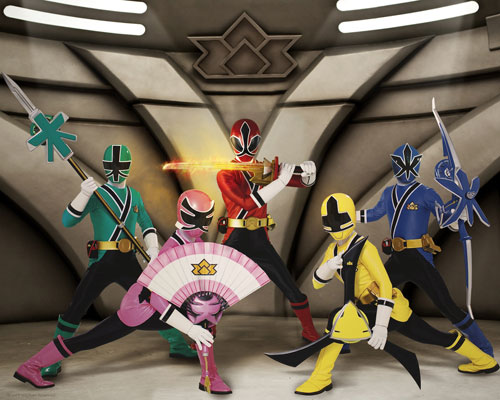 MarVista Entertainment, the exclusive international television distributor for Saban Brands' new Power Rangers Samurai and classic Power Rangers series, has finalized terrestrial television licensing agreements for the property with top broadcasters throughout Latin America via the company's distribution alliance with Snap TV of Argentina.
The new broadcast partners for Power Rangers Samurai in Latin America include Peru's America TV, Ecuador's TCTV, Panama's Corp. Medcom Panama, Paraguay's Telefuturo, Bolivia's Unitel, Nicaragua's Intrasas TV, and Uruguay's Monte Carlo TV. Currently, Power Rangers Samurai airs on Nickelodeon throughout the region and will debut later this year on Mexico's Grupo Televisa and Brazil's Bandeirantes.
Power Rangers Samurai airs in the U.S. on Nickelodeon.
Laura Ashley Launches U.S. E-commerce Site
M!KE Licensing recently announced that Laura Ashley, the quintessential English lifestyle brand, has opened its e-commerce website to U.S. customers featuring popular licensed products along with UK fabrics, wallpapers, and accessories.
The new lauraashley-usa.com e-commerce site will offer U.S. consumers access to the distinct designs represented in the fabrics, wallpapers, and decorative accessories designed by its British parent company. In addition, select licensed products are also available for online purchase including bed linens, lighting, permanent botanicals, and Christening apparel. Laura Ashley plans to continue expanding its current licensed product categories alongside the British mix to allow customers the full range of global products.
All Laura Ashley products available for sale in the U.S. are featured on the site. Branded products available at traditional brick-and-mortar stores can be found via the site's "Where to Buy" feature. Products ordered from www.lauraashley-usa.com will only be deliverable to addresses in the United States.
Tavern on the Green IP for Sale
Jil Mazer-Marino, Chapter 7 trustee of the bankruptcy estates of Tavern on the Green Limited Partnership and LeRoy Adventures, Inc., has entered into an agreement to sell the companies' intellectual property rights to Tavern International LLC for $1.3 million. The sale is subject to competitive bidding in a bankruptcy court approved sale process. The Trustee filed a motion in late August seeking bankruptcy court approval of sale procedures including an anticipated bid deadline and auction in mid-September. Streambank, LLC has been engaged by the Trustee to conduct the sale.
The intellectual property rights are being sold in accordance with a settlement agreement between the Trustee and the City of New York, concluding litigation between the parties over ownership of the Tavern on the Green trademark. The rights being sold by the Trustee include:
Royalty-free use of the Tavern on the Green name and logo for restaurants outside of New York, New Jersey, Connecticut, and parts of Pennsylvania;
Ownership of the Tavern on the Green trademark for oils and salad dressing; and
Exclusive right to register and use the Tavern on the Green trademark for other products including packaged food, tabletop and other home decor, cookware, and accessories.
"This is a tremendous opportunity to own an iconic brand that is world renowned—and arguably the most famous full-service restaurant brand in the world," said Gabe Fried, a Streambank CEO. "The brand will benefit from instant recognition across the U.S. and around the world for a broad array of categories including restaurants, packaged food, and tabletop accessories."
A hearing on the motion to approve the stalking horse bid and break-up fee was scheduled for the end of August and Fried anticipated that the auction would take place before the end of September.
Hilco Partners with Streambank
Hilco Trading, LLC, a leader in tangible and intangible asset disposition and valuation services, announced that it has joined forces with Streambank, LLC. Founded in 2007 and located in Needham, Mass., Streambank is an intellectual property consulting firm specializing in the valuation and marketing of intangible assets, including trade names and patents. The company is currently engaged to sell Borders Group intellectual property, including the Borders.com business, and it recently completed successful sales of IP for Anchor Blue, Circuit City Liquidating Trust, and Berkline Benchcraft. It is also currently involved in the Tavern on the Green IP sale—see related story above.
The new business, Hilco Streambank, LLC, will be headed by Gabe Fried, founder and CEO of Streambank.
Hilco Streambank will continue to be headquartered in Needham, Mass., and will also operate from Hilco's corporate headquarters in Northbrook, IL.