CNE Debuts Boutique for The Powerpuff Girls and Ben 10 at Toys "R" Us Times Square
Cartoon Network Enterprises (CNE), the licensing and merchandising arm of Cartoon Network, announced the debut of a dedicated boutique featuring two of its signature brands at Toys "R" Us Times Square this month. The multi-category shop marks the re-launch of The Powerpuff Girls at retail and provides a destination for fans of Ben 10 Ultimate Alien, featuring an array of product in a branded environment.
In the boutique, fans of The Powerpuff Girls can choose from a line of PPG Loves NYC merchandise made exclusively for Toys "R" Us Times Square. Included in the assortment are unique, New York-themed designs on a range of T-shirts, hats, bags, and accessory items from partner Bioworld, as well as luggage tags and totes from Vandor.
Ben 10 fans can browse the latest playthings in the all-new Ben 10 Ultimate Alien toy line from Bandai America, as well as the brand's most recent DVD release from Warner Home Video and exclusive Ben 10 NYC apparel from Freeze.
FDNY Kicks Off Fire Prevention Week with Mattel's Smokey the Fire Truck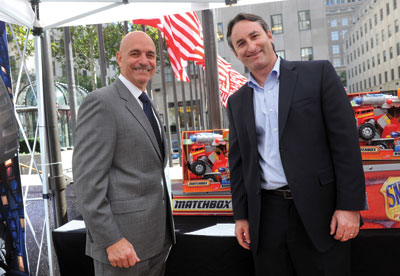 On October 11 the FDNY teamed up with Mattel's Matchbox Smokey the Fire Truck to kick off Fire Prevention Week, which helps children better understand the importance of fire safety. New York City Fire Commissioner Salvatore J. Cassano led a host of activities including a special swearing in ceremony for junior firefighters from across the five boroughs that featured Smokey the Fire Truck.
Pictured are Cassano (left), Aaron Samson of Mattel (right), and Smokey the Fire Truck (center) at Rockefeller Plaza.
P.S. from Aéropostale Launches Superhero Apparel and Accessories for Kids
Marvel Entertainment, LLC and Aéropostale, Inc., announced an exclusive collection of Marvel Super Hero merchandise available under the P.S. from Aéropostale brand. The apparel and accessories line will be targeted to P.S. from Aéropostale customers, kids ages 4–12, and will include designs inspired by classic Marvel superheroes, such as Spider-Man and the heroes from next summer's Marvel's The Avengers, which features Iron Man, Captain America, Thor, The Incredible Hulk, Black Widow, and Hawkeye. The initial product including T-shirts, hoodies, and accessories will debut this month in P.S. from Aéropostale stores across the U.S. and online at www.ps4u.com. Additional apparel and accessories will continue rolling out in support of Marvel's The Avengers, in theaters on May 4, 2012. P.S. from Aéropostale will support the Marvel Super Hero collection with an integrated marketing and promotional campaign that includes in-store displays, social media outreach, a Super Heroes shop at www.ps4u.com, and character appearances in several of its P.S. from Aéropostale stores on October 15.
Discovery Communications and Parragon Books Release Discovery Kids Sharks iPad App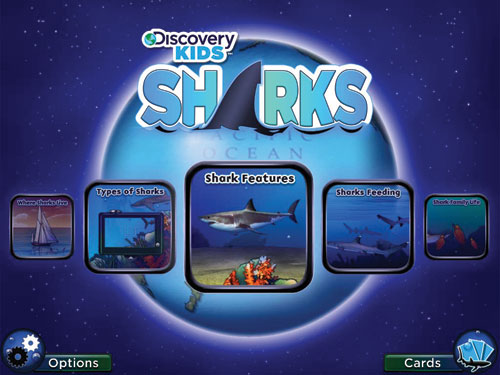 Discovery Communications, Inc., expanded its partnership with Parragon Books to bring an interactive iPad experience to kids with the launch of the Discovery Kids Sharks app. The Discovery Kids Sharks iPad app combines animated games, information, and live-action video footage culled from Discovery Channel's popular Shark Week programming. Users can collect a number of digital trading cards as they scroll through underwater scenes filled with colorful sea life in a format designed specifically for the iPad. Discovery Kids Sharks, targeted to ages 5–9, is available for download at the iTunes store for $4.99. Big Tent Entertainment, the North American licensing agent for the Discovery Kids brand, brokered the deal on behalf of Discovery Communications.
The Discovery Kids Sharks app complements the Discovery Kids line of more than 150 books, 3-D readers, childrens' encyclopedias, and activity and sticker sets from Parragon.
Firefly Brand Management Brokers Mr. Bubble Bath Toy Line with Senario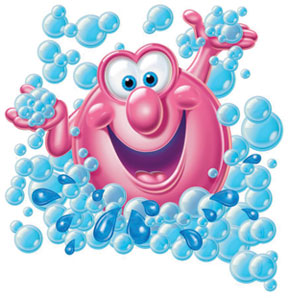 Senario debuted a line of Mr. Bubble Bath Toys at the Toy Industry Association Fall Toy Preview in Dallas last week. The line of toys combines bath play with Mr. Bubble products, such as Foam Soap. Some of the new toys include Bathtub Monsters, Ice Cream Shoppe, Mr. Bubble Bubbling Boat, and Bubbly Tub Colors Dispenser. The toys will launch in retail stores spring 2012. Firefly Brand Management brokered the deal.
Classic Media and Mindshapes Launch Casper's Scare School: Costume Closet App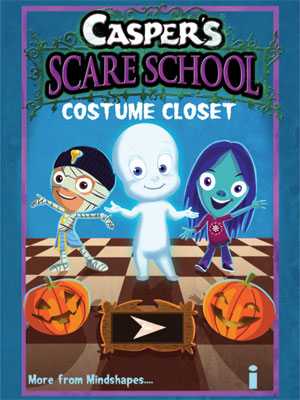 Mindshapes signed a partnership with Classic Media to produce the Casper's Scare School: Costume Closet app, available on the iPad, iPhone, and iPod Touch for $2.99. The app, which is for ages 3–7, is designed to strengthen short-term memory. Players can choose from 15 costumes to create a Halloween outfit for Casper and his friends. Once a costume is selected, children are encouraged to memorize the outfit so they can match costume pieces and collect them in their closet throughout the course of the game. As more puzzles are solved, the memory tasks become more challenging, encouraging object recognition and grouping skills. Kids can interact with Casper, Mantha, and Ra as they dress them up in items of clothing from the costume closet, and can even showcase all their work by saving the image of a customized costume to share with friends and family.