Mattel Acquires HIT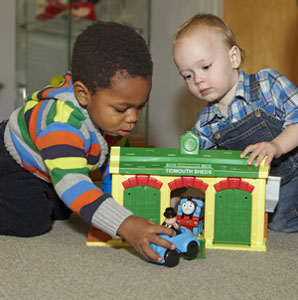 Mattel, Inc., announced yesterday that it has entered into an agreement to acquire HIT Entertainment for $680 million in cash from a consortium led by Apax Partners funds. HIT Entertainment owns a global portfolio of preschool brands, including Thomas & Friends, Barney, Bob the Builder, Fireman Sam, and Angelina Ballerina.
"Mattel is the right home for Thomas & Friends. This powerhouse brand is joining the ranks of such iconic brands as Barbie, Hot Wheels, Fisher-Price, and American Girl," said Robert A. Eckert, chairman and CEO of Mattel. "Thomas & Friends routinely ranks among the world's leading preschool toys. Additionally, with more than half of the Thomas & Friends revenue generated from non-toy products, this transaction will marry Mattel's global marketing, distribution, and brand management capabilities with HIT Entertainment's global programming and licensing expertise to accelerate growth of the combined portfolio."
Mattel currently markets many Thomas & Friends toy products under a license from HIT Entertainment, which extends through 2014. Mattel's global sales of Thomas & Friends die-cast and plastic toys are more than $150 million, and Mattel says that this transaction will allow the company to continue to expand and grow these product lines into the foreseeable future. Another key advantage to the acquisition says Mattel is that it will be able to reunite two key pieces of the Thomas & Friends toy business: plastic and die-cast toys with the wood-based business. The current wood license expires at the end of 2012, at which time Mattel expects to add that line of business to its portfolio. Sales of wood-based toys have been around half the size of the plastic and die-cast business.
The acquisition does not include HIT Entertainment's interest in the cable network station, Sprout.
The transaction is expected to be financed with a combination of cash and debt and is expected to close in the first quarter of 2012. The transaction is not expected to have a material impact on Mattel's 2012 earnings, but is expected to be increasingly accretive as the benefits of owning these brands are reflected in Mattel's results, including the addition of Thomas & Friends wood business in 2013 and retention of Thomas & Friends plastic and die-cast business from 2015 onwards.
Hasbro to Temporarily Cut East Longmeadow Plant Jobs
According to masslive.com last week, Hasbro is temporarily laying off 180 employees in the manufacturing division at its East Longmeadow facility through the end of this year. The layoffs are expected to begin in the next two weeks and are expected to last until the end of January 2012.
Hasbro previously announced that it was making changes to its games division by moving 70 jobs from East Longmeadow to its company headquarters in Pawtucket, R.I. and to space in Providence, R.I. In addition, 75 positions were expected to be eliminated.
The company recently announced a reported $25 million investment in the East Longmeadow facility, which is expected to focus on efficiencies such as energy and production.