Grand Central Terminal Seeks Licensing Partners for 100th Anniversary
New York's Grand Central Terminal turns 100 in 2013. The Metropolitan Transportation Authority (MTA), the agency that oversees its licensing program, announced that it is seeking a variety of partners to develop products to commemorate the occasion. MTA will work with consultant Moxie & Company to solicit and review proposals.
The MTA says a new centennial logo will be made available for products and packaging along with existing images and materials.
Two licensing deals are already in place for the anniversary. A deal has been signed with Ball Watches, which will design and sell high-end collectible wristwatches for men and women that meet exacting railroad standards. Lionel will develop two O-scale model trains that commemorate the anniversary—one modeled from the New York Central line and a replica of the 20th Century Limited.
Product lines are expected to reflect a variety of price points with distribution within New York City, the U.S., and globally, according to the MTA.
The centennial, which will officially be celebrated in February 2013, includes a planned 12-month calendar of events at Grand Central Terminal and across the city, and will be supported by a major national and international publicity and promotional campaign.
For additional information on licensing opportunities, contact Arlene Scanlan, Moxie & Company, at ascanlan@moxieco.com or (203) 259–2729 extension 11.
Playmates Names TMNT International Partners
Playmates Toys, Inc., announced the appointment of marketing and distribution partners across a number of major international markets for toys inspired by Nickelodeon's all-new CG-animated Teenage Mutant Ninja Turtles. The series is set to premiere in fall 2012, with a feature film to follow from Paramount Pictures.
The toy line is scheduled to launch in fall 2012 in the U.S. and Canada to coincide with the TV series. It is expected to be available in most international markets in 2013.
Marketing and distribution partners appointed for the respective territories are:
Australia—Headstart
Canada— Spin Master
European countries including Belgium, France, Greece, Italy, the Netherlands, Spain, Turkey, the United Kingdom—The Giochi Preziosi Group
Germany, Austria, Switzerland— Stadlbauer
Middle East and North Africa region—Toy Triangle
New Zealand—Planet Fun
Portugal— Concentra
Russia—Gulliver
South Africa—Prima Toys
PSYCLOPS Signs Enesco/Gund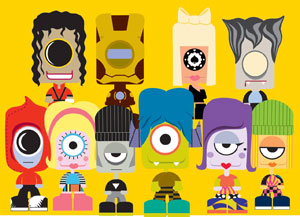 HIP Brands, the third party licensing banner within The Jim Henson Company, announced a licensing agreement with Enesco, LLC for novelty gifts and toys, mobile accessories, and plush products for PSYCLOPS, the multi-platform product and online experience for tweens, teens, and young adults. The brand features funny, contemporary one-eyed characters that embrace the world of music, art, dance, and technology.
With licensed rights for the U.S. and Canada, Enesco will develop novelty gift products, mobile accessories, and collectible vinyl toys. The Gund division will develop a full range of plush products. The first products under the agreement are expected to be available in mid-2012.
International agents that have already been signed to represent PSYCLOPS include Alphanim (France), Carmen Ariza (UK, Spain, Portugal, Italy, Germany, and the rest of Europe excluding France), Segal Licensing (Canada) and Wild Pumpkin (Australia, New Zealand). HIP is seeking additional agents for representation in other territories.
HillBilly Brand Signs Mad Engine
HillBilly Brand, Inc., recently announced the signing of a licensing agreement with Mad Engine, Inc., granting them the rights to market a line of HillBilly Brand fashion apparel in North America. Building on the strong following for the HillBilly Brand at live events across the continent as well as the exposure generated for the brand through multiple airings on the ABC television series Shark Tank, Mad Engine plans on marketing the brand through both mass and specialty retailers, offering a complete apparel line for men, women, and children.
Erector to Create Gears of War Sets
Meccano/Erector and Epic Games, Inc., have enter into a licensing agreement for the development of Gears of War Erector construction sets.
"The Gears of War license marks a new venue for Erector. Our hope is to create a destination toy series that will appeal to both Gears of War game enthusiasts as well as consumers who just want to build really cool Erector vehicles," says Michael Ingberg, CEO of Meccano. The licensing agreement was developed by Creative Artist Agency and J.A. Roth & Associates.