Update from Dallas Fall Toy Preview
The Toy Industry Association's (TIA) Fall Toy Preview kicked off yesterday in Dallas. Manufacturers report a packed appointment schedule with major retailers such as Walmart, Kmart/Sears, Toys "R" Us, and TJX. Attendees of last night's TIA Welcome Reception were treated to a performance from the Kidz Bop Kids. The kids performed to celebrate the signing of a licensing agreement with Imperial. An extensive roleplay product line is expected in stores in 2012.
Although the aNb Media team has seen many great new toy lines for 2012, most of what we saw is considered under embargo. Some key themes emerging for 2012 include toys that work with the iPhone/iPod Touch and iPad. While on the other end of the spectrum, classic play patterns remain popular in games, puzzles, activity, roleplay, and many other categories. Minnie Mouse is the property that has been seen in just about every showroom. MGA's Lalaloopsy is also getting a lot of buzz. Marvel and Disney Princess also remain popular choices. Cinderella, in particular, has been spotlighted at this year's show. The princess will receive a more modern look for 2012, and we can assume that some of the "older" princesses in the line will get a similar makeover in the coming years.
Sakar's Nerf-branded Tech Gear Hits Retail Next Month
Sakar International's new Nerf-branded gear ranges from everyday technology accessories to action items designed for imaginative play. Each item is specially engineered and molded to resemble the distinctive material recognized by generations of Nerf fans. Highlights include Nerf-inspired night-vision goggles, a digital helmet cam that can be mounted on either a helmet or bike, a pocket DVR with a preview screen, and 2.1 and 5.1 MP digital cameras packaged with social networking software. Other SKUs include a 2GB PC/Mac-compatible flash drive shaped like a mini-Nerf blaster, a 2GB digital MP3 player, walkie-talkies with up to a 1,000-foot range, and a multi-function flashlight. Produced under license from Hasbro, Inc., the lineup will be on store shelves in the U.S. and Canada in November, with initial distribution at Toys "R" Us.
MEGA Brands Partners with Moshi Monsters Creator Mind Candy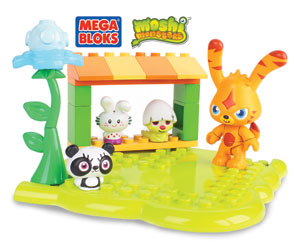 MEGA Brands, Inc., entered into an exclusive, multi-year international licensing partnership with online games developer and entertainment firm Mind Candy to develop toys based on Moshi Monsters. Under this agreement, MEGA Brands will work closely with Mind Candy to develop a full range of Moshi Monsters-branded MEGA Bloks construction sets, as well as 3D Breakthrough Puzzles for the global marketplace. The MEGA Brands licensed product offerings will make their retail debut worldwide this holiday season.
Mattel Announces Sustainable Sourcing Principles
Mattel, Inc., announced the launch of new sustainable sourcing principles to guide the company's procurement of paper and wood fiber used in its packaging and products. Mattel's new principles focus on three fundamental steps to advance sustainability, including maximizing post-consumer recycled content, where possible; avoiding virgin fiber from controversial sources; and seeking to increase the percentage of fiber that is certified by a credible third party. Throughout the process to develop the sustainable sourcing principles, Mattel sought input from stakeholders throughout its supply chain and the environmental community.
Earlier this year, Mattel directed its suppliers to exit known controversial sources. A global team is taking steps to communicate and implement the company's expectations with suppliers, including Mattel's preference for Forest Stewardship Council-certified fiber. Mattel will take steps to encourage its suppliers to pursue appropriate chain of custody certification for their own operations.
Mattel has already launched efforts to implement the new sustainable sourcing principles and established aggressive goals to measure progress on packaging as the focus of the company's initial implementation phase. By the end of this year, Mattel's goal is to have 70 percent of its paper packaging composed of recycled material or sustainable fiber. By year-end 2015, that goal increases to 85 percent.
Progress toward sustainable sourcing goals will be reported through the company's Global Citizenship Reports. Mattel's fourth report is expected in mid-2012.