Barbie and Stardoll Partner for Fashion Dolls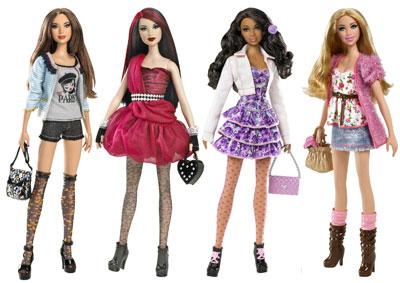 Mattel's Barbie and Stardoll have entered into a partnership to bring the world of virtual dress-up and online play to life with the Stardoll by Barbie line of collectible fashion dolls. The partnership marks the Stardoll brand's first foray into translating its popular online fashion portal into physical dolls allowing fans to explore the world offline.
The Stardoll by Barbie collection will feature eight new fashion dolls, based on four of the most popular virtual Stardoll stores in Starplaza. Inspired by Stardoll avatars, Stardoll by Barbie dolls come packaged mirroring signature avatar poses. Each doll features details such as rooted eyelashes, a unique face and body sculpt, as well as a distinct style, for a play experience that is authentically Stardoll.
TRU to Open at 9pm on Thanksgiving
Toys "R" Us announced that its stores nationwide will open its doors at 9pm on Thanksgiving night. In addition, the Thanksgiving weekend circular is filled with more than $12,500 in savings, including doorbusters, Thursday through Saturday discounts, and free gift-with-purchase offers. Toys "R" Us Facebook fans will also have the opportunity to win a red carpet, private shopping experience at their local store before the Black Friday crowd enters.
New for this holiday season, Rewards "R" Us members can also earn a 2012 Super Savers Pass when they spend $200 or more through Saturday, December 24, through which they'll receive more than $100 in savings, including exclusive coupons sent via e-mail each month in 2012.
Toysmith to Distribute Makedo in the U.S.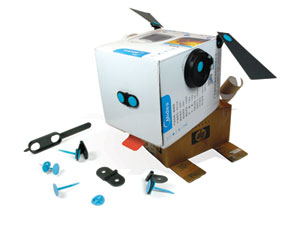 Toysmith announced that it has finalized a U.S. distribution agreement with Makedo, a product from Australia. Makedo is a reusable connector system that enables materials such as cardboard, plastic, and fabric to be joined together to form new objects or structures. Take recyclable materials commonly found at home such as boxes, plastic containers, and fabric scraps and transform them into creations such as costumes, creatures, and even a play house using Makedo reusable parts as the connecting mechanism. It is being sold through toy, gift, and education channels internationally and is designed for kids ages 5 and up.
Zinkia to Be Listed on NYSE
Zinkia, a Madrid, Spain-based company and the creator of Pocoyo, has received authorization from the U.S. Securities and Exchange Commission (SEC) to issue Level-1 American Depositary Receipts (ADRs) on Zinkia shares earmarked for placement among U.S. investors. Each ADR will represent five ordinary shares of Zinkia stock and will be listed on the Over-the-Counter market (OTC) of the New York Stock Exchange.
The Bank of New York Mellon will serve as the depository institution for Zinkia's ADRs, while the custodian in Spain for the underlying shares is the BBVA. The listing on the New York Stock Exchange will allow for Zinkia to diversify its investment base and increase its exposure to the U.S. market.